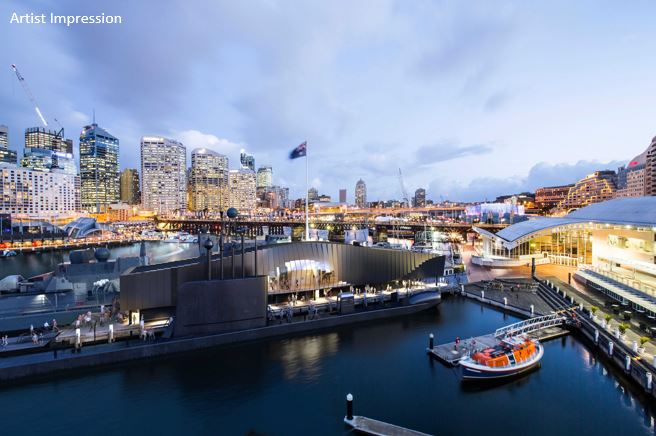 MELBOURNE: The Australian National Maritime Museum has today unveiled its state-of-the-art Warships Pavilion at the 2015 Asia-Pacific Incentives and Meetings Expo (AIME). The all-new, $11 million waterfront attraction on Darling Harbour, will host three world-class function spaces, including an outdoor rooftop, a VIP terrace and a cinematic experience.
Due for completion in September 2015, the addition of the Warships Pavilion will increase the Australian National Maritime Museum venue portfolio to eleven, aptly positioning it as Sydney's ultimate waterfront venue precinct.
Developed to mark the centenary of World War I and commemorate over 100 years of service by the Royal Australian Navy, the Warships Pavilion is positioned alongside ex-Navy destroyer HMAS Vampire and submarine HMAS Onslow and is just one of the museum's unique venues servicing the events industry. From corporate events, cocktail functions, product activations to weddings and ceremonies, the Australian National Maritime Museum is the only event destination to offer a multitude of uniquely Australian experiences right on Sydney Harbour.
Deanna Varga, Director Commercial & Visitor Services at the Australian National Maritime Museum, was thrilled to introduce the museum's waterfront event precinct, and officially announce the new venue spaces as part of the Warships Pavilion at AIME today.
"We're very excited to unveil the latest addition to our venue portfolio. The construction of the Pavilion is a key first step in the realisation of the museum's master plan for the future and shows how quickly we are evolving alongside our neighbours in Darling Harbour.
"An event at the Warships Pavilion, utilising all three unique spaces for pre, during and post event activities, provides guests with a truly immersive harbour experience. Add in our delectable in-house catering offering by Laissez-Faire, and a unique experience like an exclusive tour on the HMAS Vampire or cocktails for an incentive group on the replica of James Cook's HMB Endeavour and you've created a truly one-of-a-kind experience for event organisers and delegates alike," said Ms Varga.
Early bird bookings for the Warships Pavilion can be made now for events to be held from September 2015.
For more information about events throughout the museum, please contact the Venues team on +61 2 9298 3625 or venues@anmm.gov.au

For more information visit: http://www.anmm.gov.au/venues/

Connect with the Australian National Maritime Museum via Facebook and LinkedIn.