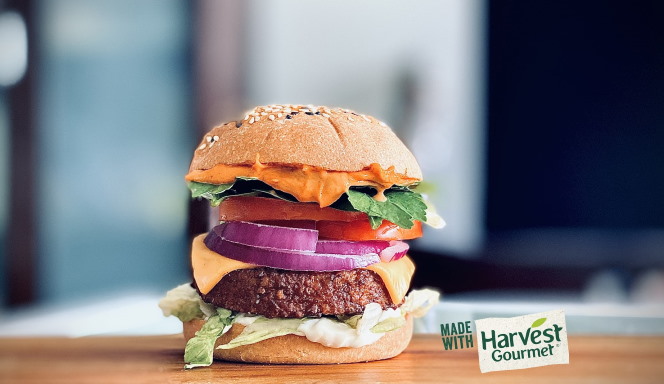 'The Harvest' : One of the bespoke burgers available on Wattaburrger's menu
Booming food tech startup Grabox Kitchens has today announced it has partnered with global food service supplier Nestlé Professional and its HARVEST GOURMET® brand to introduce limited edition plant-based meat alternative patties into its Grabox Kitchens Wattaburrger menu offerings.
This is the first time Nestlé Professional is entering into the food delivery market in Oceania. The new HARVEST GOURMET® plant-based patties will be included as a limited-edition Wattaburrger menu item from now up until February the 28th. The bespoke burgers will meet the demand for healthier fast food options from health-conscious Australians following the pandemic.
The partnership is a testament to the growth potential of Grabox Kitchens, which only launched late last year, and is already breaking ground through partnerships with international household names. The innovative platform uses AI and smart data to help restaurants and other existing venues turn their underutilised kitchens into profitable, virtual 'delivery only' brands.
It's virtual brand Wattaburrger has already gathered a loyal customer following with many repeat orders (some customers up to 10 times) since its launch in December 2020. Wattaburrger is available in Sydney areas: Lane Cove, Bondi, Coogee, Randwick, Alexandria, Willoughby, Linfield, and Parramatta. It is also available in Melbourne areas: Fitzroy, Collingwood, Hawthorn, and Kew.
Dhruv Kohli, Head of Growth and International Expansion at Grabox Kitchens, said the partnership was a huge achievement for the startup with views to continue the collaboration if the burgers prove to be popular.
"It's super exciting to have the support and recognition of a global brand at such an early stage for Grabox Kitchens. Our virtual brands can help Nestlé's HARVEST GOURMET® get the word out about their new plant-based product and give Australians the opportunity to try them cooked in a delicious burger, wrap or salad. For our restaurant partners, the partnership gives them the confidence and opportunity to expand their menus with plant-based meal options that we know there is demand for. It's an exciting step for us and our restaurant partners," said Mr Kohli.
"But there's also a bigger picture at play here than just sales. Consumers are looking for alternatives to meat, which is often a healthier alternative. By putting these new plant-based products into our virtual brand menus, we know we can drive adoption of these alternatives into the mainstream. To help make this happen, this month Wattaburrger is running various promotions on delivery platforms, so there's never been a better time to give them a try - plus they taste delicious," he added.
Business Development Manager Michael Wilson from Nestlé Professional said, "We're always on the lookout to partner with new and innovative companies, including dark kitchens, that have a vision that complements our own. Through the HARVEST GOURMET® brand, Nestlé Professional is committed to providing solutions for operators looking to cater for their health conscious consumers keen for tasty alternatives to meat. This is more than a 'new brand' to us, it's a way global brands like Nestlé Professional can help make plant-based meat alternatives more appealing and accessible to the mass consumer market. The collaboration is facilitated by the team at Blobfish International- ANZ's leading product sampling agency.
Inspired by the pandemic, Grabox Kitchens is helping Australia's commercial kitchens get cooking again through Australia's first ever 'delivery-only' brand network. It was launched in December 2020 by food delivery and product sampling marketplace, Grabox.
The innovative platform helps restaurants, hotels, clubs and pubs build a profitable food delivery business in their own kitchens using their existing equipment and ingredients. Grabox Kitchens achieves this by creating virtual brands that appear as normal restaurants in popular food delivery apps and services, with menu items that take into account what can be produced by commercial kitchens in the local area.
This extends opportunities to local businesses, increasing activity in their kitchens and thereby creating a potential safety net to sustain job security. A distributed network of kitchens fulfilling orders that are then delivered to your doorstep represents the next step in the evolution of the commercial food industry.
The platform utilises Grabox's data on regional customer preferences at a hyperlocal, postcode-level to make sure there is a market demand for the partner restaurants to fulfill. The bespoke food brands and menus are all generated by intelligent algorithms and delivered through platforms such as Uber Eats, Deliveroo, Menulog and Doordash. This asset-light model enables multiple brands to operate out of a single location by engaging under utilised kitchens and existing infrastructure in restaurants, hotels, clubs and pubs.
Currently, Grabox Kitchens has two live virtual brands - Wattaburrger and Singh vs Reddy - which are run by numerous restaurant partners in Sydney, Melbourne and Brisbane. Several more brands are slated for release in the coming months.
About Grabox:
Grabox helps create new and engaging consumer experiences for brands to improve their marketing and sales. We help food brands and businesses boost their reach and gain a loyal customer base via targeted food samples through popular food delivery platforms which build exciting, mutually-beneficial and sustainable customer relationships with their intended targeted markets.
About Grabox Kitchens:
At Grabox Kitchens we help restaurants, hotel chains, and local bars increase their earning potential by maximising customer reach. We optimise under-utilised kitchen assets and human labour through our virtual, delivery-only brands. This creates additional revenue streams that are effective and dynamic, and that require no costs and no risk.