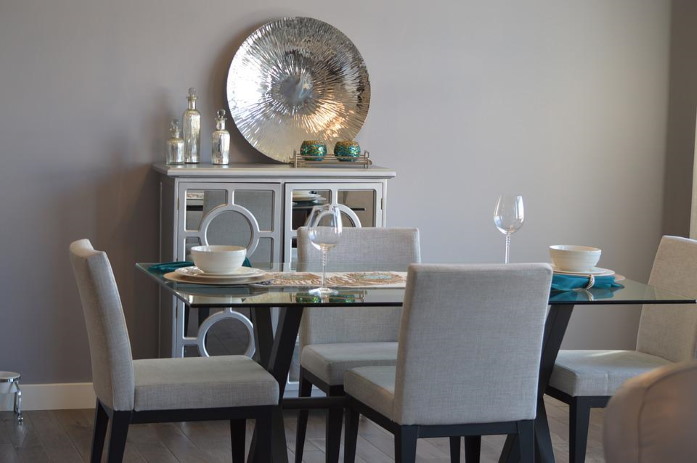 There are a number of reasons why you might want to upgrade your dining room, such as you want to add value to your home or you want a warmer environment where your family can gather and bond.
Often people opt to decorate their houses and rooms in spring, because that's when people like to do some cleaning and sorting. However, summer is a great time to re-decorate and breath some more life into your dining room because paint can dry faster and the summer days are longer, thus bringing more light.
So, if you want to transform the way and the environment in which you eat, then check out these 5 ways you can upgrade your dining room now.
Grab your paint brushes
If your dining room looks dull and doesn't make your family want to spend time in there together, then you need to paint it. Choose neutral colours for an inviting dining room or paint your dining room with bright colours if you want a more dramatic room.
A dining room should be warm and welcoming, so that dinner time is an enjoyable and family bonding time. A 2017 study found that
50% of Australians eat dinner in front of the TV
and don't have family time.
Go al fresco
Make the most of summer and encourage your family to eat outside. The best part about summer is that it is warmer and has longer nights, so decorate your outside space and set up your dining table outside
You could throw a barbecue party and invite your friends and extended family, or you could keep your al fresco dining a small and intimate experience with just your close family.
Little details matter
If you are strapped for cash but still want to transform your dining room then you could simply switch up your dining room decor. For example, you could put up new photos or artwork, or you could add some cushions or new chairs to your dining room.
According to
Sweetesthome
, little details can make a huge difference in the interior design of your dining room. Even something as simple as having fresh flowers on your table might make your room feel more welcoming and warmer.

New flooring or carpet
If you want a different feel for your dining room, why not install new flooring or new carpets? If your old flooring or carpet is looking a little worn, or you want to swap from one to the other, then upgrading your flooring or carpet is a great way to change the feel of your dining room.
Many people choose to have laminate flooring in their dining room as this is easier to clean than carpets, especially if you have young children or pets.
Add more light
Having a light and airy feel in your dining room will help you make it feel more welcoming. There are a number of tricks you can use to make your space feel lighter and airer.
You could try adding mirrors to make the space feel bigger and brighter. Or you could try adding additional decorative lights in your dining room to give it the illusion of being lighter.