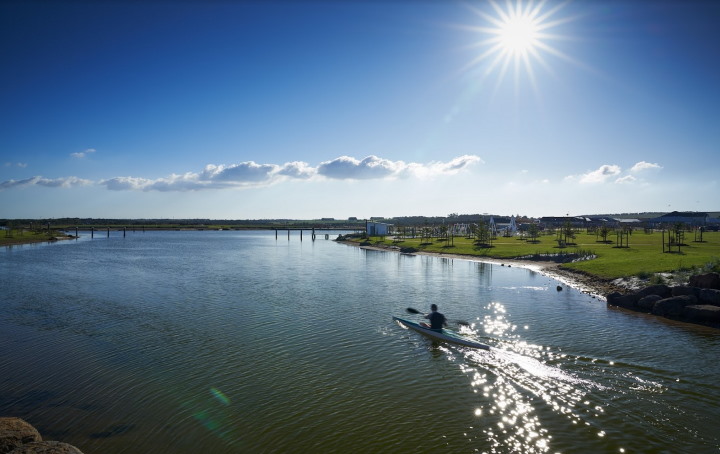 With remote work arrangements an unwavering fixture in 2021's 'new normal', desirability for new land at Point Lonsdale continues to skyrocket, with local developer Moremac tripling its December sales at its coastal estate 'The Point', signalling continued growth in the new year.
In what has been a mass exodus out of Melbourne and away from inner-city living off the back of state-wide lockdowns, many sea changers have opted for the extra space, change of pace and ocean air of Bellarine's south-east peninsular.
Kristen Smith had always dreamed of settling by the beach, and after visiting The Point in early 2020, jumped at the opportunity to buy - purchasing two 392sqm lots and a 350sqm site to relocate with her extended family.
"We hadn't been looking for long, but the fact that we could get three lots next to each other was what sealed the deal," said Kristen.
"The plan is to build a three-bedroom home for my mum and dad, and two four-bedroom houses for my sister and her partner and my husband and I."
Hailing from Melbourne's northern suburbs of Ivanhoe and Doreen, Kristen and her family felt the affordability of the area and proximity to metro Melbourne made their longtime dream a realistic and now viable option.
"I work in the CBD and it's still a very manageable commute and distance to travel to and from Point Lonsdale - as well as to still see family and friends," said Kristen.
"Extra space and a routine that lends itself to being outdoors is really important to us - it will be a welcome change after lock-down and movement restrictions."
"Really this was a lifestyle choice for us, we all have dogs and love going for walks on the beach and trails with them. It's such a peaceful spot and so relaxing to be away from the city."
Within walking distance to the beach and offering a quieter community than other neighbouring Bellarine Peninsula towns, Bryce Moore, Director of Moremac Property Group said The Point offers one of the last opportunities for buyers to purchase new land in Point Lonsdale.
"Demand for new house and land packages has considerably increased in the last 6 to 12 months, which has largely been pushed along by changes in lifestyle as a result of the pandemic."
"During the peak of Melbourne's lockdown and travel restrictions across the state, we had people purchase lots site-unseen.
"Although offices are opening back up, a lot of businesses are looking to keep flexible work locations indefinitely, meaning people are more open to that sea change they've always dreamed of as they can continue to work remotely. Because of this we expect demand to continue throughout 2021."
Bryce said the spike in interest from metro Melbourne and across regional Victoria is indicative of The Point's strong established market and vantage along the coastline.
"The Point is a close-knit community built around an outdoors lifestyle. We've designed the estate to maximise ecological benefits with a tidal waterway through the site providing stunning vistas for residents and enhancing the natural offering."
"Moremac is committed to leaving the site in a better state than when we purchased the land. While the site does include some pristine areas with high conservation values, a large area of the land had been mined for Shell Grit and had not been rehabilitated. We are completing that
work to complement the Conservation Areas and to provide the opportunity for residents to live in a unique environment," he said.
The Point offers house and land packages with blocks ranging from 350sqm to 700sqm and priced from $340,000, as well as a collection of townhomes.
The Point is currently home to 800 residents and upon completion, will be home to 2100. To find out more, please visit www.thepointpointlonsdale.com.au.