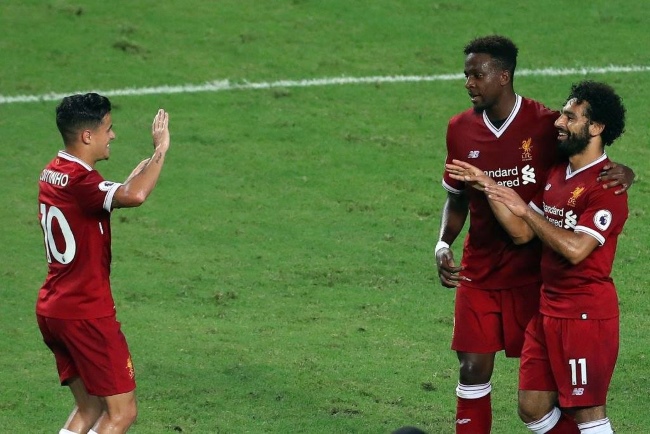 Under the management of Jürgen Klopp, Liverpool are beginning to show signs that they can genuinely recapture the levels of brilliance that led to them winning the old First Division 18 times. The Reds have never claimed a Premier League title, but were firm contenders to win the division for much of last season. The German has had time to instil his attacking philosophy at Anfield, and his players have become a cohesive unit that was only let down by a weak defence last term. Klopp won the Bundesliga in his third season in charge at Borussia Dortmund – what's to say he can't do the same thing on Merseyside?
Although pre-season matches are mainly used as an opportunity to get players up to fitness and try out new formations and lineups, there have been some promising early signs during Liverpool's Asian tour. The Reds recently beat the 2015/16 champions Leicester City 2-1 to claim the Premier League Asia Trophy. The competition was more of a chance to boost the brand and give foreign fans a chance to see their favourite teams, but the Anfield outfit showed indications that they could be a force to be reckoned with in the season ahead.
The club's £36.9 million record signing Mohamed Salah has shown early promise that he may be about to make that price tag seem like highly shrewd business. The former Roma player scored 15 goals and claimed 11 assists in Serie A last season, and if he can make a swift transition to the English top flight, he could be dangerous. The Egyptian possesses blistering pace and can run behind defenders. With the brilliance of Philippe Coutinho in a playmaker role able to pick out the new signing's runs, the combination of the two players could be devastating for other teams.
As of late July, Liverpool are 12/1 with the latest odds from bet365 to claim the crown, but these odds could soon be slashed once Klopp's formidable attacking force has time to gel. The 50-year-old has stated that he believes Salah and last year's record signing Sadio Mane can be equally as ferocious as Arjen Robben and Frank Ribery at Bayern Munich.
It is certainly a tantalising thought to consider Mane, Salah, Coutinho, and Roberto Firmino teaming up to build attacks. Last season, without Salah, the Senegal and Brazilian internationals racked up 37 goals between them. With another proven goalscorer added to that mix, the Reds may have the firepower to beat the 101 goals they scored in the 2013/14 season. Seeing as Liverpool have Champions League commitments next term, there may be some rotation among these star players as the fixtures become more congested. But if Klopp can integrate them all into his flowing attack, in which they all play similar roles, the fact that they might not all be playing together at the time shouldn't be too much of an issue.
Liverpool certainly have the attacking force to mount a serious title challenge this season. But their defence, which allowed opponents to score 42 goals last season, needs strengthening. If Klopp can bring in a solid centre-back to partner Joel Matip then Liverpool may be on for their first ever Premier League title.
Image source Source: Liverpool FC via Facebook