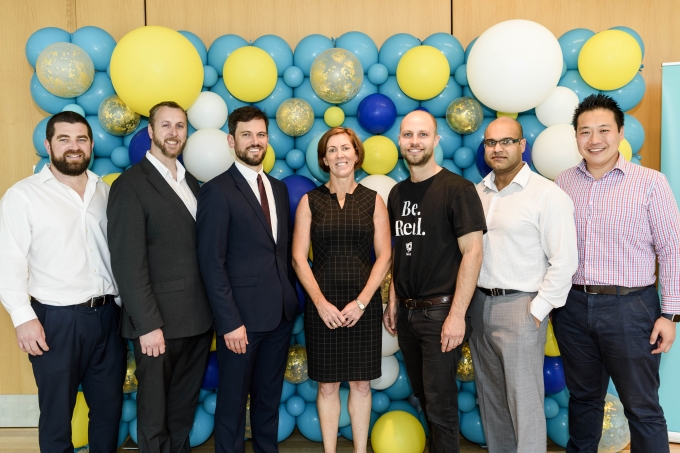 Future Makers is an annual program launched by Optus to foster innovative tech solutions which help solve societal issues for disadvantaged youth

Four digital innovators impressed an esteemed judging panel to score a share of the $300,000 prize pool

Four digital and social innovators from across Australia have walked away with their share of $300,000 to make their idea a reality after successfully pitching to an expert panel at the second annual Optus Future Makers event.
After submitting their technology innovations in May, Danny Hui, Dervla Loughnane, Michael D'Rosario and Angus Robilliard were shortlisted finalists for the 2017 Future Makers accelerator program alongside three others. They were all mentored for four months, with experts from Optus helping them to hone their idea and develop the pitch that would go on to win funding from Optus Future Makers 2017.
Each finalist had to pitch to a panel of judges, that included John Paitaridis Managing Director Optus Business, Claire Rodgers CEO World Vision Australia, Steven Persson CEO The Big Issue and Andrew Tyndale CEO Grace Mutual.
After an intense pitching process, four finalists were named as this year's Future Makers. Danny Hui, Dervla Loughnane, Michael D'Rosario and Angus Robilliard each walked away with their share of $300,000 - enough to bring their bold, innovative solutions to life.
John Paitaridis, Managing Director of Optus Business, said, "This initiative is an opportunity to help Australia's innovators apply their talents to make a positive social impact with the use of technology. We know how important technology is in helping young people, especially those living in disadvantage, to access information and opportunity. Optus Future Makers aims to help close this digital divide with projects that are focused on improving the lives of vulnerable youth."
Both Danny Hui and Michael D'Rosario were also selected to attend the 2017 Future Makers Asia Pacific Program hosted by Singtel, a three-day program where they will join fellow Future Makers from the Philippines and Singapore. As part of the program they will attend the Impact Investment Summit and learn how to scale their solution through Asia Pacific. Danny and Michael will have the exclusive opportunity to pitch to impact investors as well as the opportunity to score a share of an additional SGD $60,000 in funding from Singtel.
For more information about the program please visit the Optus Future Maker website:
http://www.optus.com.au/about/sustainability/community-grants
About Future Makers
Future Makers is an incubator program launched by Optus to foster digital innovation and bring to life bold ideas that have the ability to change the social landscape.
It supports entrepreneurs, social enterprises and not-for-profit organisations with innovative technological ideas that help address the challenges faced by vulnerable young Australians across employability, education and mental wellbeing.
Future Makers Panel:
John Paitaridis
Managing Director, Optus Business
Claire Rogers
CEO, World Vision
Andrew Tyndale
Director Grace Mutual & Chair of The Funding Network
Steven Persson
CEO The Big Issue
Optus Future Makers Winners:
Danny Hui, from Bondi Junction, NSW, yesterday walked away with $100,000 to make his idea a reality. 'sameview' is an app prototype which would enable multiple people involved in a disabled child's care, including educators and healthcare professionals, to share information efficiently.
Dervla Loughnane, from Southport, Queensland, yesterday walked away with $72,000 to make her idea a reality. 'Virtual Psychologist' seeks to remove barriers that prevent people from seeking traditional counselling, such as the fear of talking about issues face-to-face, by offering mental health services via text message.
Michael D'Rosario, from Mitcham, Victoria, yesterday walked away with $47,000. 'Learner Library' is a subscription textbook service with plans to provide students in underprivileged areas in Australia and abroad gratis access to digital textbooks.
Angus Robilliard, from Redfern, NSW, yesterday walked away with $11,000. Angus with his help of his workplace, South Cares Rabbitohs, created the concept of a tailored case management system to assist their staff in supporting Indigenous high school students who are looking to join the workforce.