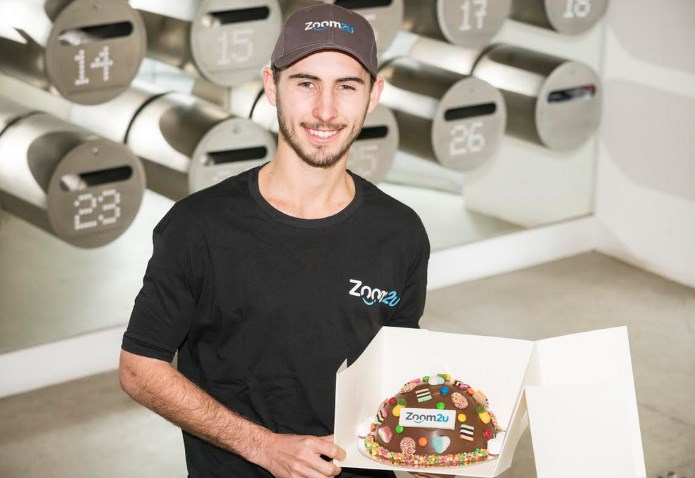 CELEBRATE THE NEW FINANCIAL YEAR WITH FREE TREATS FROM ZOOM2U AND SYDNEY SMASHCAKES
To help you and your workmates celebrate the new financial year, on-demand express courier service – Zoom2u – and the delicious Sydney SmashCakes are giving away free cakes to Sydney offices.
If you aren't familiar with Zoom2u – they are an on-demand user-friendly delivery platform that connects businesses and individuals to a fast and consistently reliable community of couriers. And for those of you who don't know, Sydney SmashCakes are a cake and piñata hybrid that offers a modern, fun and interactive twist to the usual boring baked goods options.
The lucky winners will receive their custom cake (valued at over $100) hand delivered to their office by one Zoom2u's friendly couriers, so this prize is sure to be a hit at any workplace!
Want to enter? Here's how it works:
Step one – Today (the last day of this financial year) visit www.zoom2u.com/new-financial-year-promotion/ and enter your details between 8am – 6pm.
Step two – on Monday 2nd July the lucky winners will be notified, and the celebratory cakes will be delivered by Zoom2u that same day. Winners can get smashing to start their new financial year with a bang.
If you're a winner and you're as impatient as us, you'll be able to track exactly where your cake is in real time via Zoom2u's GPS technology. Plus, if you get called into a meeting or aren't available to collect the cake for whatever reason for a certain period of time during that day, no problem, you can get in touch with your Zoom2u courier directly and arrange a more convenient delivery time.
This particular promotion is only open to anyone who works within 100km of the Sydney CBD, but if you'd like to have your say about where the next activation should take place in Australia let us know at www.zoom2u.com.au/contact-us.
To find out more visit www.zoom2u.com/new-financial-year-promotion/ and make sure you enter your details between 8am – 6pm today.