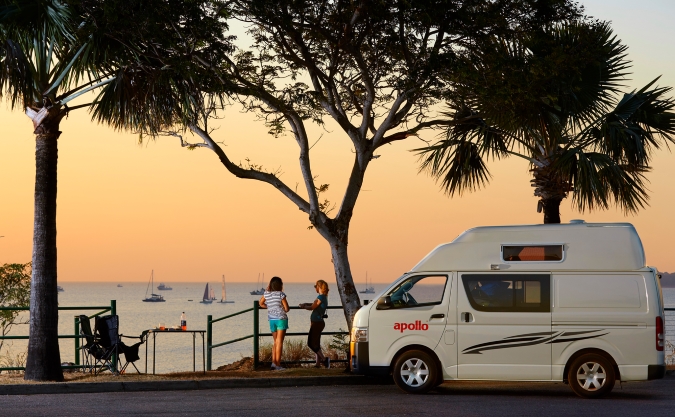 Anyone on a
campervan hire
trip through Australia's Northern Territory would be highly advised to make a stop in the region's capital city of Darwin. This territory is bursting at the seams with natural beauty and plays host to an array of indigenous culture that will help you gain an appreciation for this country's rich cultural heritage. The wildlife to be found in the Darwin region is not only one of Australia's top attractions, but also the entire world's. Every year many thousands of travelers pass through Darwin in order to experience Australia's rugged natural beauty firsthand. The city of Darwin also offers an array of fine dining, shopping, and nightlife for those times when you're not experiencing the area's nature. For first time visitors, check out these top five sights and activities not to be missed during your stay.
Crocosaurus Cove
If you want to get up close and personal with the area's infamous saltwater crocodiles, then look no further than Crocosaurus Cove. Here you can participate in such activities as feeding these known predators, having your photo taken with baby crocodiles, and even be lowered into the water in a safe glass cage in order to see them in their natural habitat. And it isn't just crocs you will see here. The Cove also plays host to an abundance of sawfish, barramundi, archers, and whiprays, not to mention a vast array of reptiles and turtles.
Berry Springs Nature Park
Another great place to check out the region's wildlife and also to get a fine taste of the natural beauty Darwin is known for is Berry Springs Nature park. Here you will find one of the nation's top well known animals, The Dingo, in great abundance. There is a walk-through aviary that is not to be missed, not to mention a goose lagoon, a massive aquarium featuring dozens of different types of native fish, a nocturnal house where you can see the region's night creatures in action, and a forest tour.
Mary River Wetlands
For those looking to truly get out into the area's natural habitat, then a guided tour on the Mary River Wetlands will be enough to satisfy your cravings. This is a two-and-a-half hour trip that passes through miles of gorgeous wetland scenery, Speaking of crocodiles, this stretch is home to the world's largest concentration of saltwater crocodiles. This is your chance to observe these legendary predators right in their natural habitat. Your knowledgeable guide will get you as close to the crocs as if safely possible, so be sure to bring your camera if you want some good up-close snaps.
There will even be the opportunity to take a hike in the bush tracts, do some bird watching, and have a nice fish dinner at the Mary River Wilderness Retreat.
Mangroves
At the legendary mangroves forest you can take a guided tour or set off on your own to immerse yourself in the area's wondrous natural setting. Along the way you will pass through such territory as a monsoon forest, rocky stretches of majestic coastline, mudflats, and of course the legendary mangroves. For those into bird watching, this is an opportunity to spot some of the rarest birds in existence, including flycatchers, finches, drongos, cockatoos, kingfishers, and honeyeaters. You can easily spend all day at the Mangroves, and all it takes is a 20 minute drive in your campervan hire from downtown Darwin to reach this area of natural wonders.

Litchfield National Park
This diverse and massive national park is one of the best places to discover the beauty of Australia in all of its glory. Since it features so many different activities and types of land, Litchfield is considered by many travelers to be the top outdoor destination in the country. Once you've spent a day in Litchfield you will most likely agree. This park is full of rich vegetation and greenery, calm rivers and cascading waterfalls, massive termite mounds, and local wildlife. You can spend your day hiking in this pleasant wilderness, take a swim under a majestic waterfall, and sit on a hill as the sun sets over the grasslands. This hike will cover most of the known types of territory in Australia's northern region, so this is a good experience if you wish to truly see it all.
Northern Australia is about more than just crocodiles and dingoes. This is an extremely rich and diverse landscape offering unbelievable sights and a plethora of native wildlife. For anyone in search of the true essence of this rugged and beautiful country, the Darwin region is the place where you will find it. When you factor in that the town of Darwin itself offers great accommodations, food, and shopping opportunities you will see that this is an all-around must-visit destination. Make sure to steer your campervan hire in Darwin's direction if you're traveling in the North.