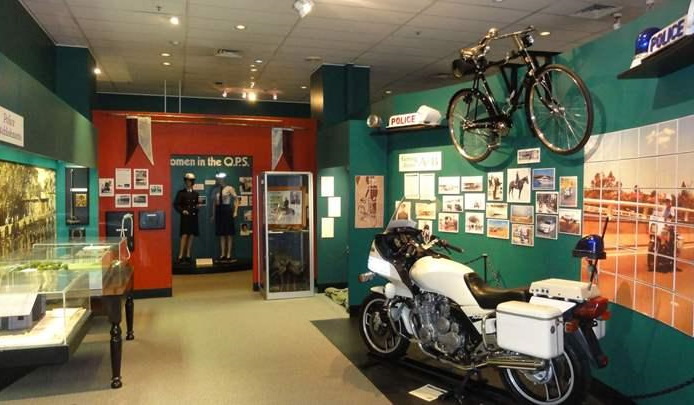 School can be tough and draining, so it's important to mix in some rest and recreation during the weekends. Brisbane is teeming with restaurants, beaches, parks, and entertainment spots that are popular among students. However, if you want something new and unusual for your next weekend excursion, we've got you covered.
From eccentric sculptures to a hole in the wall bookshop, check out our list of unique weekend activities in Brisbane for students:
1) Visit the Queensland Police Museum

NCIS fans will surely love touring around the Queensland Police Museum. It is home to preserved and displayed police items such as vehicles, uniforms, equipment, badges, and weapons. It also has crime scene depictions that let you solve a murder mystery.
Perhaps one of the best features of the Queensland Police Museum is the taxidermy of a dog named Peter. He was considered a unique and unusual piece of evidence during a murder case in 1952. If you want to learn more about this case and many others, make sure to visit the museum — admission is free!
2) Eat various types of fungi at the Brisbane Customs House
Some restaurants grow their own herbs, while others buy live bacteria to create their own yogurt. This award-winning restaurant in Brisbane is unique because they grow their own mushrooms in the basement of their building.
Patina is a modern and contemporary restaurant located at Brisbane's iconic heritage building, the Customs House. The 19th-century building's basement has the perfect conditions for growing delicious mushrooms.
Book a dinner reservation at this cool restaurant and marvel at the beautiful Victorian-style architecture of Customs House. And while you're at it, don't forget to check out the shiitake and oyster mushroom colonies of Patina.
3) Buy books from Logical Unsanity
This isn't your usual bookshop — Logical Unsanity Books & Miscellaneous Phantasmagoria looks more like a mysterious tent full of antique finds. This rickety shed houses a treasure trove of secondhand books at marked down prices. However, it's up to you how much you'll pay.
This bookstore is open 24 hours a day, so you can visit it anytime you want to. They also accept donations, which is perfect for students who want to declutter their bookshelves. With so many types of books housed in this vintage shed, you'll surely find one that will pique your interest.
4) Marvel at 'The World Turns'


Even if you're not an art student, you'll surely be amazed at this unusual bronze sculpture by the artist Michael Parekowhai. 'The World Turns' depicts a 5-metre high elephant, falling headfirst off a boulder next to a kuril (native water rat) that is scratching its tail, seemingly unfazed by the giant mammal.
The artwork shows that the kuril, going about its business despite shifting the world, as shown by the large, toppled elephant. 'The World Turns' reminds people that there are many other stories other than the highlighted moments in history. These small stories are just as important in our understanding of history.
If you ever decide to drop by, take a moment to sit down on the nearby chair and marvel at this stunning sculpture.
5) Watch the Pitch Drop Experiment
If you think science lab experiments take up a huge amount of time, wait until you see the Pitch Drop Experiment. It began in 1927 by Professor Thomas Parnell and is still going on. It is listed as the longest-running experiment by the Guinness World Records, and it will probably hold that title since it is estimated to continue for another hundred years.
Pitch, the name of hard, tar-like substances, was used by Professor Parnell to prove that it is actually a high-viscosity liquid. He heated the substance in a funnel, waited three years for it to completely settle, and cut the bottom of the funnel for it to drip down.
The first drop was recorded eight years after, while the second one happened nine years later. Though Professor Parnell passed away, the experiment continued without him. Within 91 years, the pitch has only dripped nine times.
Stay at Brisbane's top student accommodation
Finding the right student accommodation can be difficult, but Student One makes it easy for students everywhere. Located around the central city addresses, it has the best facilities and community in Brisbane.
Student One has locations along Adelaide Street, Wharf Street, and Elizabeth Street. The rooms include kitchen essentials, free unlimited Wi-Fi, and flexible lease options. Plus, the whole facility is safe and secure, with friendly and approachable staff that is available 24/7. To top it all off, it also houses a pool, cinema, gym, and more.
Living and studying in Brisbane shouldn't be stressful. Book your residence with Student One now.