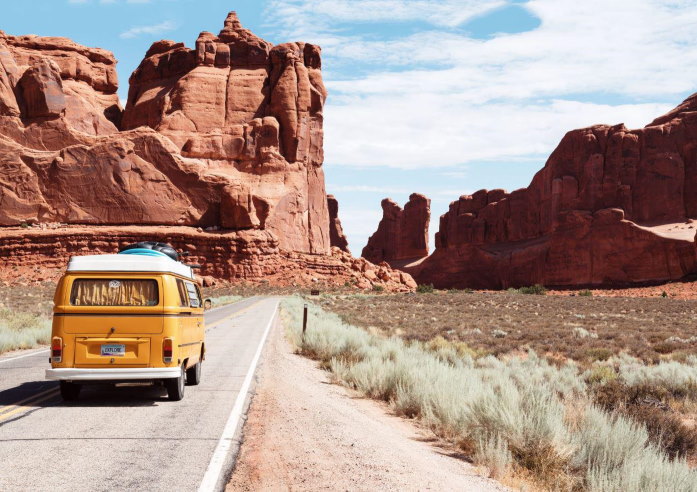 Road tripping in the US can be a bit of a rite of passage and I recommend it to everyone. Whether this is your first trip to the US or your 5th, here are 6 quick tips to ensure your road trip is a success.
Get Yourself the Dream Car
The ideal car depends on what kinds of activities you'll be up to on your vacation. If you're sticking to cities, beaches and nothing too 'off-the-grid' then a Mustang is a great shout or, if you plan on going into the wilderness a little, you can't go wrong with a 4WD SUV, which are pretty affordable to rent in the US. We also recommend spicing it up with a campervan from Jucy or Escape Campervans.
Pick Your Time of Year Wisely
If you plan on having a trip sans snow, book your trip later for July/August time. A lot of attractions in the US such as national parks are pretty high in elevation and often get snow into late May/June. If you're into winter sports and want to mix your activities up a little (beach bum one day and snow bunny the next), then April is the perfect time of year; southern California will be nice and balmy by the beaches and you could get powder days up in the Sierra.
Use Google Maps
I love Google Maps when I am on the road because I officially suck at reading road signs, as does Lauren Brown, tech expert at thegoodestate.com. "If you're worried about all the data that maps will guzzle up, you can actually download areas on Google Maps for offline use before you begin your travels," she says. The great news is that the maps are usually good for up to 30 days too which is great for most road trips.
Bring a Cooler
One of the great things about road-tripping in the US is that there's an abundance of places to camp either for free or at paid sites. I recommend purchasing a cheap cooler from Walmart before you set off and keep throwing in a bag of ice, that way you can get two or three day's worth of food and drink supplies and you don't have to worry about what you'll be eating each day. It's friendly on the budget and can be healthier than heaps of Maccas trips.
Create a Killer Playlist
No road trip is complete without some banging tunes to accompany it. Make sure you get a Spotify playlist on the go and be sure to download it to your phone prior to your travels; that way, when you're driving somewhere with no cell service, you can still play your music.
Always Carry Some Cash
If you plan on swinging by small towns or camping in national forests or recreation areas, most of them will only accept cash. Don't get caught out being short, just make sure you have around $100 with you at all times just in case you need it. Remember it's not a wise idea to just rely on your credit card especially when you're going to be stopping off for gas regularly and card machines may not always be working.