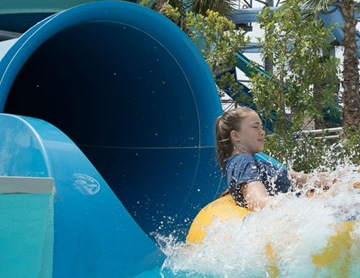 How you would spend your hard-earned vacation can be a tough decision to make. On one hand, you probably just want to hit the sack and catch up on the sleep that you've missed because of busy days and nights working or tending to your family. On the other hand, you're tempted to take the opportunity to have fun, see the world and travel to places you have never been to.
However, there is one more option that may not have crossed your mind: going to a waterpark. This type of vacation is ideal for both families and groups of friends. Either way, waterparks serve as an excellent venue for spending some quality time with your loved ones.
Are you unfamiliar with all the fun things to do at a waterpark? This article covers four main reasons to go to a waterpark plus some tips for making the most out of the experience.
4 Reasons Why a Trip to the Waterpark Is What You Need
Most people file their leave of absence from work, already knowing the reason why they have to. But if you're among those people who simply want to take time off and are still uncertain about what they want to do, then consider heading off to a waterpark.
Here are four reasons why a trip to the waterpark can be just what you need:
You always come home exhausted
Sometimes, all you need is a break from routine and a way to release all the pent-up pressure that builds up from working eight hours a day, five days a week.
When you decide to head to a waterpark, you're likely to come home tired at the end of the day, but it's a different kind of tired. It'll be a happy kind of exhaustion from indulging in all kinds of exciting and enjoyable activities.
You'll have so much fun that you won't feel the tiredness until the day is over. In fact, you might even feel more refreshed and invigorated the following day.
You're too stressed out
In most cases, adults try to maintain their composure even if they feel like screaming out of frustration. A day at a waterpark is an opportune time to let loose, release all your misgivings, and scream at the top of your lungs while enjoying the rides and slides.
Don't worry. No one will judge you when you scream while free-falling down the waterpark slides (lots of people will be doing the same!).
You haven't had quality time with your loved ones
Waterparks offer an escape from real life. When you take a break and expect no work emails, no phone calls, and no favors asked by colleagues or orders from bosses, you'll get a chance to focus on spending quality time with your family and friends.
Think of a day of splashing around in a waterpark as a way to reconnect with your loved ones and disconnecting from paperwork, deadlines, and everything else.
You feel overwhelmed by all the problems you face
Work and life, in general, can sometimes feel overwhelming. This is the very reason why "adulting" became a word that many people use to describe the difficulties of being a grown-up.
When you go to a waterpark, you'll get to experience that carefree feeling you had when you were a child. If that voice in your head tells you that you don't have time for such childish endeavors, go ahead and ignore it.
Believe it or not, you'll have so much fun that you'll realize that those big, adult problems you've been brooding about are not as daunting as they may seem.
Top Tips to Help You Enjoy Waterparks More
If you still don't think waterparks are a great way to use up your vacation days, you probably need to learn about ways to make the most out of the experience. Here is a list of recommendations from people who successfully enjoyed their time at waterparks:
Splurge on seasonal or annual passes
Seasonal or annual passes can be very useful when you're a regular waterpark visitor. These waterpark packages can help make arranging your waterpark visits simpler as compared to booking for every trip. Plus, some annual pass packages offer unlimited access to waterpark amenities, so you'll have as much fun as you want.
Remember to pack the essentials
What and how you pack can also make or break your waterpark trip. From the right clothes to ample sun protection, list down all the important items that should be in your bags days before your vacation.
Below are some of the must-haves to include in your packing list:
A towel
A change of clothes
Drinking water
Waterproof sunscreen with SPF 30 or higher
Shades and a sun hat
Toiletries like soap, shampoo, toothbrush, and toothpaste
A first-aid kit complete with emergency and maintenance medications
Plan an early arrival
One thing that can ruin a fun day at a waterpark is not having enough time – or space – to do everything you'd like to do. To make sure you and your companions have the most enjoyable experience, you must plan for an early arrival.
Make sure to arrive as early as possible. About 30 minutes before the waterpark opens should suffice to beat the crowd. Plus, this will also help you enjoy the pool and waterpark amenities under better conditions, not to mention give you the opportunity to park in the best spot.
Consider renting a cabana
After hours and hours of water fun, you will eventually feel exhausted and need a place to rest comfortably. This is where renting a cabana will prove to be useful.
Aside from serving as a place to rest amid the frenzy of activity, a cabana can also keep your belongings secure. It might even prove to be useful when the weather conditions become less than ideal for swimming in the middle of your waterpark trip.
Pick the right clothes
While it is a relief to be able to wear something other than your work attire, spending your vacation at a waterpark may still require you to follow a certain dress code. However, most people find it more agreeable since the rule of thumb is to wear something comfortable.
Of course, you must still remember to bring lined swimsuits when you plan to spend time in the water. Different waterparks may have varying guidelines, but many disallow patrons from swimming while wearing sports bras, basketball shorts, and any other clothing with buttons and zippers. They also recommend wearing a cover-up while entering the pool. Once you hit the water, you should only be wearing a bathing suit.
Give Yourself a Break
Taking a break from work and the other things that make keep you busy in life is a healthy practice. Aside from resting at home, you can also enjoy the benefits of your vacation when you let loose and indulge in swimming, sunning and running around in a waterpark. Let this article guide you on your next waterpark getaway.