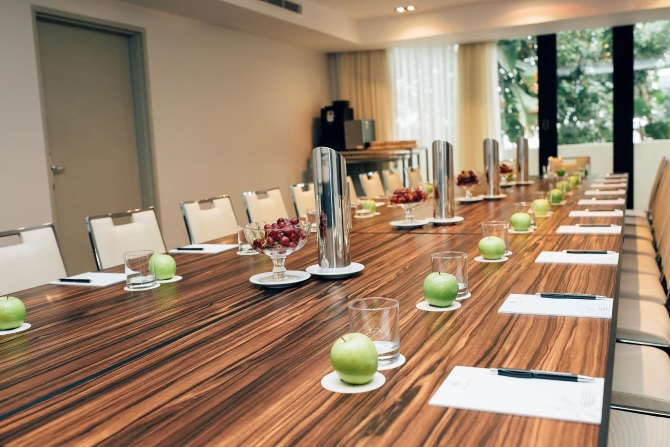 Managing Director of Kingscliff based Santai Retreat, Carl Taranto, is about to shake up the meetings and conference industry with the launch of the retreat's new meetings and conference facilities. The luxurious Bali inspired property has become well known for its exclusive high end, low cost accommodation offerings, health and wellness focus, on-site day spa and award winning restaurant, the Spice Den. Mr Taranto is now extending the retreat's offerings into the business sector to give businesses and corporates the opportunity to hold intimate meetings, forums and small scale conferences at the retreat's newly renovated business centre.

"Our newly launched business centre is perfect for businesses and corporates wanting to hold meetings, forums and intimate conferences at a luxurious yet affordably priced venue that includes accommodation, and other amenities next to the sea side," Mr Taranto said today.

"At Santai Retreat, we don't just offer a getaway, we offer a venue with a focus on health and wellbeing supported by services and products such our day spa, healthy menu options and yoga classes, which allow guests and business visitors to incorporate healthy elements into their stay.

"I am really excited about our new business centre. The centre is versatile and can be used as a board room, a small conference room, or a good sized space for training activities. Table layouts can be changed to suit any room set up.

"Our space is executive in style, but still very affordable in price and overlooks stunning gardens in the middle of a gorgeous Bali inspired retreat.

"We are ideally located for businesses on the Gold Coast, Brisbane, even Sydney. The airport is only 20 minutes away.

"We are the perfect location for intimate and boutique size meetings and events. Meeting attendees can book in to their rooms, throw down their bags, experience the benefits and calm of our Bali inspired retreat, and head off to their meeting while their partner enjoys a yoga class, the day spa, heated pool, or nearby beach. There is plenty to do in Kingscliff.

"Meeting planners and businesses also receive a discount on room accommodation when booking events and meetings at Santai.

"The business centre includes all the latest and greatest technology. We can also offer break out rooms and other areas for cocktails, presentations, etc.

"The award winning Spice Den restaurant also offers the perfect location for a post meeting or conference wrap up dinner.

"Our business centre seats up to 32 theatre style.

"Santai Retreat is one of the most stunning and versatile retreats in Australia. Given our exclusive feel and our health and wellness services such as the day spa and yoga, it made sense to extend our offering from luxury relaxation accommodation to the meeting and conference sector. Both sit nicely together.

"Many businesses want the luxury offerings without the hefty price tag and feel better knowing they are staying at a venue that offers healthy choices."

www.santairetreat.com.au