The Hat Box High Tea @ Emporium Hotel September 17 : Hot Hat Box tips for the season and Melbourne Cup colours!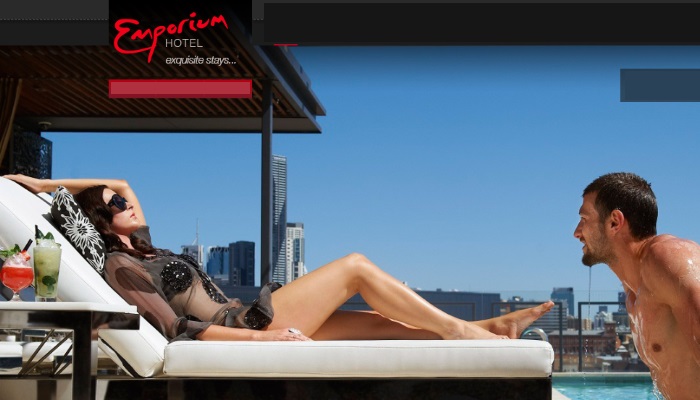 It's the most fabulous time of the year – Spring Racing season; when flowers and colour take centrestage! On Wednesday September 17 the acclaimed Emporium Hotel High Fashion High Tea event will star Brisbane's famed The Hat Box in a morning of style, showcasing the latest in Spring Racing headwear.
Set against the backdrop of the multi-award winning Emporium Hotel's stunning Cocktail Bar, and taking place from 10:30am to 12 noon, the High Fashion High Tea will feature spectacular, fashion-forward headpieces presented by millinery royalty Dale Olsson of The Hat Box, from the boutique's current Spring Racing Carnival Collection, accompanied by Mumm Champagne and sweet treats.
It seems there's most definitely a science behind the style that is Spring Racing fashion.
"When selecting a headpiece for Spring Racing Carnival, a woman should take into account which specific day she is dressing for. Be it Derby Day, Melbourne Cup or Oaks Day, there is a certain style of hat or headpiece for each occasion, and that's what we'll be exploring at the next Emporium Hotel High Fashion High Tea," said The Hat Box founder Dale Olsson.
"We'll be showcasing a range of hats tailored to the three major race days of the Spring Racing Carnival, including stunning black and white options for Derby Day, bright colours for Melbourne Cup - think hot pink, lime green and orange, and feminine sorbet colours such as pale pink, baby blue and nude, in elegant styles for Oaks Day."
KEY LOOKS: Ms Olsson said this Spring it was all about 'bigger, the better', with styles on show at the High Tea reflecting this. "This season will see a return to the wide brim, in both straw and crinoline, trimmed with silk roses and ribbons. Dainty little hats will still be worn however, adorned with beads, and fascinators will be larger, statement pieces, often seen with face veils. It really will be a spectacular and beautiful showcase of headwear and we can't wait to share it with guests at the High Tea."
Calling the gallery level of the beautiful heritage-listed Brisbane Arcade in Brisbane's city centre its home, The Hat Box dresses both men and women and is unlike any other millinery establishment in the country, with its core business being intricate original hats created by a select group of the finest milliners in Australia. Dale Olsson gathers the designs of talented milliners including Patricia Balmer, Ann Boyle, Kim Fletcher, Neil Grigg, Kylie Heagney, Jonathan Howard, and the famed Melbourne-based Phillip Rhodes.
For only $55 per person, guests will enjoy a glass of MUMM Champagne, unlimited T2 tea and coffee, and a selection of delicious finger sandwiches and delectable sweets, all the while taking in a salon style showcase of The Hat Box's most glamourous and on trend, trackside headpieces for spring.
WHAT: Emporium Hotel presents…The Hat Box High Fashion High Tea
Date: Wednesday 17 September 2014
Time: 10:30am to 12pm
Venue: Emporium Hotel Cocktail Bar, 1000 Ann Street, Fortitude Valley
Price: $55 per person
Includes: A glass of MUMM Champagne on arrival, T2 tea and coffee, a selection of delicious finger sandwiches and delectable sweets
Bookings: Bookings essential, call 07 3253 6999 or email events@emporiumhotels.com.au (limited places available)
Website: www.emporiumhotels.com.au

The Awards:
Winner: Best Luxury Accommodation, Queensland Tourism Awards 2013, 2012, 2009, 2008
Winner: Australia's Leading Hotel Residences, Dubai World Travel Awards 2013
Winner: Best Luxury Accommodation, Qantas Australian Tourism Awards 2012, 2013
Winner: Best Training Initiative, Queensland Hotels Association Awards for Excellence 2013, 2011
Winner: Best Boutique Hotel in Australia, HM Awards for Hotel Excellence 2013, 2012, 2011, 2010 & 2009
Winner: Tripadvisor Certificate of Excellence, 2013
Winner: Best Deluxe Hotel Accommodation 5 Star+, Queensland Hotels Association Awards for Excellence 2012
Winner: Trendiest Hotels in Australia, TripAdvisor Travellers' Choice Awards 2012
Winner: Best 5 STAR Hotel, Silver Award, AAA Awards for Excellence 2011
Winner: Best Hotel Caterer, Restaurant and Catering Awards for Excellence QLD 2010
Winner: Best Small Luxury Hotel in Australia, Gourmet Traveller Travel Awards 2010 & 2009
Named one of the world's best new hotels in the International Condé Nast Traveler's Hot List 2008