Sydney, Australia: Sunday 7 DECEMBER 2014
TROPFEST FILMMAKER SCORES WITH A SICKIE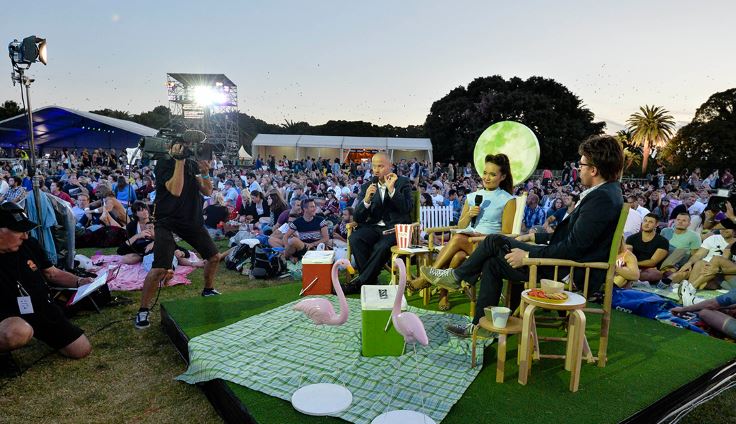 Tropfest announces today Julian Lucas from Elwood in Victoria has won the coveted fruit trophy for Granny Smith. The short film was chosen by an expert panel of five judges - Australian actor Kat Stewart (Offspring's Billy Proudman); Australian writer Marcus Zusak – writer of The Book Thief; Hannibal, American Horror Story Asylum and Battle Star Galactica producer and film director Michael Rymer; writer of The Sapphires and actor Tony Briggs; as well as legendary film critic Margaret Pomeranz.
Jackson Mullane from Cronulla in NSW took home Second Prize with Red Nuts, and Third Prize went to Stuart Bowen, from Newtown in NSW, for Twisted. Best Male Actor was awarded to Kevin McIssac for his role as the down and out husband in Red Nuts, and Best Female Actress went to Caitlin Scullin for her performance as the love-struck Lady of the Manor in A Lady and a Robot. The $3,000 prize for each short film star was generously donated by Nicole Kidman.
Tropfest Founder and Director, John Polson, said "It's been twenty two years since Tropfest first began and every year the films entered into the competition remind me of why I started this in the first place - to raise the profile of talented filmmakers and to share stories that, without this platform, might not otherwise be told."
"It is a privilege to see the work of such incredibly talented filmmakers enter our festival, and this year is no exception," Polson said.
Polson also announced "CARD" as the Tropfest Signature Item for the 2015, and that filmmakers should get started.
It started as an evening of wild, windy weather but nothing could quash the excitement as the clouds parted and the stars came out to walk the red carpet. The show must go on; and what a show it was as after a brief delay, Sydneysiders flocked back to Centennial Parklands to see the world largest short film festival. A huge line up of Australia's top celebrities came down to get a piece of the action, as the films rolled on to excitement and applause.
Granny Smith tells the hilarious tale of a man who enlists the help of his housemate one day to make up an excuse for him to get out of work. The housemate takes it too far, however, and blames his mate's absence from work on his grandmother's death. Things get pretty messy when the sympathetic boss, played by Steve Vizard, decides that the whole team should come along to the funeral to show their support.
Julian Lucas is the lucky recipient of a brand new Toyota Corolla Levin ZR, a $10,000 cash prize thanks to Kennedy Miller Mitchell, and a trip to Los Angeles for a week of meetings with film executives (organised by Motion Picture Association and the Australian Screen Association).
And to help him on his way as a filmmaker, he is now also the proud owner of Nikon D810 and $2,000 RRP worth of Nikkor lenses and accessories.
Thanks to a national partnership with Moonlight Cinema, Tropfest was screened at live sites across Australia, and SBS 2 also took all the action from Sydney straight into living rooms around the country via their live broadcast. For those not near a TV, SBS Online also live streamed the broadcast at sbs.com.au/tropfest; making Tropfest available to audiences everywhere in the world.
Also announced tonight were the winners of the Nikon DSLR Film category, twin brothers David and Michael Karacic from South Hurstville in NSW. Their film, Untitled was in the format of a public service announcement. It focused on a man staring into a mirror, battling with the debilitating demon of depression. The category was created to recognise films shot entirely on DSLR cameras, and almost 50 percent of entries submitted to Tropfest applied for this category recognition. They will be taking home a brand new Nikon D610 and $3,000 RRP worth of Nikkor lenses and accessories.
Impressively, David also went home with the Qantas Film Cadetship for their film. The Qantas Film Cadetship offers a rare six-month paid internship in Qantas' in-house Digital and Inflight Entertainment division giving a new generation of Australian film talent that professional support they need to boost their creative career.
Benjamin Huang from Melbourne, Victoria was crowned the winner of APRA Tropscore 2014 and will walk away with $5000 in cash, courtesy of APRA AMCOS.
Tropfest had humble beginnings at the Tropicana Café in Sydney's Darlinghurst in 1993 to an eager crowd of 200, who showed up to watch a short film screening that Tropfest founder John Polson had organised. Twenty-two years on, Tropfest attracts an enormous live audience and the festival has grown internationally, with standalone competitions in New Zealand, South East Asia, New York and the Middle East.
Tropfest is proudly supported by the NSW Government, through its tourism and major events agency Destination NSW.
For festival details, screening venues and regular updates on all things Trop, visit:
Website: www.tropfest.com/au
Facebook: www.facebook.com/tropfest
Twitter: www.twitter.com/TROPFEST
Instagram: www.instagram.com/tropfest
YouTube: www.youtube.com/user/TROPFEST

ABOUT TROPFEST
Tropfest is Australia's most prestigious short film festival and one of its most iconic cultural events. It is also the largest short film festival in the world. Founded in 1993 by film director John Polson as a small screening for family and friends at Sydney's Tropicana Café, the Festival now attracts a massive national event audience. The event is hosted in Sydney with a live national broadcast on SBS 2, and is proudly supported by the NSW Government through its tourism and major events agency Destination NSW. The short film competition is unique in that every film must be made specifically for Tropfest, will premiere at Tropfest Australia and must include the Tropfest Signature Item (TSI), which changes each year. 16 Finalists are selected from an average 650 entries. Tropfest has expanded internationally to include new competitions and festivals in North America, (New York), the Middle East, New Zealand and South East Asia.
SBS 2 Broadcast
This year Tropfest was broadcast live to a television audience all around Australia on SBS 2. If you missed out on the action, you can catch up on the broadcast on SBS On Demand at http://www.sbs.com.au/ondemand/

JOHN POLSON – Founder/Director, Tropfest
John Polson is an award-winning actor and director, as well as the founder and director of the World's Largest Short Film Festival, Tropfest. John is the creative force behind Tropfest's success and global expansion, from its humble beginnings as a screening of one of his own short films at Sydney's Tropicana Cafe in 1993. Tropfest in Australia attracts a massive national audience at live events and via a simultaneous television broadcast. Tropfest has been held in New York, Berlin, London, Bangkok, Beijing, Aspen with plans to enter many other countries. First and foremost, though, John's passion lies behind the camera as a film director. Creating his first short film AN EVENING WITH HERMAN in the early 1980s, John has since garnered worldwide attention with feature films such as SIAM SUNSET (starring Linus Roache), which won awards at numerous film festivals around the world (including the Cannes International Film Festival). He also directed the US feature films SWIMFAN (starring Jesse Bradford, Erica Christensen) and HIDE AND SEEK (starring Robert De Niro, Dakota Fanning), both of which opened at Number 1 at the US box office. John's latest feature film TENDERNESS, in which he directed Russell Crowe and Laura Dern, was released in 2009. Today, in addition to his feature film work, John flexes his creative muscle on the small screen as a producer and director on shows such as FRINGE, THE MENTALIST, ELEMENTARY, THE GOOD WIFE and FLASH FORWARD.