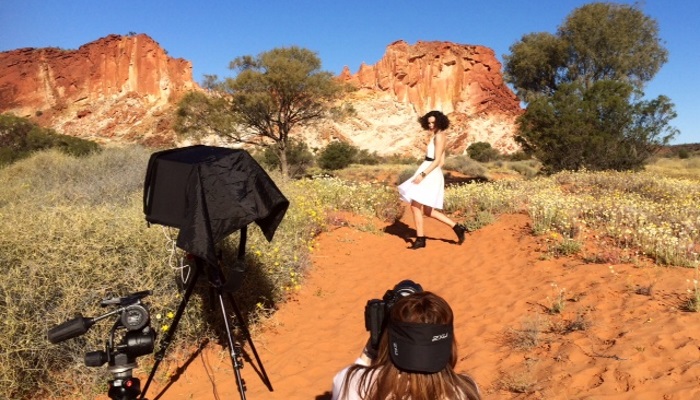 30 August 2014. The Red Centre will take centre stage in upcoming fashion editorials for popular Australian magazines Cleo and Dolly, in the latest initiative to encourage interstate tourists to Do the NT.
"This week's fashion shoot will showcase what so many Australians already know as the quintessential Aussie Outback, but so few have experienced first-hand," said Tourism Minister Matt Conlan.
"This is yet another way the Government is reaching out to help sell holidays in the NT. The fashion shoots will be accompanied by additional coverage including travel stories highlighting the Territory as an exciting and vibrant destination with much to see and do.
"It's hoped the natural beauty of the Red Centre matched with stunning models and fashions will inspire readers to book their own rugged and beautiful adventure in the Territory."
The key locations for the shoot include:
The '20km red sand dune' located 20km along the Old Andado Track which follows the Simpson Desert's western edge;
West MacDonnell Ranges;
Rainbow Valley;
Standley Chasm; and
Ellery Creek Big Hole.
Cleo and Dolly Fashion Editor Alissa Thomas said the motivation to shoot in the NT was to showcase; "the spectacular landscape, the rich colour, the beautiful light and the ultimately Australian backdrop."
"I have always wanted to shoot in the Red Centre – its unique terrain and incredible landscape will create a backdrop, look and atmosphere unparalleled anywhere else in the world," she said.
"I'm looking forward to capturing wide sweeping shots of the locations we visit – making the Red Centre a character of the stories, not just a background. I would like the clothing to contrast the areas, with flowing fabrics, prints and feminine pieces."
Mr Conlan said that the fashion shoot comes after last year's popular Instyle magazine shoot, also in the Red Centre, featuring Territory superstar Jessica Mauboy.
The shoot also coincides with the latest Do the NT marketing blitz, which includes national television commercials and How to Do the NT booklets inserted into major newspapers in Sydney, Melbourne, Brisbane, Adelaide as well as regional NSW and Victorian papers.
The latest Do the NT campaign is being supported by four partners – Wotif, Flight Centre, Sunlover and Territory Discoveries – offering a range of flight, accommodation and package deals.