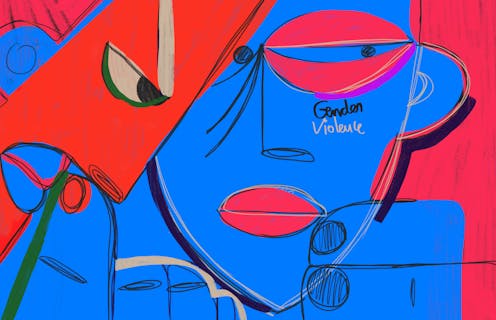 from www.shutterstock.com

, CC BY-ND
One of New Zealand's most notorious sexual misconduct cases re-emerged recently when a ringleader of the Roast Busters, a group of teenagers who were investigated five years ago for alleged sexual offences against underage girls, gave a television interview.
The interview sparked outrage, and the broadcaster was criticised for providing a platform for the group's leader, while re-traumatising the complainants.
Back in 2013, the police investigated the case for 18 months but didn't lay charges due to a lack of evidence. I argue that prosecution decisions and societal responses to sexual offending may not be any more enlightened today, partly because of the way the law treats the issue of consent and classifies sexual crimes.
Rape discourse
One of the common tropes in rape discourse is the idea that genuine victims would complain immediately. If they don't, the argument goes, the complaint is fabricated. Another myth is that such "false" complaints are motivated by some personal gain, be it financial or political.
It is therefore deeply ironic that Joseph Parker, the leader of the Roast Busters, issued public statements about his role in the incidents five years later. But unless the police decide to lay charges after all, the alleged sexual offenders are irrelevant.
What is relevant, is to consider what the response would be to a similar case if it arose in 2019. On the one hand, the publicity indicates a great deal of support for the complainants and concern about exacerbating their trauma. But in 2013, I participated in a Radio New Zealand panel discussion about the case, in which one of the biggest issues discussed was the conduct of the complainants – in other words, what they were doing in the company of the alleged offenders, why and how much were they drinking, and what they were wearing.
At the time, two commercial radio hosts, John Tamihere and Willy Jackson, grilled a friend of one of the Roast Busters complainants, asking her "how free and easy are you kids these days?". They also described as "mischief" the conduct of the alleged offenders in bragging about their sexual conduct with drunk and underage complainants on social media. Both broadcasters were censured in 2013, but it is worth noting that Jackson is now a member of parliament, and Tamihere is running for mayor in Auckland.
The real issue
All these questions about the complainants divert attention from the behaviour of offenders. Some believe they are entitled to treat people in this way and society, and in some contexts the law, have implicitly given them permission to.
We must look at every case in its own individual context, but at the heart of the issue in most cases is consent. This has two elements: first, did the complainant actually consent and, second, if not, did the defendant believe, on reasonable grounds, that there was consent.
In the Roast Busters case, it would be hard to argue that the alleged offenders did have reasonable grounds for believing in consent if they did in fact set out to have sex with the complainants while they were drunk or unconscious.
Disparity in how the law treats women
Under section 128A of the Crimes Act 1961 a person does not consent to sexual activity if the activity occurs while he or she is so affected by alcohol that they cannot consent or refuse to consent. Also, a person does not consent to sexual activity if the activity occurs while he or she is asleep or unconscious.
Yet, these provisions of the Crimes Act are subject to interpretation by judges and juries. How, and on what basis, do they decide whether a complainant is "so affected" by alcohol that they are unable to consent?
Further evidence of the law's differential treatment of sexual complainants is in the way in which sexual offences are characterised in the Act itself. Sexual crimes are classified as "crimes against religion, morality and public welfare" as opposed to murder, manslaughter and non-sexual assaults which are labelled "crimes against the person".
This disparity in language confirms a real inequity in the way in which the law treats women (who make up the large proportion of complainants in sexual cases). It is a relic of the days when women were chattels owned by men and a sexual offence was a property offence committed against the property owner.
This choice of statutory language is not confined to New Zealand's legislation. In both the Northern Territory and Queensland, sexual offences against children are classified as offences against morality, but against adults they fall within the "assault" category. On the other hand, in Victoria's Crimes Act, sexual offences against adults and children are sub-categories of a general "offences" category.
---
Read more: 'Bystander effect' and sexual assault: What the research says
---
I would like to think that things would be different if Roast Busters happened now. Unfortunately, I do not have that optimism. Instead, I see the character assassination of Dr Christine Blasey Ford during Brett Kavanaugh's appointment to the US Supreme Court, the Irish case where a defence lawyer was permitted to tell a jury to look at the way the complainant was dressed, and that the fact she was wearing a G-string was evidence of her consent. I also see the #notallmen and #mentoo hashtags.
I would like to see an end to the offence taken every time a news story references the victimisation of women or an advert for a razor calls out toxic masculinity. We know not all men do bad things, but all women are subject to (at the very least the risk of) sexual violence and harassment. Denial of that reality is a real barrier to change.

Brenda Midson does not work for, consult, own shares in or receive funding from any company or organisation that would benefit from this article, and has disclosed no relevant affiliations beyond their academic appointment.
Authors: Brenda Midson, Editor, New Zealand Law Journal; Senior Lecturer in Law, University of Waikato
Read more http://theconversation.com/how-antiquated-legal-language-undermines-complainants-in-cases-of-sexual-assault-110596