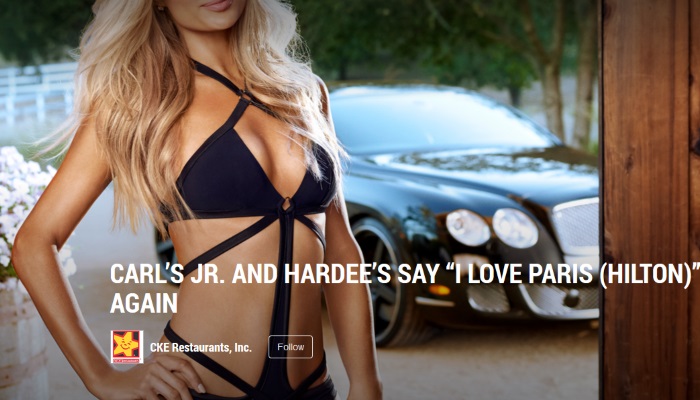 Media icon and original ambassador Paris Hilton revisits her iconic car wash moments for the new Texas BBQ Thickburger commercial
CARPINTERIA, Calif. – July 29, 2014 – Nearly a decade after she rocked the world with just a bikini, a burger, a Bentley and some suds, Paris Hilton is back with another commercial for Carl's Jr.® and Hardee's® promoting the new Texas BBQ Thickburger®. The spot pays homage to Paris' iconic 2005 commercial titled "I Love Paris," with a Texas spin, and began airing nationally July 28.
"Paris is the one who started it all by making the eating of a big, indulgent burger look, as she would say, 'hot,'" said Brad Haley, chief marketing officer for Carl's Jr. and Hardee's. "When Paris' original 'I Love Paris' ad debuted in 2005, the worldwide reaction was overwhelming; so much so that the longer-form Director's Cut of the ad crashed our servers when it was posted on our website. It really still stands as one of the most iconic ads of the last decade so we're thrilled to be working with her again on an ad that's sure to be one of the most iconic commercials of the next decade."
The new ad titled "I Love Texas" was created by Los Angeles- and Amsterdam-based creative agency 72andSunny and reunites Paris with director Chris Applebaum, who directed the 2005 spot. Sports Illustrated model and swimsuit issue "Rookie of the Year" finalist Hannah Ferguson also stars as the newest spokesmodel for the chains. The spot opens on Hannah enjoying the spicy Texas BBQ Thickburger while scrubbing down her muddy pick-up truck. Enter Paris, reprising her role from 2005, Bentley included. She inspects Hannah's handiwork and ribs her: "You missed a spot," before biting into a crispy jalapeno strip from the Texas BBQ Thickburger. The spot also features a re-recording of Cole Porter's famous "I Love Paris" from the original ad, performed as "I Love Texas."
"The Carl's Jr. and Hardee's commercials have become known all over the world for being creative and unique; they're commercials that everyone remembers," says Hilton about her decision to do a second commercial. "I loved being in the original, but I'm even more excited for this one."
Paris' 2005 "I Love Paris" ad paved the way for many more memorable Carl's Jr. and Hardee's ads over the years starring Kate Upton, Kim Kardashian, Heidi Klum, Nina Agdal and now Hannah Ferguson.
The :30 spot can be viewed on the chains' YouTube channels (www.youtube.com/carlsjr and www.youtube.com/hardees). An extended Director's Cut and a behind-the-scenes video featuring interviews with Paris and Hannah from the commercial shoot will be available on YouTube this week.
Follow Carl's Jr. and Hardee's on Facebook (www.facebook.com/carlsjr and www.facebook.com/hardees),Twitter (www.twitter.com/carlsjr and www.twitter.com/hardees) and Instagram (@CarlsJr and @Hardees) for the latest product news and promotional offers. Download the Super Star® Rewards app from the iTunes Store and Google Play and check in to redeem Carl's Jr. and Hardee's products on the spot, save points for a high-value reward, check out the full menu and use the store locator to find any Carl's Jr. or Hardee's in the U.S.
About CKE Restaurants Holdings, Inc.
CKE Restaurants Holdings, Inc. ("CKE") is a privately held company headquartered in Carpinteria, Calif. Through its subsidiaries, CKE owns and licenses Carl's Jr.® and Hardee's® quick-service restaurants. CKE operates Carl's Jr. and Hardee's as one brand under two names, acknowledging the regional heritage of both banners. CKE has a total of 3,499 franchised or company-operated restaurants in 42 states and 31 foreign countries and U.S. territories. Known for its one-of-a-kind premium menu items, such as 100 percent Black Angus Thickburgers®, Made from Scratch™ Biscuits, Hand-Breaded Chicken Tenders™ and Fresh Baked Buns, as well as an award-winning marketing approach, the Carl's Jr./Hardee's brand continues to deliver substantial and consistent growth in the U.S. and overseas. The Carl's Jr./Hardee's system is now 75 percent franchised, with international restaurants representing 17 percent of the system. For more information about CKE, please visit www.ckr.com or its brand sites at www.carlsjr.com and www.hardees.com.
Contact:
Kathleen Bush
CKE Restaurants Holdings, Inc.
805-745-7741
Allison Wilson
Weber Shandwick
310-854-8261
Paris Hilton press inquiries:
Dawn Miller
Miller PR
323-761-7229