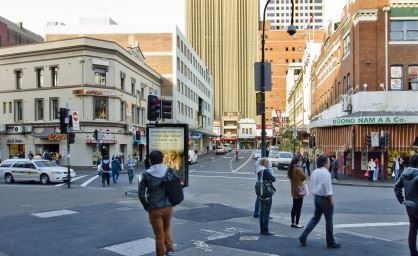 Wednesday, December 10th, 2014
Haymarket shopfronts will get a customer-appealing makeover and local businesses will get help in attracting Asian connections thanks to a series of business grants from the City of Sydney.
The latest Village Business Partnership grants have been awarded to the Haymarket, Pyrmont Ultimo and Paddington business chambers after each successfully delivered on economic projects in a previous funding round. Surry Hills Creative Precinct will also receive funding.
"Small business is the lifeblood of our local economy, particularly in our villages, so we're helping them make the most of opportunities," Lord Mayor Clover Moore said.
"The City works to build sustainable and strong local economies, and through the Village Business Partnership Grants, runs a number of initiatives to support and build capacity in local business.
"About 13,000, or 60 per cent of all businesses in our local government area, are located outside the CBD in the city's village areas."
Haymarket shopfronts will get a makeoever as part of a competition funded by a series of business grants from the City of Sydney.
As part of the latest Village Business Partnership program, The Haymarket Chamber of Commerce will receive $74,000 to increase engagement with Asian business communities and improve the area's appearance.
Costs for more multi-lingual communication – website translations and information kits – will be covered to help keep businesses abreast of opportunities.
The chamber will also run a retail shopfront competition among 30 retailers, with the winner receiving a $2,000 prize, to give the CBD area a makeover that will attract more people to local businesses.
The City will grant the Pyrmont Ultimo Chamber of Commerce $80,000 and value-in-kind banner pole hire worth $2,000.
The funds will help promote greater business exchanges in an area where creative industries have grown 35 per cent since 2007. They will cultivate a sustainable economy together with local businesses, develop a new destination website and market restaurants and tourist attractions.
The Paddington Business Partnership will receive a grant of $65,000 to help business improve connections with customers through the website www.visitpaddington.com.au and a social media program.
Building on the area's rich fashion history, the Partnership will run a precinct branding competition to better promote Paddington.
It will also help sharpen local retailers' business expertise and continue supporting two highly popular street events, the William Street Festival and the Five Ways Shop Local campaign.
Surry Hills Creative Precinct will receive its first Village Business grant of $60,000, after receiving a matching grant of $10,000 from the City to help it get started earlier this year.
Half of the new money will help the Precinct survey local businesses to map the area's economic, social and cultural makeup.
The remainder will contribute to the development of workshops to build the capacity of businesses and investigate the merits of a potential app for the area.
In 2014/15, the grants approved by Council under the City's Village Business Partnership Program will total $650,000.
Earlier this year, the Chippendale Creative Precinct received $72,500, while the Glebe Chamber of Commerce, the Potts Point Partnership, and the Walsh Bay Arts & Commerce all were awarded $80,000; and the South Sydney Business Chamber received $128,000.