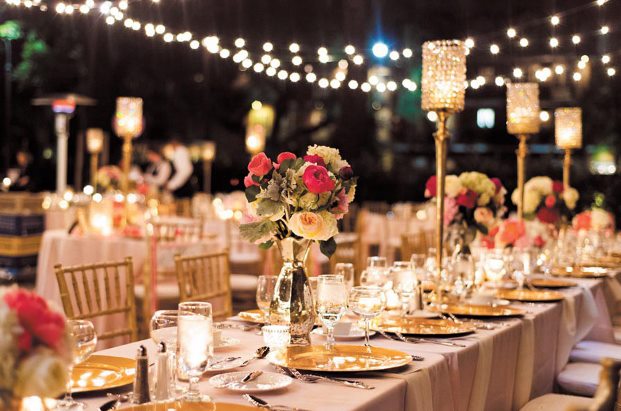 Planning an event can be a daunting task, with a complicated list of obligations that can seem never-ending. However, like all things, with the appropriate research and execution, you can deliver a flawless event optimizing your location and budget. Follow these 5 tips to ensure an event that will be talked about for years to come.

Location
Location, location.
This element can make or break an event, and sets the tone for the evening that follows. I almost always opt for outdoor space as the atmosphere is electric and the photos turn out fabulous. Weather is definitely a factor but, fortunately, Marquee Monkeys offer a stylish solution, delivering outdoor atmosphere with the benefit of creature comforts.
From the moment they arrive the experience begins, so enhance the journey to the event with car park signage, a lit path to the marquee and anything that will make the location standout.

Establish your budget
Working to a budget it always a buzz kill.
Your wallet is never going to be as big as your eyes, so try and work out the nitty gritty before you commit to anything. Once you work out an event budget you can apply general costs to your next event quickly and figure out what you are working with.
Theming, food and beverage will always take the lion's share of the budget, so if you can DIY any element of the event, give it a try! If this is one of your first events, see if you can round up some friends and family to assist with drink service and photography. These, and many more, are hidden costs than can be minimised with willing and able volunteers.

Theming
Bigger is better. Although less is more?
It's hard to know which way to go when theming your event. Corporate occasions need minimal touches, conveying luxury and taste while ultimately remaining a corporate event. Social events are much more fun, and there is no end to the theming you can play with. Sticking to a pallet of around 3 colours is a good place to start, scatter furniture and dry bar tables with cushions and cloth varieties that incorporate these tones.
Long tables are always more fun than rounds, it's a more social arrangement and there will be less theming involved but it will appear more lavish. If you have decided on a marquee, see if you can get a chandelier inside and a few luxurious rugs, playing against the grass and outdoors this looks really effective.

Menu
We all have those favourite restaurants that are not much to look at, but the incredible food brings us back time and time again. While I'm not suggesting your event won't be a visual delight, we can all agree that great food certainly makes for happy guests. Frozen party pies should not be tolerated at any event! Play around with some unique finger food concepts, or put a gourmet twist on a classic.
Where possible, incorporate seasonal produce or cuisine that reflects the event style. If it's a spring soiree use edible flowers, a winter bash will call for mini soft pretzels. If this calls for endless taste testing, well someone has to do it!

It's all in the details
This is where you can blow away your attendees and have them become lifelong ambassadors of you or your brand. Who would complain about a welcome espresso martini on arrival, a photobooth with props or polaroid cameras on the tables. What differentiates a good event to a great one for you?
I once attended an engagement party that gave assorted desserts upon exiting the event in a metallic dipped mason jar. This was something they did themselves, and years on the jar sits in my kitchen with flowers in it.
Think about touch, taste and feel and what your guests will respond to.Consider each tip and start planning the event of the year, remembering that the success is in the planning!