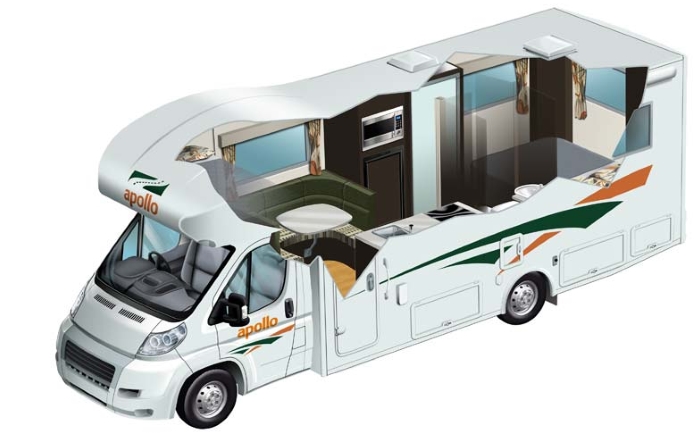 If you have made the decision to purchase your first caravan, you are certainly making a fine decision. You will now be the proud owner of a vehicle which will allow you many hours on the open road enjoying the sights and activities that come with it. You will be able to get away at a moment's notice and head out on adventure whenever you have the time, without having to deal with renting and learning a new rig for each journey. Owning your own caravan will be your gateway to freedom, but there are certain things you will need to know and research you will need to complete before heading to the
caravan sales
location to pick out your rig.
One of the top questions new buyers tend to ask before beginning their research is this: what is the difference between a motorhome and a caravan? Knowing this will make your search much easier, so check out below the main differences between the two.
Motorhomes
Fortunately, there are many easy distinctions that set motorhomes apart from the rest. You will be able to tell by considering any of the below main characteristics.
Size
The general rule on motorhomes is that they are large rigs consisting of about 2-to-6 berth vehicles. So in other words they are at least twice the size of an average vehicle. They are built on a long wheelbase. Needless to say, motorhomes are the larger, more elaborate style of traveling vehicles.
Amenities
Here is where motorhomes really separate themselves from the rest. A motorhome generally comes with full or at least partial kitchen facilities. Top level motorhomes come with full kitchens that will make you feel as if you are cooking in your home. They also come with partial or full bathroom facilities, plus many of the amenities you would enjoy in your home such as entertainment devices, air conditioning, and multiple sleeping units.
Campervans
Once you understand that a motorhome is a larger vehicle with more substantial amenities, you will easily be able to distinguish them from campervans, which have the below main characteristics.
Size
As we said, a campervan is much smaller than your average motorhome, with 2 to 3 berth vehicles being the average size. Your average campervan will be around half the size of a basic motorhome.
Amenities
Even though campervans are rather compact, they can come with a number of amenities. Some do have full or partial bathrooms and kitchens, not to mention multiple sleeping units and air condition. Since room is more limited in these compact vehicles, however, they do tend to have less amenities than a motorhome.
Price
When you head into the caravan sales location, you will want to have a budget firmly in mind. Depending on the price you are willing to spend, you will be more drawn toward one of these models. Budget shoppers of course will be interested in campervans due to their lighter price tags, but keep in mind that some lower end motorhomes may be affordable. The same goes for those with higher budgets. Just because you have the budget for a motorhome doesn't mean you won't be able to find a campervan with the size and amenities you need.
Traveling Companions
Another thing to keep in mind is the traveling companions you will be traveling with. If you have a large family or are planning on traveling with a number of friends, a large motorhome will be right up your alley since it will be able to fit multiple individuals in a comfortable fashion. If just you and your spouse will be travelling, or you will be going on solo missions, then a campervan would do just fine in terms of space.
Setup And Other Factors
There are many other factors that come into play when
deciding between a campervan or motorhome
. One of these is the setup procedure. Generally, motorhomes will have a more detailed setup procedure that takes significantly more time than that of a campervan. If time or physical strain is a factor for you, then make sure you pay close attention to the setup specifications for the motorhome you are interested in. Campervans will have much more simple setups involved that take significantly less time.
Also, keep in mind that motorhomes are going to require more fuel and be a bit tougher to handle on the road that campervans due to their size. Campervans are smaller and easier to drive, plus your gas-up stops will be fewer with one of these vehicles.
No matter which model you decide to go with, the purchase of your first traveling vehicle is an exciting time for any traveler. In order to not be too overwhelmed, make sure you know exactly the type of vehicle you need before you head to the caravan sales location.