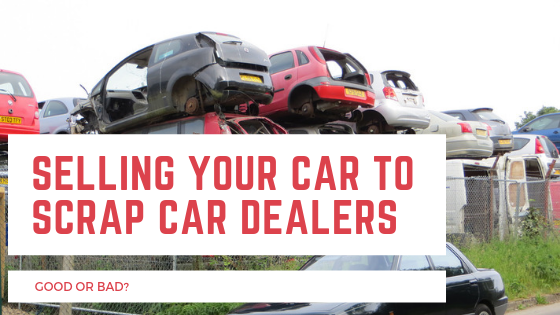 Heading out to the garage to give your car a quick fix, yet again? Don't. Often we forget, that sometimes holding on can cause much more damage than letting go! If you can apply this theory to people, there's no harm applying it to the rest of your life, right? Right!

It might be time for you to let go of that car that was once the best part of your life because the garage visits are starting to look like more of a weekly thing and your mechanic is becoming your bestie. There's nothing wrong with chilling with your mechanic but there is a lot wrong with weekly garage visits.
A very efficient and environment-friendly way to deal with your old, unwanted car is to scrap your car. There's a high chance this might be a new term to you if so, let's try understanding what 'scrapping a car' means!
What Does it Mean to Scrap My Car?
When someone wants to get rid of their old car because its useless or is costing them too much maintenance, they generally resort to selling to scrap dealers. Since most of these cars are not safe to stay on road, and mostly unsafe to drive, people might not be willing to buy these cars as second-hand vehicles either. Scrap Car Dealers in Brisbane will easily buy your car for a good amount of money. They know exactly what to do with your car, and make money from it.
Why Should I Scrap My Car?
Because you're being nice. Yes, you're being nice. You're being nice to the car buyers who might buy your faulty car and meet with an accident, and the ones on the road, who might get injured because of such an accident. You're also being nice to the environment by reducing the release of unnecessary pollutants in the air by driving an age-old vehicle.

Finally, you are being responsible as a human because you chose to contribute to the 'circular economy' or reuse, reduce and recycle. These scrap dealers recycle your car and then use it for further purposes. This method of getting your car is extremely environment-friendly. You won't have to abandon your car in the middle of nowhere or keep your garage space locked up for no reason.
Where Can I Scrap My Car?
You don't have to do it on your own! Scrapping a car requires a lot of heavy machinery that most scrap car dealers own. It might not necessarily be a good idea to try to sell the parts on your own either, as you might get underpaid, or might not get the right kind of buyer for the same. There are a number of good scrap car removal services in Brisbane that can take care of your requests. Companies such as Swift Cash for Cars provide such services free of cost. All you need to do is decide that you want to sell your car to scrap, and then contact one of the car removal companies in your local area.

Will I Get Paid if I Scrap My car?
Generally, everyone who wants to sell their car can get cash for cars from car removal companies in Brisbane.
Still thinking about going to the garage? Try going online instead! Good luck!