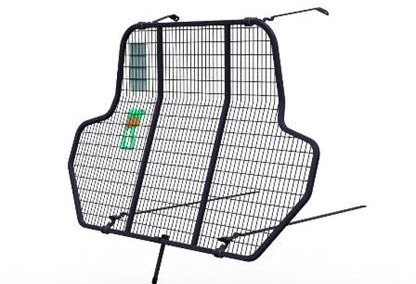 A cargo barrier is a durable wire mesh partition that separates the cargo hold area from the driver's cockpit. Car cargo barriers are often seen in moving vans and may remind you of the barriers that are also in police cars. They usually have a steel tubing frame that connects to the C-pillars or frame of the vehicle. They can also have powder-coated paint or a rubberised coating. The steel tubing additionally features a heavy-duty mesh insert that's strong enough to withstand substantial pressure. Continue reading to learn more about cargo barriers, including the different types available, typical applications and the advantages.
The Different Types of Cargo Barriers
Car cargo barriers typically come in two different styles: custom-fit and universal. People tend to opt for the custom-fit due to side airbags and other safety device concerns. A universal model may be useful if you swap vehicles often, but it may not provide the fit and cargo protection that you're after. A custom-fit product is also more rigid and offers a greater level of structural support and safety. Because a universal model has to be easy to remove and release, this also makes it more likely to collapse under pressure − which is typically when you need a cargo barrier the most.
Typical Cargo Barrier Applications
A cargo barrier creates a partition that's useful for keeping pets contained in the back seat, keeping cargo secured, and even transporting unruly passengers in taxis. They also allow you to pile up anything in the rear of your carwithout having to worry about being hit with sliding cargo during hard braking. Cargo barriers are also useful fortransporting camping supplies, luggage and excessive sporting equipment. After all, you wouldn't want to get hit in the head with a loose softball or a tent kit.
Other Advantages of Cargo Barriers
Although a cargo barrier won't protect you as well as a roll cage in a rollover accident, it can help to sustain the strength of the roof and server the same practical purpose. The cargo barrier employs a reinforced steel tubing similar to a roll cage even if it doesn't span the entirety of the frame. A cargo barrier can also increase the resale value of your vehicle, especially if you're selling a cargo van. For this reason, it's a good investment that pays for itself when you ultimately reclaim the cost in a sale. Potential buyers will recognise that your vehicle is right for their transport needs and pay a premium for something that's already put together for that purpose.
Remember − Cargo Barriers Aren't a Sole Solution
Even if you do invest in a cargo barrier, remember that your pets may still have a lot of room to bounce around and cause a mess. Some companies offer custom-fit cargo bay mats that can protect your vehicle from pets. You may also want to consider using a pet transporter if your pets are smaller to reduce the chances of them bouncing around and being injured in a spacious cargo area.
When it comes to heavy cargo, you should also consider using tie-down straps and other methods of securing the freight rather than relying solely on cargo barriers. Furthermore, you should adjust your driving habits to reduce reliance and stress on the cargo barrier, especially if it's a universal model.