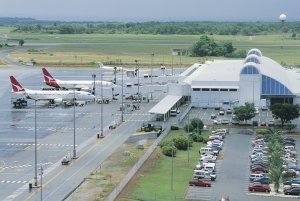 Darwin 11 September 2013. Minister for Tourism Matt Conlan said the latest statistics for domestic and international tourist numbers to the Northern Territory suggest the beginnings of a recovery, but he warns that it is still too early for celebration.
"While there are some encouraging results for the 2012-13 financial year, these latest figures show that there is still a long way to go,'' Mr Conlan said.
"It is fair to say that we've experienced mixed results but the overall message appears to be that the Northern Territory tourism industry is getting back on track.
"These latest figures give us a sign for cautious optimism, with the first increase in international holiday visitors to the Territory after six consecutive years of declines.
"Still, today's results are step one of a hundred as we re-build this important industry that was neglected by the former Labor Government.''
The International Visitor Survey (IVS) and the National Visitor Survey (NVS) are compiled independently of the Northern Territory by Tourism Research Australia. The surveys are the primary data source used to monitor visitation across Australia on a quarterly basis.
The international holiday visitor results for 1 July 2012 to 30 June 2013 show:
The NT recorded a 0.9% increase (to 225,000) in international holiday visitors
The NT recorded a 0.3% increase in holiday nights to 2 million
The NT recorded a 7.3% increase in holiday expenditure to $294 million
Alice Springs was the only region to record an increase in international holiday visitors, up 1.6%
In terms of the NT's key holiday markets; the UK was up 6.5% to 33,000, Germany up 13% to 34,000, Japan up 8.6% to 24,000, France up 2.9% to 18,000. However, the US declined – down 1.4% to 27,000.
"Internationally, we know there's a lot of work left to do to get back to where we were 10 years ago," said Mr Conlan.
"But, this Government is determined to get there which is why we've provided an additional $8 million for Tourism NT for 2013-14, doubling its international marketing budget. We expect to see further positive results from this investment in the near future."
Mr Conlan said the new Country Liberals Government had implemented a new marketing approach from January 2013 to help arrest serious declines in international visitors.
This included the re-prioritisation of domestic production budget funds to international, providing over $2 million more to allow additional campaigns across each market and investment into digital advertising in international markets where there was none previously.
The Government has also been working with large trade partners to increase the reach of NT message with aggressive call to action to "book now'' and introduced a global social media scheme involves communicating with potential visitors in their own language.
Mr Conlan said while the international results showed some positive signs, domestically overall visitation to the Territory declined.
The domestic visitor results for 1 July 2012 to 30 June 2013 to the NT show:
Total domestic visitation declined by 6.2% to 956,000
Domestic holiday visitation increased by 1.2% to 433,000
Total visitorexpenditure in the NT increased 1.0% to $1.3 billion
Interstate holiday visitors was down 3.8%, intra-Territory holidays were up 10%
Total visitor nights was down 5.5%
Regionally, the Top End recorded a 6.7% decrease in total domestic visitors and Central Australia was down 7.5%.
"We recognise the holiday market in the Top End in particular continues to suffer as Darwin hotels shift stock towards providing long term accommodation for major projects," Mr Conlan said.
"While this Government is focussed on the need for new hotels in Darwin to address the impact this issue has on our leisure markets this will take time. In the interim, Tourism NT is actively working with hoteliers to change the way rooms are priced during the week and how packages are developed to help improve accommodation capacity."
Combining the domestic and international results, gives total visitation figures to the NT of:
· Total overnight trips: 1.22 million (down 4.9%)
· Total visitor nights: 9.6 million (down 1.5%)
· Total visitor spend: $1.7 billion (up 3.3%)
· Holiday overnight trips: 658,000 (up 1.1%)
· Holiday visitor nights: 4.4 million (down 11%)
· Holiday visitor spend: $797 million (up 1.9%)
"While today's results are mixed there is good cause to be excited about the coming year. Our new brand positioning for the Territory 'Do the NT' is focused on returning the industry to growth and will be rolled out across Australia in the coming weeks," Mr Conlan said.
"The lower Australian dollar is making the NT more attractive and we have new international flight services coming into Darwin. We also expect to see the full impact of the new TigerAir and Jetstar flights into Central Australia, which are appealing to budget conscious travellers.
"The NT Government is committed to growing our tourism industry to help build a more prosperous economy and create more jobs for Territorians. Our vision is for the NT visitor economy to grow to $2.2 billion by 2020, up from $1.7 billion according to the figures released today."