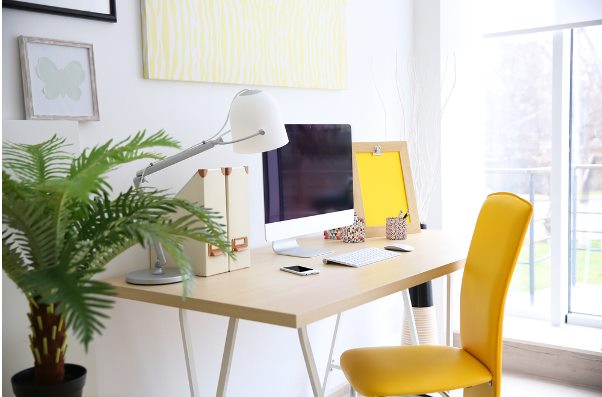 There are countless benefits to working from home.
In fact, recent studies have shown that employees who get the chance to work remotely, at least once a month, perform better and produce at a faster rate. Traditionally, companies have been very wary of allowing this type of flexibility, but it is becoming more common.
If you work for yourself, of course, you are probably familiar with operating out of a home office or study. The question is, have you designed a workspace which supports productivity and commitment? If the environment is not comfortable, resourceful, and an enjoyable place to spend time, you are not maximising its value.
The good news is that small improvements can make a big difference in a home office. All you need to do is add some personality and inspiration. Keep reading to find out how.
All Work and No Play
It might sound counterintuitive to say that making space for leisure is important in a home office. Yet, behavioural research shows that people who enjoy relaxing, satisfying break times go on to work harder. Adding comfy features like leather reclining chairs is one way to create a multifunctional office. When you are finished working, you can curl up with a book or sit back and read the paper.
Invest in Ergonomic Furniture
It is best to leave your leather recliner for relaxation and spend working hours on a posture supporting chair. The most common injury for office workers is back pain, due to a consistently weak sitting position. So, you need furniture which can help you avoid this.
No matter what chair you use, make sure to sit upright, with only the small of your back curved and your feet flat on the floor. Raise your computer to eye level and keep your mouse at a comfy distance.
Embrace Natural Light
Nothing is more important for a working environment than natural daylight.
Your office should have at least one reasonably large window so that you do not have to depend too heavily on artificial light throughout the day. If the room does not have a window or you find yourself working mostly at night, try to stick with warm, yellowish bulbs which go some way to replicating natural light. Table lamps are a good choice, as they produce a softer glow.
Get Creative with Storage
The best thing about working from a personal office is that this is your space.
You can use it in whatever way you like. It might mean dedicating a wall to post it notes or installing a whiteboard; It could mean inventing a unique filing system so that you never lose track of papers and reports. You do not have to settle for the traditional filing cabinet and out-mail racks if they are not you. Shape your storage solutions to meet day to day needs.
Add Colourful Plants
Something as simple as adding a handful of bright plants can liven up an office. They improve the air quality, lift the mood, and enhance the workplace aesthetic. Plus, they are cheap to buy and, if you pick the right ones, they require little maintenance. Personal touches like potted plants, picture frames, and other bits and pieces enable you to put your stamp on the space without losing concentration.
How to Make Your Home Office Inspiring
No matter whether you work in an office with twenty other people, or operate alone in a personal space, inspiration is vital. It has to extend to your immediate surroundings, because if they do not support and encourage performance, you cannot expect to reach your full potential. Get rid of distractions like your smartphone and tablet. Fill your office with fun, personal items, but make sure that they find a balance with ergonomic accessories and practical tools.