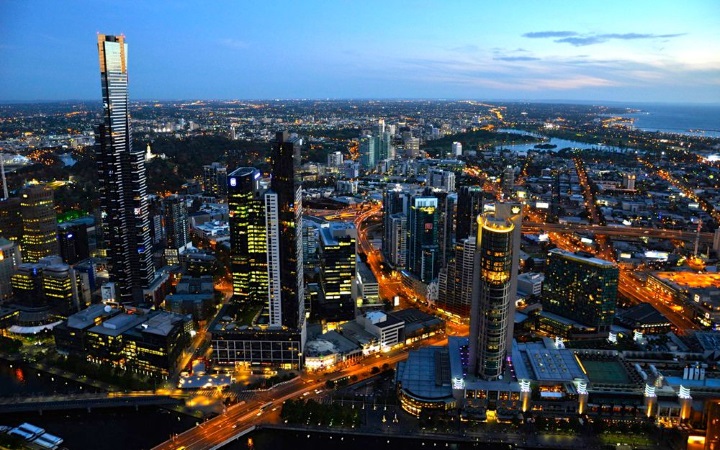 Melbourne 1 December 2016. At $4 million Toorak has Melbourne's highest median house price but South Melbourne and nine other suburbs command more by the square metre, new Real Estate Institute of Victoria data shows.
South Melbourne, which has grown in stature in the past decade, tops the list for land value city-wide – at an impressive $11,212 per square metre. The suburb also has an impressive median house price of $1.6 million, as of September this year.
Homes in Albert Park and Carlton North also attracted top dollar by square metre, at $10,495 and $9,966 respectively.
REIV CEO Geoff White said inner Melbourne dominated the list of most expensive suburbs by square metre.
"Greater demand for space within walking distance of the city has really pushed up the price of land in these areas, while many of Melbourne's most exclusive suburbs were further down the list due to the size and scale of houses in these locations," he said.
"Many of the city's most expensive suburbs by square metre were located in the city's south east, including St Kilda East, Richmond and South Yarra – with these areas benefitting from quality amenities and nightlife."
Further from the city, bayside suburbs Brighton, Black Rock and Hampton commanded the most by square metre - $4,412, $3502 and $3,251 respectively.
Of Melbourne's outer suburbs, Knoxfield in the east had the highest price per square metre - $2,440 – and a median house price of $706,000.
Jeff Grochowski, a leading Melbourne real estate agent advises property buyers to consider other factors in addition to the asking price.
"Buyers only get what they pay for. They should not look at the cheapest property and think of it as a bargain. Buying off the plan from an unknown builder may have expensive outcomes. The property might take up to 24 months to build and all the while mortgage payments have to be made without any supporting income from a tenant."
"All properties are not equal. Some may be advertised as two bedroom apartments but the second bedroom may only really be a study with room for a single bunk. That will not be an exciting proposition for tenants and as a result, there will be competition from better equipped and designed properties in the same neighbourhood. Buying quality is the key consideration. Price is short term, quality is forever"
"Look beyond price and look at how the prospective investment meets the key criteria of build quality, fitout budget, the design style, the floor space and how it is used, the location within its suburb and its uniqueness." Jeff concluded.











Suburb

Sep-16 Median

Price Per m2

SOUTH MELBOURNE

$1,600,000

$11,212

ALBERT PARK

$1,650,000

$10,495

CARLTON NORTH

$1,400,000

$9,966

ST KILDA EAST

$1,635,000

$9,869

FITZROY

$1,300,000

$9,717

NORTH MELBOURNE

$1,292,500

$8,549

PORT MELBOURNE

$1,427,500

$8,206

RICHMOND

$1,152,500

$7,917

SOUTH YARRA

$1,780,000

$7,451

ABBOTSFORD

$1,153,750

$7,437

TOORAK

$4,000,000

$7,255
TOP INNER MELBOURNE SUBURBS BY SQUARE METRE
| | | |
| --- | --- | --- |
| Suburb | Sep-16 Median | Price Per m2 |
| SOUTH MELBOURNE | $1,600,000 | $11,212 |
| ALBERT PARK | $1,650,000 | $10,495 |
| CARLTON NORTH | $1,400,000 | $9,966 |
| ST KILDA EAST | $1,635,000 | $9,869 |
| FITZROY | $1,300,000 | $9,717 |
| NORTH MELBOURNE | $1,292,500 | $8,549 |
| PORT MELBOURNE | $1,427,500 | $8,206 |
| RICHMOND | $1,152,500 | $7,917 |
| SOUTH YARRA | $1,780,000 | $7,451 |
| ABBOTSFORD | $1,153,750 | $7,437 |
| TOORAK | $4,000,000 | $7,255 |
| CLIFTON HILL | $1,270,000 | $7,197 |
| FITZROY NORTH | $1,325,000 | $6,922 |
| PRAHRAN | $1,358,000 | $6,850 |
| ST KILDA | $1,365,000 | $6,200 |
| ELWOOD | $2,275,000 | $6,167 |
| ARMADALE | $2,020,000 | $6,148 |
| MALVERN | $2,691,000 | $5,449 |
| HAWTHORN | $2,000,000 | $5,096 |
| KENSINGTON | $1,165,000 | $5,026 |
TOP MIDDLE MELBOURNE SUBURBS BY SQUARE METRE
| | | |
| --- | --- | --- |
| Suburb | Sep-16 Median | Price Per m2 |
| | $2,170,000 | $4,412 |
| BLACK ROCK | $1,610,000 | $3,502 |
| HAMPTON | $2,170,000 | $3,251 |
| SANDRINGHAM | $1,820,000 | $3,114 |
| SURREY HILLS | $1,725,500 | $3,105 |
| BRIGHTON EAST | $1,700,000 | $2,995 |
| ORMOND | $1,719,000 | $2,724 |
| ASHBURTON | $1,700,000 | $2,602 |
| MCKINNON | $1,709,000 | $2,576 |
| HAMPTON EAST | $1,270,000 | $2,564 |
TOP OUTER MELBOURNE SUBURBS BY SQUARE METRE
| | | |
| --- | --- | --- |
| Suburb | Sep-16 Median | Price Per m2 |
| KNOXFIELD | $706,000 | $2,440 |
| BONBEACH | $770,000 | $1,823 |
| PARKDALE | $1,150,000 | $1,773 |
| WHEELERS HILL | $1,069,400 | $1,661 |
| KEYSBOROUGH | $690,000 | $1,546 |
| ASPENDALE | $860,000 | $1,533 |
| SORRENTO | $1,243,500 | $1,530 |
| CHELSEA | $855,000 | $1,519 |
| ASPENDALE GARDENS | $792,500 | $1,510 |
| MULGRAVE | $776,500 | $1,470 |