Aussie shoppers embrace new 'crowd-sourced shopping' service to bypass price discrimination and international shipping woes
Use other shoppers to help you get whatever you want from anywhere in the world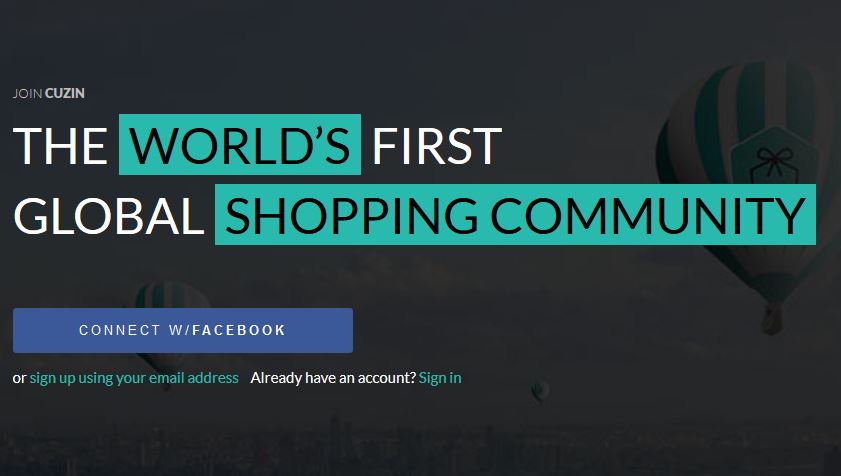 Sydney, Australia — 30 November 2014 — Consumers for the first time can purchase hard-to-get products from anywhere in the world and bypass the huge price markups of Australian retailers thanks to a new Sydney-based startup, CUZIN, which has already helped thousands of shoppers around the world.
The National Retail Association predicts that Australians will spend $43 billion in the pre-Christmas trading period this year. Savvy Australian shoppers will be using CUZIN to bypass unfair local mark-ups and obtain products that can't normally be purchased domestically.
Shoppers can also use CUZIN to access the incredible US deals in the Cyber Monday sales frenzy this Monday, which has previously been out of reach for Australians.
"For too long, Australians have been forced to pay far more than overseas consumers for everyday goods ranging from clothes to electronics to car parts – and often products just don't hit Australian shores at all," said CUZIN co-founder and CEO Shaun Greenblo.
"In many cases when consumers seek to get a better deal by shopping online at an overseas retailer, they are told that the retailer doesn't accept Australian credit cards or doesn't ship to Australia. We started CUZIN because we knew there had to be a better way."
CUZIN, which is opening to the general public after a successful closed beta with 15,000 registrations, solves this problem by creating a social community-based marketplace to facilitate the matching, communication, payment and shipping of goods between shoppers anywhere in the world.
On CUZIN, "Wanters" can browse a curated catalogue of products uploaded by "Getters" around the world, or they can post a want for a product they want but can't access. Their listing is then matched to "Getters" with a buying advantage (geographic or commercial) who can help them get the item.
CUZIN acts as a social network and shopping platform on the front-end, but integrates a secure payment and shipping service door-to-door for its users.
"Our platform connects a global 'family' who help you solve international shipping barriers online, but we take it one step further by giving people access to bricks and mortar stores as well, at the best prices in the world and with no shipping limitations," said Mr Greenblo.
"We do this by adding a social element to the platform, connecting you with people waiting to help you get the items you love."

In return for their shopping help, Getters earn a 'tip', which is set depending on the effort required to get the item. Getters can also attract 'followers', who are notified every time they post a new item they can get.
The goal was to create a much better experience than existing "freight forwarder" services which are cumbersome, expensive, don't solve the credit card issue and only work for online retailers.
Greenblo explains: "A Getter could be passing by a Prada outlet in LA and spot a 50% off deal, post it on CUZIN, and then get paid by users all around the world who want to get access to that deal. Our algorithm pushes purchase opportunities directly into the hands of people actually interested in the items and give them an opportunity to purchase on the spot."
CUZIN is backed by Lance Kalish and Ido Leffler, co-founders of Yes To Inc – which sells its natural beauty products in tens of thousands of stores around the world - and authors of "Get Big Fast & Do More Good"; a modern guide to entrepreneurship and global brand building. They also sit on various boards including the UN Global Entrepreneur Council, Dell, Asia Society and Telecom NZ. CUZIN has partnered with prominent tech accelerator BlueChilli and investors include Macdoch Ventures, Elevation Capital and Trendtrade International.
Kalish said he is extremely excited by CUZIN's potential to change the way we shop online; "CUZIN uses real people as both payment gateways and drop-shipment points, allowing users to access the unique and inaccessible items they love, while enabling others to earn cash by commercialising their buying advantages".
As online shopping moves towards a more curated and social experience, CUZIN aligns social commerce with a powerful logistics platform. CUZIN received over 15,000 pre-registrations in the 8 weeks leading up to its restricted beta-launch and will be opening up its platform to limited users starting from today as it works towards its full release in February.

My-Linh
Sydney resident My-Linh used CUZIN to buy the perfect handbag. To her, CUZIN is like a personal shopping assistant. After nine months searching, she finally found the bag she wanted to buy in New York didn't sell nor ship to Australia. The shopping platform CUZIN overcame these barriers and enabled My-Linh to get the bag shipped directly to her door at a much cheaper price than any other method she would have tried. "I even considered shipping it to my partners boyfriends house in Japan to pick up the next time we saw him!" The Getters on CUZIN helped make sure the bag was the right dimension to fit her laptop and were really helpful in ensuring My-Linh was confident she was receiving the best bag for her.
Aaron Levine
A passionate skier, Aaron used CUZIN to save money and purchase good quality ski pants, not available in Australia. "The range and competitive pricing of ski gear in Canada and the United States is just not comparable to Australia. There is so much more available. CUZIN will be really useful when there are the huge end of season ski sales, the scope of which we just don't get in Australia."
Alan Jones
Sydney-sider Alan Jones is a self-described tech geek and CUZIN has opened up the tech market to him, which was previously out of reach due to shipping restrictions and high Australian prices. "CUZIN has meant that I can stop relying on taxing favours from tech friends in Silicon Valley and stop worrying that I am easting their time." Moreover CUZIN users find things for Alan that he doesn't even know he wants yet through recommendations. Purchasing through CUZIN has meant he can easily give his son nifty tech gadgets, often making him the first kid in school to have access to them.
Nikki Lowe
A fashion stylist with an upcoming wedding, Nikki was after the perfect statement shoes for her wedding. The Fendi shoes she found were not available in Australia and also couldn't be shipped. While she was prepared to do anything to get the shoes, CUZIN meant the process was easy and not stressful. Rather than relying on friends to do a massive favour, she was able to have them delivered to her door without paying extortionate shipping costs. "Planning a wedding is a stressful and busy time. I can't describe to you how nice it was having this load taken off and having the process made so easy!"
Sophie Wolanski
Seasoned traveller, Sophie Wolanski is an Australian who has lived in LA and now resides in New Zealand, and someone that knows what brands and products are on offer in other markets. She used CUZIN to buy a Vitamix, which saved her a lot of money as they are extremely expensive in Australia and New Zealand, compared to the US. "When it comes to make up, shoes, hand bags etc, Australia just doesn't compare in terms of variety of product and pricing."
Sign up at www.CUZIN.com
Examples of recent transactions on CUZIN (images available on request):
Fendi Satin Chamelion Platform Shoes for a bride on her wedding day, $535, UK website to Sydney

Haglofs 'VASSI II' ski jacket and pants, $1300, UK to Brisbane

H&M womenwear, $35, UK to Iraq

Wubble ball, $80 (2 for the price of 1), LA to Sydney

9 x Nike IDs Custom shoes for a groom and his 8 groomsmen, 8 x $140, US website to Sydney

Vegan wallet, $50, AU website to London

Revolver Evo Motorbike helmet, $477, US to South Africa

Casio analogue watch, $59, US website to Vietnam

Olive oil press, $185, US to Croatia

Nutri-bullet, 2 for 1 deal $95, US website to Sydney
Key Features:
Crowdsourced shopping: Add your want, name your price. Your CUZINs will purchase it for you and have it delivered to your door.
Fully integrated international logistics: seamless pickup, tracking and delivery door to door.
Safe and secure purchases: each and every 'CUZIN' is verified and reviewed. Trusted payment gateways are used to ensure a safe shopping experience. Paypal fraud protection and Fedex integration.
A social, curated platform that's beautifully simple to use: CUZIN is integrated with all major social networks and has been built with design at the forefront, making it easy to use and viral-ready.
About CUZIN
CUZIN (www.CUZIN.com) is a social community marketplace empowering consumers to purchase the products they love from anywhere in the world by leveraging other community members' buying advantages. CUZIN facilitates the communication, payment and shipping door to door. The name, pronounced like "cousin", comes from the common problem the platforms solves – having to pester family members to buy things for us whenever they go overseas or if they live overseas.
About Shaun Greenblo – Co-Founder and CEO
With a few years in the corporate world and an MBA under his belt, Shaun spent 5 years working at a technology startup and servicing its Fortune 500 clientele. Soon after, he decided to put his passion to the test and join the world of startups... and he's built heaps of them, including the world's first eco range of bamboo underwear! Shaun loves disruptive technology and is out to change the world, one CUZIN at a time!
Links:
www.CUZIN.com http://vimeo.com/CUZIN
Partners and Investors:
Macdoch Ventures, Elevation Capital, BlueChilli