With the weather cooling down and winter fast approaching, now is the perfect time to find one or more new television shows you can snuggle up and watch when it's cold outside. Luckily, this year there have already been lots of top options premiered, with plenty more still to come as the year unfolds.
Whether you can't get enough of comedies, dramas, procedurals or action-packed series, there is no lack of new material hitting screens across the globe in 2015. There's never been a better time to be addicted to TV, especially with the launch of new Australian streaming workaround services such as Getflix, which allows users to easily access video and music from around the world on devices such as PCs, tablets, mobile phones, and gaming consoles.
If you're keen to get hooked to some brand new television series over the coming months, read on for some of the top recent releases you don't want to miss.
Marvel's Daredevil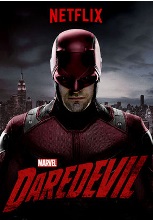 You might remember the 2003 Daredevil film that starred Ben Affleck. The latest take on the Marvel superhero is now seen in Netflix's new TV show that premiered this April. The first Marvel-Netflix corroboration (three more are on their way) has a gritty feel like the recent Gotham series.
The show revolves around the popular comic book character Daredevil, a blind man who is a defence attorney by day and crime-fighting vigilante by night. Daredevil — or Matt Murdock, his character's true name — uses his enhanced other senses (including amazing hearing) to go up against New York City's bad guys.
Unlike many other Marvel heroes, Daredevil doesn't have showy super powers, and as a result the series doesn't require reams of special effects. The many fight scenes are instead realistic, intimate, and perfectly suited to the small screen.
Daredevil is played by English actor Charlie Cox, a face known from the second and third seasons of HBO's Boardwalk Empire, as well as the lead role in fantasy flick Stardust. The actor will continue to play the Marvel superhero into next year, as the series has already been given the green light for a second season to premier in 2016.
iZombie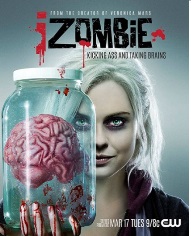 If zombies are more your thing, you won't want to go past the new TV series iZombie. Produced by hip teen-favourite network The CW, the new show is loosely based on a DC Comic and created by Rob Thomas — the guy behind cult series Veronica Mars. The TV show stars Rose McIver, an actress originally from New Zealand who had her feature film debut in The Lovely Bones movie.
iZombie's main character is Olivia Moore, a promising doctor who has her life turned upside down when she becomes "undead" and has to live life as a super-pale zombie who eats brains for sustenance. (Note that Olivia is called "Liv" by her friends, a fun play on words that leaves her name sounding like "live more", a difficult task for the undead!)
Working at a coroner's office as a way to get easy access to brains, Liv hides her secret from everyone except her colleague, who discovers her interesting condition early on. She also spends much of her time helping to solve crimes via the memories of the recently-deceased people whose brains she eats.
Unbreakable Kimmy Schmidt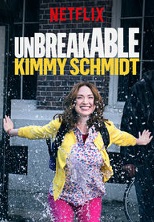 If you loved comedies like The Office or 30 Rock, you're sure to enjoy watching Netflix's new series Unbreakable Kimmy Schmidt. The show is the first one to be produced by Tina Fey and Robert Carlock since 30 Rock ended, and stars The Office (American version) regular Ellie Kemper in the leading role as Kimmy.
This funny yet satirical sitcom is about the journey of Kimmy, an "unbreakable" and optimistic woman. She is rescued (along with three others) from a bunker after having been kept underground for 15 years by a doomsday cult leader.
The show follows Kimmy's adventures as she reclaims her life and starts afresh in New York City. The series also stars 30 Rock's Jane Krakowski and veteran comedic actress Carol Kane (known for her role in cult film The Princess Bride, among other things).
Outlander
If you've been a huge fan of Diana Gabaldon's best-selling historical fantasy novels for years, make sure you add Outlander to your list of new shows to watch. Based on the author's popular multi-genre books, this period drama hits the screen courtesy of the Starz network.
The Outlander TV adaptation sticks closely to the storyline seen in the books. It sees a World War II combat nurse, Claire (played by Caitriona Balfe), finally reunited with her husband Frank and enjoying a holiday, when she suddenly travels back in to time to 1743. She arrives in Scotland during the civil war and is saved by strapping warrior Jamie Fraser (Sam Heughan), a man she marries for safety but ends up having a passionate relationship with.
Viewers will be able to immerse themselves in the storyline of this woman caught between two men and two different lives for a while yet — the show has already been renewed for a second season.
Daredevil image from AntMan3001 on Flickr's Creative Commons.
iZombie image from forom.com on Flickr's Creative Commons.
Unbreakable Kimmy Schmidt from Ali Kaan on Flickr's Creative Commons.