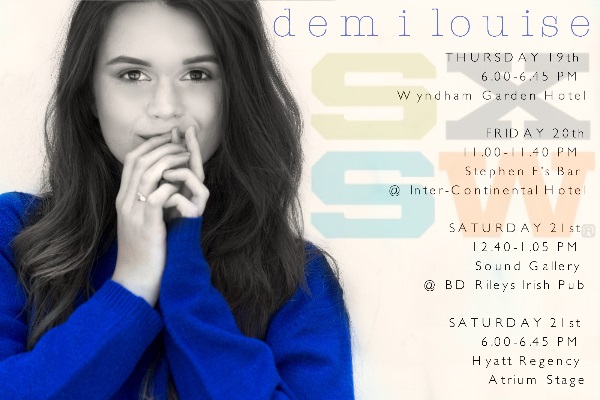 Unsigned Aussie Folk/Pop Singer Songwriter Demi Louise Returns to the USA to play 4 Official SXSW Showcases this March
In the past 12 months, unsigned Demi has:
Just returned from Showcasing at International Folk Alliance in Kansas City, USA.
In 2014 Showcased at Liverpool Sound City (UK) Youbloom (IRE) CMJ (NY)
Was the first Australian to Showcase at MU:CON and Zandari Festival in Seoul, South Korea.
Opened to sold out crows for Gabrielle Aplin & Kodaline in the UK & Ireland.
Her debut single 'Ruins" reached no 7 in the ITunes Singer Songwriter chart.
Demi's award winning track 'Rivers Run to Red' has been covered by the German Voice winner Charley Ann on her debut album (Universal) due out March 23.
Demi's was awarded the Australian Songwriters Association Pop Song of the Year. selected for the APRA London Song Hub at Tile Yard Studios London to work with the UK's to producers and writers.
Demi played a Glastonbury Pop Up Hotel Residency,
Played the Toyota Fan Zone Stage at Tamworth Music Festival (Aus).
Demi will showcase at Canadian Music Week in Toronto in May.
Demi has a passionate ever growing 60,000+ social media following.
S
XSW 2015 SHOWCASES:



Thursday

19th


6.00-6.45 PM

Wyndham Garden Hotel
Friday

20th


11.00-11.40 PM

Stephen F's Bar @ Inter-Continental Hotel
Saturday

21st


12.40-1.05 PM

Sound Gallery at BD Rileys Irish Pub
Saturday

21st


6.00-6.45 PM

Hyatt Regency Atrium Stage


<iframe width="560" height="315" src="https://www.youtube.com/embed/y55l3l2HPbg" frameborder="0" allowfullscreen></iframe>