December 9, 2014, Macau - Spain's top jewellery designer and manufacturer, Carrera y Carrera celebrated the grand opening of its new boutique in Macau. This is Carrera y Carrera's first boutique in the greater China region, and marks an important milestone for the brand as it expands its market presence in Asia. CEO, Ms. Svetlana Kupriyanova, and Mr. Manuel Carrera, who is a fourth-generation descendant of the Carrera family which founded the brand, both graced the event with their presence as the brand celebrated this significant moment.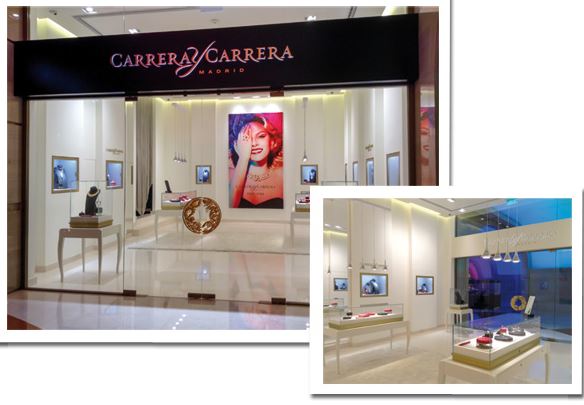 The boutique is strategically located within the luxurious MGM Macau, adjacent to One Central – a huge shopping and leisure centre. Instead of the traditional red themed interior design which is characteristic of Carrera y Carrera's boutiques, the new Macau boutique has used a stimulating white décor for the first time. Stepping into the boutique, one is immediately charmed by a huge poster prominently positioned that tells the story of a Spanish girl's passion for jewellery. The strong visual contrast of the poster and the white surroundings exudes a passionate Spanish charm that welcomes you into the mystifying and extraordinary world of fine jewellery and art. Carrera y Carrera prides itself on the exquisite craftsmanship of its artisans, and each piece of jewellery sparkles with a unique spirit and character.
"We have chosen Macau for Carrera y Carrera's first boutique in the Greater China region due to its status as an international tourist destination". Ms. Svetlana Kupriyanova, CEO of Carrera y Carrera, went on to say "Not only will our boutique in Macau attract patrons from Hong Kong and Macau, it will also serve as a stage to showcase our brand to international visitors, especially consumers from mainland China. We are confident that it will be a good base from which to enter the Chinese market."
For the benefit of customers from China, the Macau boutique showcases all of Carrera y Carrera's past creations, including: the 2014 newly launched Love and Seda Imperial collections ; the Bestiario collection, which is a tribute to the brand's origins; 
the Círculos de Fuego collection which drew its inspiration from the Chinese dragon; and the Ruedo collection inspired by Spanish bullfights. Each series reflects a uniquely aesthetic style.
"Gold and precious metals have always been Carrera y Carrera's most important creative elements." Said Brand founder, Mr. Manuel Carrera, who went on to stress that "The high malleability of metals is an endless source of inspiration for me and my creative team, and I have always insisted that we can only create the distinctive Carrera y Carrera style through constant innovations and by overturning traditions. Based on this belief, we combined gold engraving techniques with matt processing, inlaid precious stone polishing with other techniques, and created remarkable masterpieces that have earned global recognition. My goal, as always, is for our products to embody innovative styles, unique characters and universal appeal."
About Carrera y Carrera
Carrera y Carrera is a Spanish jewelry firm that is considered one of the most prestigious in the world. Present in over 40 countries, the Company has subsidiaries in the United States, Japan, and Russia, and boutiques in Madrid, Barcelona, Tokyo, Moscow, Dubai, Beijing and Kuala Lumpur, among others.
This iconic brand is characterized by a unique style and precise designs where the combination of a matte-shine effect on gold, work in volumes, and meticulous craftsmanship make for exceptional jewelry pieces where gold and precious stones come to life.
For more information, please visit: Carrera y Carrera Official website:
http://www.carreraycarrera.com/
Carrera y Carrera boutique in the Great China Region
No. 6 Basement,
MGM Macau, Avenida Dr. Sun Yat Sen, NAPE, Macau