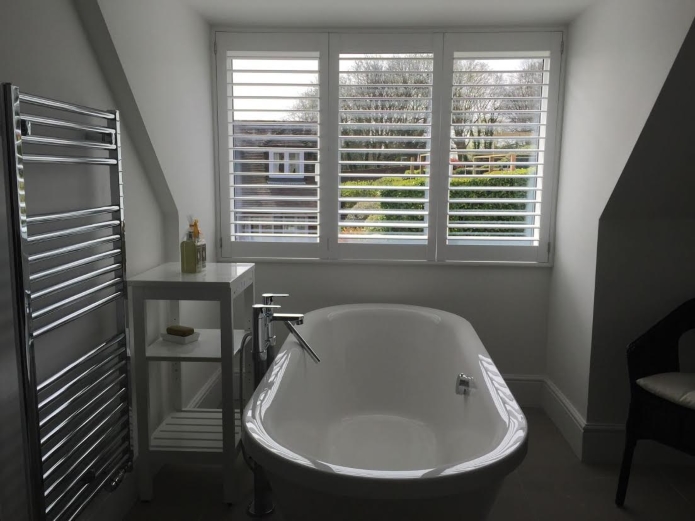 Curtains or blinds? Which do you prefer? When looking to spruce up your house most people will think of replacing their curtains or blinds to a more modern finish, but have you ever thought about plantation shutters? Shutters can add a flair of elegance and sophistication that blinds and curtains just can't. If you are looking to sell your house then plantation shutters can be the missing cherry on top of your cake, helping to add major curb appeal.
Why Would I Replace My Curtains?
While curtains and blinds can make a room feel warm and cosy, they often lack the elegance of plantation shutters. Over time curtains and blinds will become tattered and dusty requiring a lot of maintenance and often complete replacement. Shutters not only look amazing but they are very low maintenance, only ever requiring a light dusting every now and then.
Worried About Light Control?
Don't be! Shutters are great for controlling light. Once fully closed they will filter out the harsh afternoon sun or when open let in a much light as you like, the choice is yours. Just bare in mind that shutters do not completely block out the sun, so if that is what you are looking for then roller shutters may be more appropriate for you.
But How Will This Add Value To my Home?
Plantation and Louvre shutters are timeless, they never go out of style. Potential buyers will be drawn in by the look and feel of your shutters which ooze status and finesse, something home buyers are always looking for. They are perfect for the Australian climate, outdoor living is becoming increasingly popular and your shutters will give the same impression, no matter what room you are in.
What Rooms Can I Have Plantation Shutters In?
The choice is yours! Plantation shutters can be added to any room. They can also be used as a divider between internal rooms or outside. They are a fantastic way to separate the inside from the out by creating an authentic alfresco feel allowing you full access to your outside entertaining area. There is no need to have your fantastic backyard views blocked by bulky doors or covered windows.
Love Curtains But Still Want Plantation Shutters?
If you're one to look after your curtains and love them, don't worry, you still can have them. Installing indoor shutters doesn't mean you need to give up your love of curtains. A sheer curtain over your shutters can bring a "chic" element to any room, this can work really beautifully in a bedroom as it will help to bring warmth and luxury to the room. If you're sensitive to street lights at night time, it's recommended to use a curtain over you shutters as some light might seep through the cracks.
Overview
So we have covered a few points on how plantation shutters can improve your home, not only for comfort, but for style and value.
* They're often a good substitute for curtains or blinds
*You will have more light control in the room during day time
*Plantations shutters are timeless and always come back into style
*You can have plantation shutters anywhere inside your house
*If you love curtains, shutters won't get in your way
There you have it, plantations shutters are a timeless and stylish way to improve your home, give it a different look or just a reason to change things up a bit. Hopefully you found this helpful and and feedback in the comments section would be greatly appreciated.