When it comes to the new and bleeding edge, most of what we see in the market is simply a previously existing product or service spun around and put into a new context.
The iPhone is the perfect example of this; it took a phone and tossed in a PDA and music player.
There's no end to the value of these new specialized re-imaginings of existing technology; Cars now sport back-end cameras and autopilot for bad car parkers, cell phones are cameras, and our fridge will soon write its own grocery lists.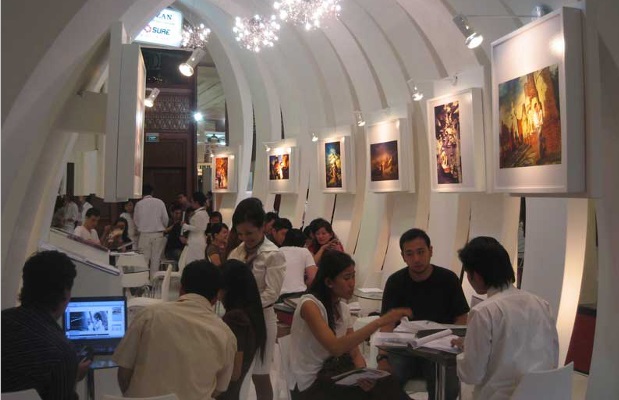 Image by: Indonesia Exhibition Co. [flickr]
But what about trade show exhibition stand, booths, and the way you design them?
Conceptualize and Think Big
The odds are that just about any new technology-infused trade show display or demonstration that has recently woo-ed onlookers can be implemented quite affordably with a little thoughtful planning in advance.
Previously created assets can be ported into interactive storytelling modules on touch screens fixed to your exhibition stand.
But let's dig deeper. Let's list a handful of ways your exhibition stand can harmonize both online and offline tools for a well-rounded exhibition strategy.
1. Photography and Social Integration
One way to boost a brand and spark interest both online and offline is to set up a red carpet style runway wall with your logo on it.
Deliver the photo publicly to attendees via social media channels like Facebook or Twitter, and/or email.
Harnessing the world's "selfie" obsession is a great way class up the event and gets your brand before a much wider online audience.
Incredibly inexpensive, all that is required is a small microsite, photo background attached to your exhibition stand, laptop, and a digital camera.
2. White Papers
A great way to deliver a digital download such as a white paper of company brochure is to use the "tweet for download" function on a branded microsite made in advance for the event.
By sending a Tweet, creating a post on Facebook, or providing their email address the visitor will unlock a digital download for immediate download.
Having touch screens built into your exhibition stand can easily accomplish this, as in some cases it's only a matter of securely mounting an iPad.
3. QR CODES
Prominently displayed QR codes are an excellent way to bridge online campaigns with offline campaigns.
A QR code can store all sorts of data types that smartphones can read, from calendar entries, web page URLs, address book contacts, download apps, and even initiate emails and SMS messages –there are a lot of functions that can be used on a smartphone which a QR code can access.
A QR code is just another way to be creative with existing technology and make the tech people carry around in their pockets a part of your digital framework.
QR codes can be placed on every offline printed material from signage to flyers. If people are interested in learning more, they are a great way to continue the discussion across medium.
4. Share Your Audience
One way to provide social proof online while also providing rich value to both exhibit attendees and online visitors is to stream events live online, as well as record them for future email-for-download methods.
Interested parties who want to learn more about you and your offering will be able to share the same experience that exhibition-goers had.
All that valuable time and experience you pour into your exhibit stand experience can be re-used and serve as an on-going asset for little to no additional investment.