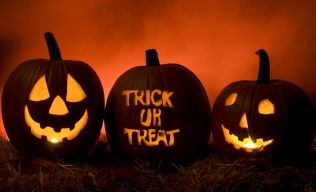 Halloween just keeps getting bigger and bigger. More and more people are celebrating this holiday in the way they celebrate Christmas. The best Halloween happens when everyone gets involved. We've seen whole streets go all out and it's this level of commitment which makes it all the more special - for the kids, obviously. Now, getting your neighbours as excited as you is a benefit, not a necessity. There are so many ways to make Halloween a celebration to remember. You can go all out or you can just use it as an excuse to spend time with your loved ones. We share our top tips for Halloween:

Costumes and theming
Think of these two things as your base. They're the glue that holds the whole thing together. Figure the theme out first and then the Halloween costumes and ideas will flow. Maybe you're witches who live in a gingerbread house or Zombies in the apocalypse. Think of the fun you could have making sure all your costumes and set up tell the same story. You don't have to keep it to costumes and decorations, think of the fun you could have with the food. Pinterest is an excellent source of crazy ideas to take your party from ghostly to ghoulish.
Decorating
Once you've picked your theme, it's time to decorate. And we mean decorate. Inside, outside, no part of your house should be left un-spooked. This may even help to inspire your neighbours, if your early rallying efforts didn't work. Now, you can go all-out tacky, subtle and sophisticated, or find a spot in between. Whichever way you choose to go, if you have a theme this will help you to tie it all together nicely. It also adds to the effect when everything is bought together by a common denominator.
Trick or treating
Now, depending on the age of your children or if you have any at all, you're either going to be asking for treats or handing them out. Perhaps you're just a big kid yourself. Whichever way, you need to be armed and ready, or prepared to be egged. If you're the one giving out the treat an important thing to remember is nut allergies. Many kids nowadays are allergic to either peanuts or tree nuts so probably best to leave the chocolates that contain these out. Or, if you don't want to leave them out completely, check with the child or accompanying adult before deciding which treat to give them.
If your street isn't really into trick or treating but you still want to incorporate the sweet element into your celebration, think of some fun ways to offer them to your guests. Things such as Halloween cookies, Boo-nilla Ghost Milkshakes or a Halloween dessert table (a skeleton with sweets and chocolates stuffed inside).

Street party?
If you've got your neighbours on board and into the Halloween spirit, why not host a street party? We're fortunate that here in Australia, we don't suffer the same cold temperatures as the northern hemisphere at this time of year. We can venture outside. You could even have a BBQ. Think of the fun you could have and what a great opportunity to get to know your neighbours better. Plus, you may find some hidden skills in your neighbourhood. After all, the set designers and builders of the entertainment world have to live somewhere…