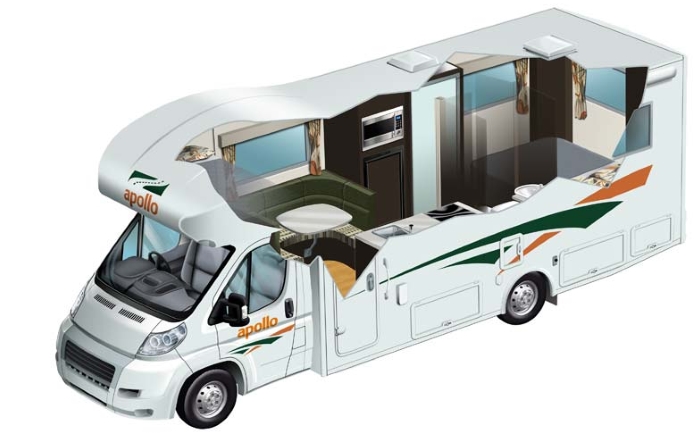 Winnebago is a trusted name in the RV industry, making it a manufacturer to consider when you're shopping for a motorhome. This Iowa-based company has been a leader in the industry since it began manufacturing motorhomes and other vehicles in 1958. If you're on the market for an RV, here are five reasons why you should buy a Winnebago motorhome.
1. Durable, Well-Crafted Designs

As an industry leader, Winnebago is skilled in developing vehicles that last. As a result, you'll enjoy many of the company's exclusive features in any model RV you select. These features are designed to extend the life of the vehicle and ensure it holds up well through many adventures. One of these features is the Valspar Resistovar Conversion Varnish, which resists UV rays, reduces the risk of scratches, and resists moisture. In addition, these vehicles include a steel substructure, which adds strength and durability.
2. Features That Improve Your Comfort

Winnebago boasts nearly 40 features that are exclusive to the brand. These features impact every aspect of the vehicle, improving comfort and driveability and enhancing the RV experience. Comfort features include Aqua-Hot, which offers zone heating and hot water on demand. Benchmark dinettes maximize comfort and convenience in your RV's kitchen. Euro Recliners allow you to kick up your feet and relax after a long day on the road. You can opt for Ultraleather upholstery on your recliners and other furniture in your RV, which can add a luxurious touch while holding up well under continued use.

Other comfort features are available in many Winnebago models. The Flex Bed System allows you to customise your beds to suit your needs. You can transform your living room into a bedroom with this versatile system. Try a comfort-control mattress with this system to further encourage restful sleep. If you select a Winnebago model with the TrueComfort+ Sofa, you'll enjoy the convenience of a sofa that transforms into a comfortable bed with a Memory Foam mattress and no irksome bars or low spots.
3. A Model for Every Lifestyle

Winnebago offers a diverse collection of vehicles, which makes it easy for you to find the right style motorhome for your unique needs. Several models of Class A, Class B, and Class C vehicles are available, along with several other styles:
Class A: Class A models are the largest and most luxurious collection of vehicles in Winnebago's fleet. Choose from more than different 10 models. Both gas and diesel options are available.

Class B: The Class B collection features touring motorhomes that are fuel efficient and easier to maneuver. These smaller models are ideal for travellers who want a more budget-friendly option.

Class C: Ten Class C coaches are available in the Winnebago lineup. These sleek coaches feature various floorplans, allowing you to customize your ride to suit your needs.

Other styles: After you invest in your RV, you might choose to enhance your collection by considering other specialty vehicles available from Winnebago. Several travel trailer styles are available, which you might opt to use on different adventures when you don't want to drive your RV.
4. Sense of Community

Buying a Winnebago isn't just a purchase; it's a lifestyle. As a result, anyone who purchases a Winnebago motorhome is eligible to join the WIT Club, an exclusive club that offers its members an array of benefits. More than 16,000 RV owners are members of this club. Membership gives you access to a variety of discounts, including reduced rates on RV Adventures WIT Club camping membership and Winnebago Premium Roadside Assistance. You'll also enjoy discounts at Winnebago retail stores and on parts and accessories at Winnebago Customer Service.

In addition to these discounts, as a WIT Club member, you can participate in special events. Join a state club, local club, or special interest club to meet other RV travellers and Winnebago owners. If you're up for the trip, you can even attend the annual Grand National Rally held in Forest City, Iowa. Connect with other Winnebago owners and fans through these members-only events.
5. Brand-Specific Insurance

Winnebago RV Insurance is available, which allows you to one-stop shop when you're purchasing an RV. Select your motorhome and sign up for a suitable insurance policy at the same time. Like any policy, you'll want to shop around to find the right policy and rates for your needs and budget, but being able to get a quote directly through Winnebago RV Insurance can offer some time savings as you insure your new purchase.

There's a reason why Winnebago is a leader in the motorhome industry. Its impressive fleet of motorhomes is equipped with an array of features designed to make your road trips comfortable, safe, and enjoyable. Many travellers opt for Winnebago because it's so simple to find a model that suits your needs and lifestyle. So, consider Winnebago when you're RV shopping. Chances are, you'll find a model just right for you.