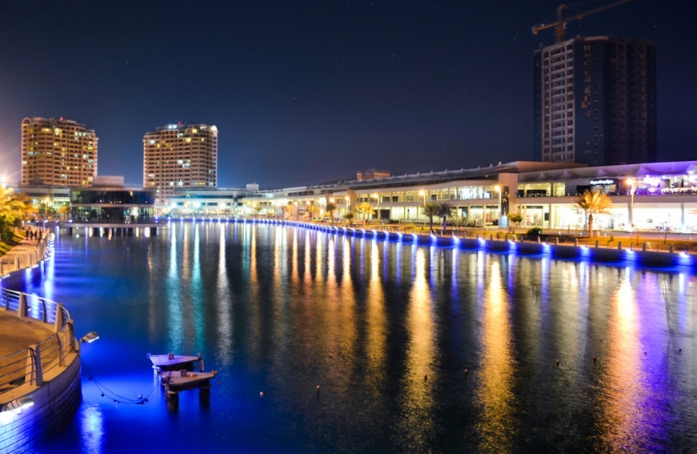 The first and largest man-made island coalition in Bahrain
If you follow the shifts and changes that are taking in the Gulf Cooperation Council (GCC) region countries, then you probably have noticed a rising trend in real estate development; that is, many of the region's kingdoms have been actively and extensively implementing land reclamation schemes and develop man-made islands that would accommodate their growing population and economic ambitions.

The Kingdom of Bahrain has been one of the first kingdoms in the Arabian Peninsula to resort to that solution, specially considering the fact that it is the region's smallest state in terms of area; and Amwaj Islands come as the first completed project of that type in Bahrain.
Location:
Amwaj is a group of six man-made islands that are located in the north eastern corner of the Kingdom of Bahrain close to Muharraq island and 10 kilometers away from the coast of Manama, Bahrain's capital city. With an area that sprawls over more than 4.3 square kilometers, Amwaj Islands is, by far, the largest project of its kind in the Kingdom of Bahrain.

With many high-end fancy amenities, splendid views of the gulf waters, and variant residential options that cater to all tastes, the islands are known for being one of the top luxurious spots in the island kingdom. As a matter of fact, it, along with Seef district, has the highest property prices and rental rates across all of Bahrain's areas. But then again, expensive as it might be, renting or buying a home in Amwaj Islands does certainly pay off in terms of the unique and elegant lifestyle it provides.

Here, we take a closer look at three of the best residential towers in Amwaj Islands:
1- Avira:
With an excellent location on the Lagoon of Amwaj Islands, Avira is situated only 8 minutes away from Bahrain International Airport and 25 minutes away from King Fahd Causeway which connects Bahrain and the Kingdom of Saudi Arabia.
The tower consists of 20 stories with a design that makes it stand out in the lagoon's skyline. It comprises a total of 89 residential units including one-, two-, and three-bedroom apartments that provides its residents with stunning views of the gulf waters or the island itself.
In addition to that, the tower complements the upscale homes it comprises with a wide set of amenities that include an infinity pool, health club, jacuzzi, steam baths and sauna, not to mention the surrounding lagoon outlets and restaurants that the tower grants easy access to.
2- Burooj:
A seaside development with an instant access to Amwaj Private Beach Resort, Burooj is a 23-storey tower that is located 16 minutes away from Bahrain International Airport.
Burooj houses a total of 83 one-bedroom and two-bedroom apartments with an amazing view of the lagoon and European interior designs that add even more to their beauty.
When it comes to the featured facilities and amenities, Burooj comprises a swimming pool, sauna, fitness gym, steam baths in addition to the many surrounding attractions, restaurants, retail outlets and coffee shops which the tower has quick access to.
3- Tilal Towers:
A twin-tower residential project built near Amwaj Marina and the Lagoon, Tilal Towers is located 10 minutes away from Bahrain International Airport.
Each of the two towers comprises 21 floors including four-storey car park that can accommodate up to 360 vehicles, and they both include a total of 230 apartments with variant areas including one-, two-, and three-bedroom apartments as well as one-bedroom and two-bedroom Duplexes.