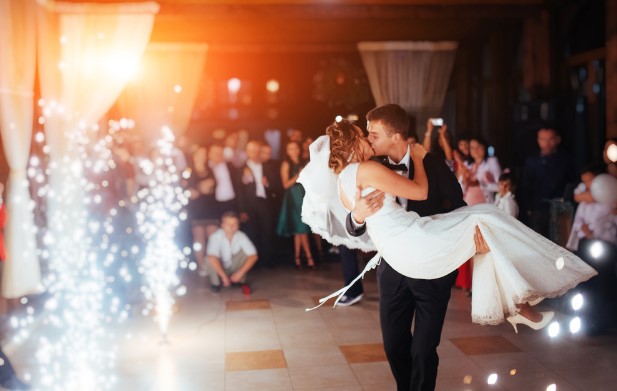 The wedding industry continues to be a booming and innovative field. Although the industry did have some downturn during the recession, wedding vendors now are experiencing exceptional growth. According to IBIS World, the industry has steadily grown throughout the years and reached a revenue of about $76 billion in 2019. This makes the wedding industry a profitable area for small businesses to flourish. If you are thinking of quitting your day job to start your own business, a wedding-related business might be the right investment to get into. This is an especially great field for creative types and those that love working with people. Here are five successful wedding-related business you can launch today:
Proposal Planner
- While most people will have heard of a wedding planner, an engagement planner is a growing service that many are looking into for planning their perfect proposal.
Proposal planners
work with future-grooms to pop the question perfectly to their partners. Much like wedding planners, proposal planners help to create the perfect event and helps to make sure that the proposal goes smoothly. As a planner, you would work with your client to figure out what would create the perfect moment for them and their partner by discussing significant events within their relationship. This relieves stress for many that are planning to propose. Instead of handling the little details and stress of creating the perfect moment, they can just focus on popping the question.
Wedding Coordinator
- A wedding coordinator is often a big necessity for a wedding. A wedding is often an overwhelming event for couples, no matter if it is a small or big wedding. There are so many moving parts to a wedding such as booking a venue, catering, coordinating bridal parties, etc. A point-person that coordinates all the logistics of the event is needed to make sure everything goes smoothly. Many couples book
wedding coordinators
so that they do not have to deal with vendors and decisions on their big day so that they can just enjoy their wedding day. This is a great small business option for those that love to plan and delegate.
Bridal Stylist
- Many brides might already have a vision of the kind of look they might want for themselves and their bridesmaids. However, many may not know how to actually achieve that look. If you are someone that is known for being stylish or have an interest in fashion, becoming a bridal stylist might be a great small business to launch. Bridal stylist basically help brides create their perfect wedding look. From helping picking out the perfect dress to finding the right accessories, bridal stylists make sure the bride looks and feels her best on her big day. Bridal stylists might also be an important step from the beginning of the wedding journey by helping couples or grooms pick out the perfect engagement ring. Often stylists might work with couples to create custom rings by coordinating where to get the
perfect diamonds
and where to get the perfect jewelry designer.

Catering
- People often expect dinner and dancing at a wedding. Thus,
catering for wedding
can often mean big business. Wedding catering is becoming an industry that allows chefs and cooks to get creative. The days of a formal sit-down dinner at a wedding are long gone. Many couples might opt for something more accessible to their guests such as buffets or even food trucks. Having that unique edge to your catering business will help you stand out from the competition.
Wedding Cake Creator
- Other than the bride and groom, a wedding cake is a central feature in a wedding. How elaborate, stylish, or unique wedding cake is will always be a buzz at every wedding. If you have a flair for baking or if you are very artistic, working as a wedding cake creator can bring in some extra bucks to your income. Wedding cakes are no longer just mountains of fondant and buttercream. Today's wedding cakes are becoming artistic centerpieces. Some couples even choose to forgo tradition and serve
alternative forms of wedding cakes
such as some made of different kinds of cheese, donuts, or even pizza! This is a great business to start if you want to play with your food and push your creativity.
Weddings are a great opportunity to branch out and start a small business. There are so many ways to get involved in the wedding industry. Creating a wedding-related small business can get you to become creative with your work and to truly be a part of making a couple's dream day come true.