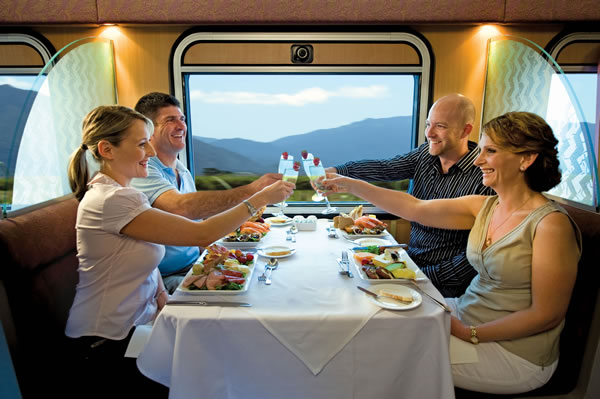 The Sunlander to retire after 61 years of service
The final Sunlander service from Brisbane to Cairns will leave Roma St Station today before being retired on New Year's Day.
Assistant Minister for Public Transport Steve Minnikin said the Sunlander had been a favourite among local, interstate and international travellers for many years.
"The Sunlander has had a tremendous career dating back to 1953, when the air-conditioned carriages started running up the north coast of Queensland three times per week, giving people a whole new perspective on regional rail travel," Mr Minnikin said.
"The Sunlander's retirement marks a significant milestone in Queensland Rail's history, as one of Australia's longest running and most spectacular rail journeys, servicing more than 3.5 million customers.
"There have been couples that have spent their honeymoon on the train more than 50 years ago and people that have grown up on the train travelling up and down the coast to see their families.
"People have made lifelong friends on the Sunlander, so it is no surprise with such a rich history that the Sunlander became one of Australia's most popular train holidays.
"On her final journey customers will become part of rail history, celebrating New Year's Eve on board in style.
"Party poppers will be popped on board at midnight, as we farewell the Sunlander and welcome a new era in rail travel."
Mr Minnikin said train travel between Brisbane and Cairns was now entering an exciting time, with the third and final Spirit of Queensland train joining the Queensland Rail fleet this month as part of a $200 million investment in long distance rail travel.
"The Spirit of Queensland provides travellers with a faster and more modern way to experience the coastline, with revolutionary lie-flat RailBeds, the first in Australia, and improved facilities including on-demand movies and music," Mr Minnikin said.
"Through this investment we will increase rail services from four to five per week, providing an additional option for customers travelling between Brisbane and Cairns.
"The new fleet is part of our strong plan to revitalise frontline services and support tourism to regional communities."
Rail celebrations will continue next year, with special steam train journeys between Brisbane and Cairns to commemorate 150 years of rail travel in Queensland. Tickets are now on sale.
For find out more visit www.queenslandrailtravel.com.au or call 1800 TRAINS (872 467).