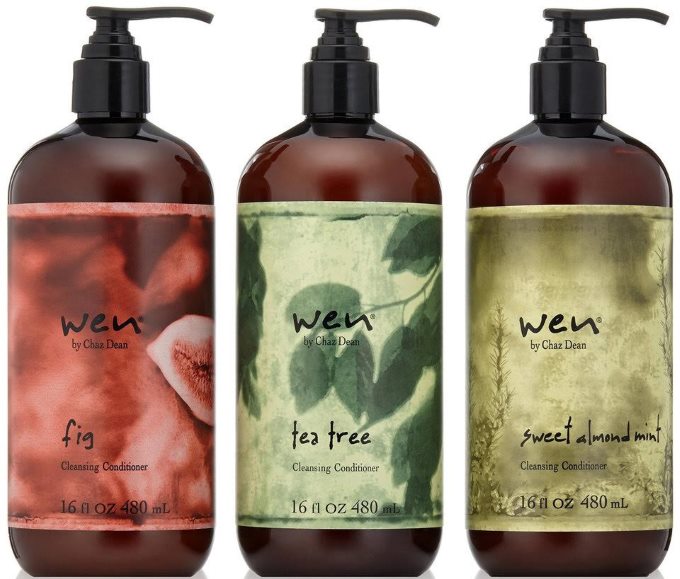 WEN By Chaz Dean is a line of hair care products that has grabbed the attention of Hollywood and women around the world. These products have all natural ingredients that will simultaneously clean and moisturize hair. With WEN by Chaz Dean products, there will be no need for you to buy separate bottles of shampoos and conditioners.
Most shampoo products in the market today contain harsh chemicals that leave hair feeling dry and frizzy. The chemicals found in everyday shampoos require you to buy separate conditioners in order to return moisture to your hair – creating an endless cycle of shampooing and conditioning. This is why many women today are turning to cleansing conditioners to naturally and delicately cleanse their hair.
WEN Cleansing Conditioner is made out of purely natural ingredients, without harsh sulfates or other harsh chemicals. The sulfates found in shampoos create the lather that we've come to associate with cleaning. However, these sulfates are the main culprit behind what is drying out your hair, makes it look aged, and what burns your eyes in the shower.
The ingredient list of each WEN product is extremely simple, with a sense of exoticness. A bottle of WEN Cleansing Conditioner contains glycerin, chamomile tea extract, wild cherry bark extract, rosemary extract and panthenol – which all combine to leave your hair cleansed and smelling great.
With WEN hair products, you won't strip your hair of its natural oils. By preserving the layers of natural oils found in your hair you will be able to prevent premature aging, keep your hair color vibrant, and revitalize thinning hair.
How You Should Use WEN By Chaz
First of all, you should always start out by rinsing your hair thoroughly, as applying the shampoo to dry hair will not be distributed evenly. After your hair is nice and wet, pump out enough shampoo that is appropriate for your hair. According to the label on WEN Cleansing Conditioner, 10 pumps is suitable for short hair, 16 for medium hair and 24 pumps for very long hair.
Evenly rub the shampoo onto both your the scalp and strands, making sure to thoroughly massage the product throughout your hair. Because WEN does not contain sulfates, it will not lather like regular shampoos.
Let the shampoo sit in your hair while you move on to the other parts of your shower. Rinse your hair very thoroughly after the product has had time to work, preferably during the last moments of your shower. After your shower, you can even rub a little bit of WEN Cleansing Conditioner throughout your hair as a leave in conditioning treatment.
The Strong Positive Feedback From WEN's Fans
With nearly 17,000 reviews, WEN by Chaz has earned four out of five stars by the online community. WEN users around the world claim that their hair is much softer and more manageable than ever before.
All hair types can benefit from WEN Cleansing Conditioner. Those with color treated hair reported more vivid, longer lasting color; while those with thinning hair claim that their hair is thicker and more voluminous.
List of Wen by Chaz Products
The best selling product in the WEN by Chaz Dean hair care line is, without a doubt, their cleansing conditioner. This revolutionary product was designed to replace 5 different hair care products. With WEN Cleansing Conditioner, you will no longer need to purchase shampoos, conditioners, deep conditioners, detanglers, or leave in conditioners. WEN Cleansing Conditioners come in a variety of scents such as Sweet Almond Mint, Fig, Lavender, and Tea Tree. Some of the other hair care products in the WEN by Chaz Dean line include:
WEN Nourishing Mousse: A simpler styling product designed to be a quick boost to your shower regiment. This mousse only contains sweet almond oil and some botanical extracts making it very light product that does not leave behind any sticky residue.

WEN Anti Frizz Styling Cream: Once step up from the Nourishing Mousse, this cream is designed to smooth out stubborn frizzy hair. Like all the other products found in the WEN by Chaz Dean hair care line, it is made with botanical extracts as well as panthenol and propylene glycol.

WEN ReMoist Intensive Hair Treatment: This intensive hair moisturizer was designed to be used outside of the shower and contains shea butter and sweet almond oil. This treatment will soften up the driest of hair and make it silky smooth.
For more information on the entire WEN by Chaz Dean line of hair care products, visit their Facebook, Twitter, or YouTube pages.