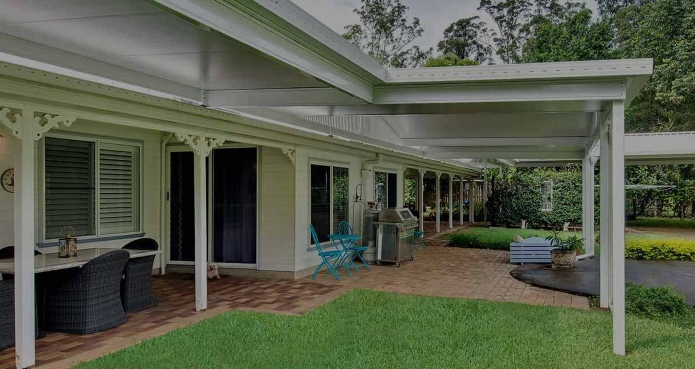 Whether you're after a small weekend project to let your creative side run wild or looking at an entire home makeover, here are 5 surprisingly simple and inexpensive ideas to inspire you to get renovating.
1. Boost Your Curb Appeal
Standing on the street, does your house stand out? Perhaps for the wrong reasons? Boosting your curb appeal makes for a satisfying, fun and easy weekend project. A little effort can go a long way. Some easy ideas that you can do yourself, such as displaying your house number in a sleek typeface, replacing missing or rotten bannisters, water-pressure cleaning your driveway, front steps and path, or re-painting the front fence, will all boost your home's curb appeal.
2. Update Your Kitchen's Splashbacks
Another surprisingly straightforward idea for renovating your home is to update your splashbacks. While it may seem like a big job, if you're prepared, or if you're hiring a tradesman, it can be an inexpensive breeze. You'll need tile glue, spacers, a tile cutter, a pencil, ruler and spirit level and – the best part – your brand new tiles. Try a colour or design that complements your bench tops, and while planning, think about using irregular sizes or shapes to truly make your kitchen unique.
3. Create a Feature Wall
Transforming a wall into a feature wall by yourself is as easy as choosing the right paint colour or wallpaper design. By making a certain wall stand out, you can dramatically change the feel of a room. Depending on your needs, a feature wall can activate dull spaces or even have a calming or energising influence on your daily routine. Try and match the building's exterior colour scheme, or pull out a colour wheel and experiment with complementary colours.
4. Activate Your Outdoor Living
Making outdoor living areas a functional part of your home has a dramatic effect on daily living. There are some ideas you can try yourself, like cleaning up your deck or patio area with a water-pressure cleaner and re-staining the wood or concrete, or adding some life using potted plants such as geraniums or scaevolas. Having a deck roof or patio screens installed – a service offered by companies like Altec – is another painless idea for helping you activating your outdoors, and will keep the sun and rain off of your newly stained floors, as well as your guests!
5. Overhaul Your Tapware and Door Handles
A painless renovation idea for making your house come alive is swapping out drab door handles and kitchen and bathroom tapware. Match the handles and tapware in style or colour, such as rustic brass or sleek stainless steel. This will introduce a sense of continuity and thoughtfulness into your house – simple, yet effective. Armed with your matched hardware, a screwdriver and a wrench, this simple idea could become reality in an afternoon.
Whether hiring a helping hand or doing it yourself, these surprisingly simple renovation ideas will bring your house to life, keeping you excited about your home.