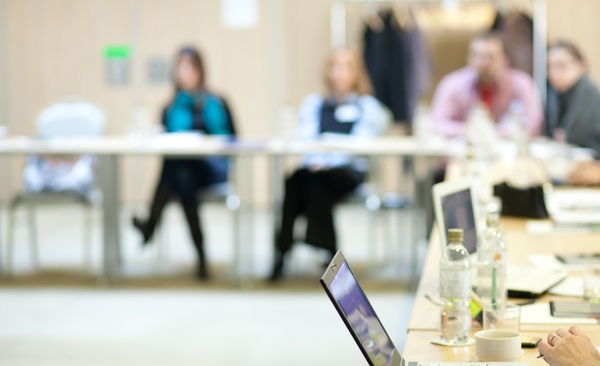 There are many reasons why you might be thinking of undertaking an office fitout with brand new partitions. Partitions provide privacy for large groups and small meetings alike while allowing for a flexible and changeable office layout that makes the best use of available office space. Commercial office fitouts can quickly update the look of any office so that when clients visit, you can be proud of your place of business. All in all, commercial office fitouts are a good investment. Here are three of the most popular kinds of partitions that you can choose from for your office fitout.
Full Height Glass Partitions
One of the major advantages of this type of partition is the influx of natural light it allows. The glass material achieves a modern look that's simple, clear and open. It's worth noting that the physical space that a business operates in can be a metaphor for the values of that business. So if you want to appear modern, honest and trustworthy, an open and airy feeling office can embody that value best. Privacy can be addressed by using full height glass partitions with frosted or coloured glass in certain sections. Glass partitions can be put up relatively quickly and are ideal for cornering off a small office from a larger area.
Full Height Plaster Partitions
If you're concerned about noise insulation, then plaster partitions are a better choice for commercial office fitouts. Plaster partitions are also a more permanent solution than glass partitions. Under plaster, electrical wiring, cabling and plumbing can be hidden. They can also be painted to tie in with existing décor or to be turned into brightly coloured feature walls to modernise your office. Shelving or artwork can similarly be attached to plaster partitions, which makes them a very handy choice for commercial office fitouts.
Part Plaster & Part Glass Partitions
If you want the best of both worlds, you should opt for part plaster and part glass partitions. These kinds of partitions offer the privacy and greater acoustic protection of plaster walls as well as the additional benefit of letting in more light through the glass part of the partition. Similarly to full height plaster partitions, part plaster part glass partitions allow for cabling, wiring and plumbing to be installed in the lower half of the partition.
How to Decide between the Different Partitions Available
The particular kinds of partitions you should be considering will depend on a few factors. For example, the type of business you run may affect the level of privacy or security you require, or perhaps the level of acoustic insulation you need. Maybe you want a more modern look, or perhaps you need to let more light into the office so that it looks and feels more appealing and inviting. From a safety perspective, some office partitions offer more effective fire-retardant properties too. Have a think about what you need and ask questions when you contact a company for commercial office fitouts. That way, you can make sure you get exactly what you require for your office.