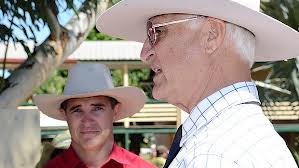 July 22nd, 2013 Katter: No gas price protection from State Government.

The Member for Mount Isa Robbie Katter and the Member for Dalrymple Shane Knuth say there are alarming flaws in the Queensland Government's gas policies which do not protect consumers from predicted price rises.

Mr Katter said, "This wouldn't provide any sort of protection from rising gas prices from the LNG industry.

"The Government clearly identified that they would never interfere in the market despite the dire repercussions on domestic industry," he said.

Both Katter's Australian Party MPs questioned Government ministers about why they "gleefully adopted" the gas policy of the previous government which "the same old free market mantra of compromising market competition or sovereign risk".

"How about we have a policy that doesn't compromise domestic industry, jobs and sovereign benefit?" said Mr Katter.

"Western Australia took the brave step of quarantining some of the gas to be exported for domestic industry.

"Yet on the east coast, and particularly in Queensland, it is a free for all where our domestic industry will compete with purchasers from South East Asia who are prepared to pay significantly higher prices.

"We just want to highlight the extreme short-term thinking of the State Government and its 'open the floodgates' approach to the LNG industry," said Mr Katter.

Mr Knuth said reports forecast that for every $1 earned from the industry it will cost domestic industry $21 due to the rising cost of domestic gas.

"We may well ask then why on earth are we not reserving a portion of gas for domestic industry like Western Australia?" said Mr Knuth.