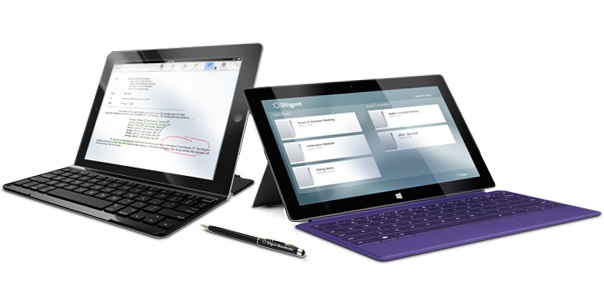 Sydney, March 5, 2015 - Diligent, a global leader in digital board portals, has received an International Service Excellence Award reinforcing that its premium customer service is recognised in Australia and beyond.
Providing superior customer service and training is the key to Diligent's success in efficiently serving 87,000 users worldwide.
Al Percival, Managing Director for APAC at Diligent, thinks that excellent customer service has been instrumental in Diligent's continued growth and its 97 per cent client retention rate.
"Diligent's success in Australia can be attributed to our premium customer service, which is as important to our business as providing a top-tier product. A significant number of Australian companies rely on Diligent and value the access to help 24 / 7 to ensure they can focus on the job at hand rather than the technical issues," said Al Percival.
"Winning a 2014 International Service Excellence Award is a great honour and reinforces Diligent's worldwide dedication to delivering the highest level of support for our clients."
Diligent offers true 24 / 7 / 365 support that has won multiple awards, with 99 per cent of all calls answered by a Diligent employee deeply knowledgeable about the product. Support is also offered during specified hours in French, Spanish, Portuguese, German, Polish and select Indian and Sri Lankan dialects based on client demand.
The International Service Excellence Awards are the world's premier customer service awards with organisations and individuals nominated for providing excellence in customer service.
The judging criteria for the International Service Excellence Awards is based on the rigorous International Customer Service Standard (ICSS), which provides a comprehensive and practical framework to assist organisations in delivering consistently high levels of service.
Diligent provides the confidence to work securely with technology in the boardroom and improves communication among directors, boards and executives.

About Diligent
Over 87,000 individual directors, executives and corporate secretaries in over 45 countries rely on Diligent Board Member Services, Inc. (NZX: DIL) to speed and simplify how board materials are produced, delivered, reviewed and voted on. Providing the world's most widely used board portal via iPad, Windows devices and browsers, Diligent has pioneered ease of use, stringent security, and superior training and support since 2001. The Diligent Boardbooks solution provides directors and management with immediate access to their most time-sensitive and confidential information along with the tools to review, discuss and collaborate on it. It also helps administrative staff accelerate production and delivery, and corporate executives streamline board communications and decisions. For more information, please visit www.boardbooks.com.
Safe Harbor Statement
Statements made in this press release that state Diligent Board Member Services, Inc.'s or management's intentions, beliefs, expectations, or predictions for the future are forward-looking statements within the meaning of The Private Securities Litigation Reform Act of 1995. Readers are cautioned that these statements are only predictions and may differ materially from actual future events or results. All forward-looking statements are only as of the date of this press release and Diligent Board Member Services, Inc. undertakes no obligation to update or revise them. Such forward-looking statements are subject to a number of risks, assumptions and uncertainties that could cause Diligent Board Member Services, Inc.'s actual results to differ materially from those projected in such forward-looking statements. For example, if we do not successfully develop or introduce new product offerings, or enhancements to our existing Diligent Boardbooks offerings, or keep pace with technological changes that impact the use of our product offerings, or suffer security breaches or service delays or interruptions, we may lose existing customers or fail to attract new customers and our financial performance and revenue growth may suffer. Factors which could cause our actual results to differ materially from those projected in forward-looking statements include, without limitation, economic, competitive, regulatory and technological factors affecting Diligent Board Member Services, Inc.'s operations, markets, products, services and other factors set forth in Diligent Board Member Services, Inc.'s updated Risk Factors filed as Part 2, Item 1 to its Quarterly Report on Form 10-Q filed with the Securities and Exchange Commission on November 6, 2014 (see filing for further information).