In most situations, when you plan selling your vehicle in Australia, a roadworthy certificate is essential and this is needed for registration of a used vehicle too. The Victorian government has mandated this certificate to ensure that poorly maintained automobiles do not use public roads. When you first submit your vehicle for inspection and issuance of this certificate, you may be given a defects list and a roadworthy certificate is issued for your vehicle only when you rectify all the defects pointed out and resubmit the vehicle for inspection. Another benefit from a roadworthy certificate is that it affords protection to the buyer and seller in addition to ensuring public safety.

Components of a Roadworthy Inspection
A roadworthy inspection will cover all the major components of your vehicle to ensure that they have not suffered deterioration and are in good repair to be driven on public roads safely. The focus of the inspection is to ensure that poor condition of your vehicle does not contribute to a road accident causing harm to other road users.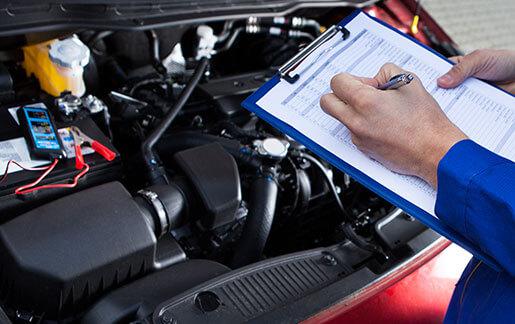 The focus of an inspection for issuance of roadworthy certificate is to ensure that all major components of a vehicle are in good repair and not deteriorated or worn out and that generally, the vehicle is safe to be driven on public roads. This inspection will primarily look at:-
The steering and braking systems, seat belts, seats, tyres and wheels, windows and windscreen, reflectors and lamps, vehicle structure, and other items that can impact safety of your vehicle including the body, engine and chassis.
However, stability or functionality of the mechanical components of your vehicle is not included in the roadworthy inspection. Therefore, the overall fitness of your vehicle should be established independently through a comprehensive inspection carried out at a designated garage.
Roadworthy certificates can be issued only by licensed testers who work from authorised garages/service stations. The certificate issued will only state that the vehicle is fit for safe use on public roads.
Roadworthy Certificate Comprises Two Parts
First part of a roadworthy inspection by a licensed inspector involves checking the vehicle to detect any concerns that need to be addressed and recommend repairs and/or replacements needed. You get 7 days to comply with the issues communicated to you and the vehicle is resubmitted for another inspection. If you exceed the 7 days time limit, you would be asked to start with the first phase again. Such an eventuality also involves additional fee which you would potentially want to avoid.

Second inspection will be carried out if you bring your vehicle back within the specified time limit and if all the issues have been addressed adequately. Once the second inspection passes the stipulated tests, a roadworthy certificate is issued to you.

Western Auto Services is an Australian business and you can rely on RWC by Western Auto because of the extensive experience and expertise they bring to the table. They are also known for their affordable pricing and efficiency.
Re-Registration/Transfer

When you need to transfer or re-register your vehicle for any reason, it is desirable to obtain a RWC. The validity of such a certificate is however limited to 30 days and therefore you should time it in such a way that the RWC does not pose a hindrance to your transfer/re-registration objectives. The date on which the certificate is issued is taken into account which means that it would be legally tenable even when there are just about 2 days left before the certificate expires.
What the RWC Inspection Does Not Cover

An RWC inspection does not cover the generation condition of your vehicle and the following aspects are specifically excluded:-
* Deterioration in wear and tear

* Accessories such as windows, air-conditioned, wipers etc that do not impact overall safety

* Any assurance that components checked in the course of an RWC inspection will continue to be in good repair post inspection.
Therefore, by possessing a RWC you cannot claim that the standards prescribed by the ADR are complied with, for the purpose of a transfer or re-registration. Minimum standards are prescribed under the ADR with regard to construction of trailers and motor vehicles.

Therefore you may need to get an independent comprehensive inspection done to satisfy the ADR standards.
An RWC Is Helpful For the Seller and Buyer Alike

When you are selling a used vehicle, obtaining a RWC helps you and the buyer in completing the transfer process without any glitch. Importantly, until the transfer gets recorded, you will remain the legal owner though another person may be driving the vehicle. You can stay safe from such a situation and avoid getting a ticket. A RWC is however not essential for selling your vehicle and you can simply remove the vehicle plates and get it cancelled by the authorities. This way, you can protect yourself from any possible consequences when another person is using your vehicle.

A RWC can be helpful if a law enforcement officer stops you and asks for the certificate. But the certificate by itself does not guarantee that the officer will not check for serious defects in the vehicle and penalise you if anything is found wanting. Getting an RWC at regular intervals is therefore a helpful measure to avoid tickets from law enforcement authorities apart from ensuring your safety and safety of others on public roads.
How Much is Charged for the RWC

The RWC does not come free of cost and what you pay will be dependent on the age and general condition of the vehicle. Your cost will also vary from one tester to another. The better option therefore is to obtain multiple quotes and compare them.