Sydney 12 August 2013. The Workers, Darling Street's favourite destination for cocktails, cool tunes and live entertainment, will launch a brand new comedy night from Wednesday August 21. Curated by the Campfire Collective, comedy at The Workers will be live, local, free and regular… and set to be Balmain's biggest and best laugh.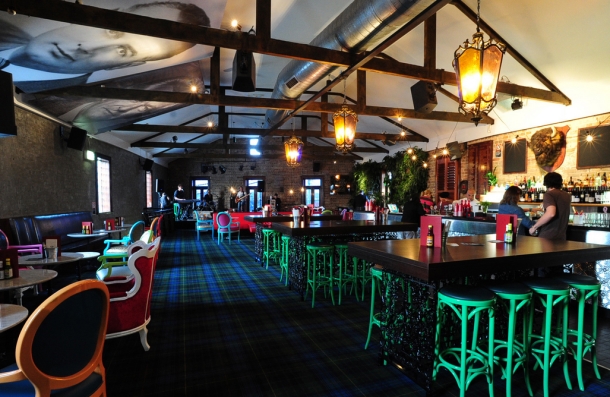 Cheap beers will lubricate laugh muscles each and every Wednesday night, while even cheaper tacos will fly out of the Workers Canteen.


At just $3 each, The Workers more-ish tacos include "Nemo Ganzales" – Battered blue eye, slaw, salsa pico de gallo and baja sauce, "Shrimp on da Barbie" – Grilled marinated prawn, slaw, mojo verde and scallions, "Soft Shell Coq" – Grilled chicken, slaw, salsa guacamole and chipotie mayo and the "Pulled Porky Pig" – slow cooked pork shoulder, red slaw, pico de pina asado and coriander.


Share the laughs, plates of tacos and drinks at The Workers for the perfect hump day treat.


Ray Badran, one of Sydney's finest emerging comics, will join a line-up of young gun comedians on Wednesday August 21st for the launch of 'Balmain's Biggest Laugh' comedy night, every Wednesday at The Workers.


Also hitting The Workers stage for launch night are Cameron James, whose weird and wonderful comedy has been praised for "perfect comic timing" and "unplanned madness", and Jacques Barrett, Jarred Jekyll.


Campfire Collective producer Michael Brown says, "It's exciting to see a new live comedy stage launch in the Inner West and, after working with the Riversdale Group to bring comedy to the Standard in Surry Hills, we are thrilled to be working together again to bring some of Sydney and Australia's best emerging and established comedians to The Workers."


Paddy Coughlan, Riversdale CEO says, "As politicians often carry on like a bunch of bad comedians, and as The Workers is one of the birthplaces of the Australian Labour Party, we thought we'd launch our comedy night before the next Federal election."


Adds The Workers bar manager Jeremy Baldi, "I love The Workers commitment to live entertainment, and doing it well. That was a key reason why I came across from the Exchange Hotel in Balmain. It's exciting to be part of the first push to bring something fresh and new to Balmain."


And while Wednesday will deliver 'Balmain's Biggest Laugh' at The Workers. live music will continue every Thursday night (with some great new talent to be announced as part of the Red Door Sets) and Hawkey's Happy Hour every Sunday (along with ping pong), with a drinks list and cocktails crafted from scratch by mixologist and bar manager Jeremy Baldi.


The Workers is open Wed-Sun from 5 pm 'til late.

Address: 292 Darling Street Balmain

Website: www.theworkersbalmain.com.au


Campfire Collective

Campfire Collective, formed by partners Michael Brown and Kristal Maher in 2010, have spent the last three years making a name for themselves as one of Sydney's best-trusted independent arts and entertainment producers. Based in the Inner West, the two directors bring over a decade of combined experience in producing, event management, venue management, artistic programming and good taste. They've been responsible for some of the best independent comedy and arts offerings over the last few years including Comedy & Storytelling at Peats Ridge Festival 2010, Ghost Stories & Storytelling at Sydney Fringe Festival 2011 and Vaudevillage, Campfire Stories and The Comedy Picnic at Harvest Festival 2011/2012. They've also brought DeAnne Smith (Canada) to Australian audiences in 2011 and 2013 for the Sydney and Melbourne comedy festivals. They continue to work tirelessly to improve the rich cultural fabric of Sydney's arts community. Campfire Collective was nominated for Best Collective in the 2012 FBi SMAC Awards.


Jeremy Baldi

Jeremy Baldi is the Bar Manager and Cocktail Mixologist at The Workers. He's been on the team since September 2012 working at the bar and getting cosy with the locals, and before that he worked at The Exchange for two years. His background, however, is in music – he was actually mid-way through a Sound & Audio Engineering degree when he found himself falling in to hospitality work. The two passions have worked perfectly for him and he's been able to work both in the live music and comedy aspects of The Workers as well as the tasty drinks side of things.


Ray Badran

You may know Ray Badran from Channel 9's The Footy Show, where he's performed live. Or perhaps you've heard his jokes read by Paul McDermott on Good News Week, where he used to write. He's opened for Ahmed Ahmed and Eddie Ifft, won comedy competitions (Alist Entertainment's '5 Minutes of Funny') and he's toured at Homebake 2012. Raw Comedy semi-finalist, grand finalist for Greenfaces and Quest For The Best… he's toured the USA in 2012, as well. He's all things funny… and he's also the Australian Strawberry Eating Champion. And that's quite the title.


Cameron James

Cameron James' brand of comedy is something truly weird. His last show, Nite Zoo, also produced by Campfire Collective, was inspired by other bizarre performers such as Tom Waits & David Bowie, translated to a comedy setting. Praised for his "perfect comic timing", the show was a homage to old-time variety shows and mashes up comedy, music, vaudeville and other forms of public performance in to this entirely new breed of stage show. So if that's anything to go by, you'd be wise to keep an open mind for his upcoming shows.


Jacques Barrett

With over nine years of experience in comedy, Jacques is an experienced and talented comedian with great crowd skills. Having toured worldwide and worked in radio (2DayFM) and TV (Ralph TV, The Footy Show). He's known for his sharp comedy that integrates nail-on-the-head character renditions with smart social commentary, leaving audiences with more than just laughs at the end of his shows.