Record harvest for Carnarvon horticulturalists

Program to ensure best use of irrigation water into the future
Carnarvon's fruit and vegetable growers have reached production of almost $100million for the last year.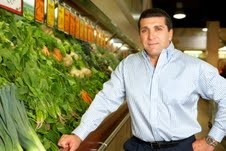 Agriculture and Food Minister Ken Baston said the record production in the Gascoyne Food Bowl had grown 38 per cent to $99.63million in 2012 - up from $72million in 2011.
Mr Baston said State Government initiatives were helping Carnarvon growers maximise their returns while driving the production of fresh fruit and vegetables for Western Australian consumers.
Meeting with growers in Carnarvon today, the Minister said the region provided vital fresh food to local consumers, particularly during the winter months.
"The bulk of Carnarvon's crops are harvested from May to November, when southern production has slowed. This ensures a continuous supply to the Perth metropolitan area," he said.
Mr Baston said while 2012 had been a record year, businesses were still recovering from the 2010 floods and highly variable climatic conditions.
The State Government, through the Department of Agriculture and Food, is working with Carnarvon agriculture businesses to boost water-use efficiencies through the More Dollars per Drop project.
"Last month, comprehensive on-farm assessments of fruit and vegetable-growing businesses were carried out across 34 businesses in the area," the Minister said.
"Those businesses will receive an analysis of their current water use efficiency and a detailed report identifying ways to improve both the productivity and profitability of their farm operations."
The Department of Agriculture and Food, together with industry association, vegetablesWA, is funding a Vietnamese field extension officer to assist local businesses. Vietnamese growers represent one-fifth of growers in Carnarvon.
Fact File
The More Dollars per Drop project, funded through Royalties for Regions, covers irrigated farms from Carnarvon to Albany. The project aims to assist agriculture businesses to improve their profit margins through more efficient water use

In addition, the State Government is investing $25m through Royalties for Regions over four years (2012-2016) to drive horticultural development and expansion of the Gascoyne Food Bowl

The State Government Farm Planning program run over 2010-11 and 2011-12 in partnership with the Federal Government gave participating Carnarvon growers strategic business planning skills plus a share in $2.3m of farm business grants