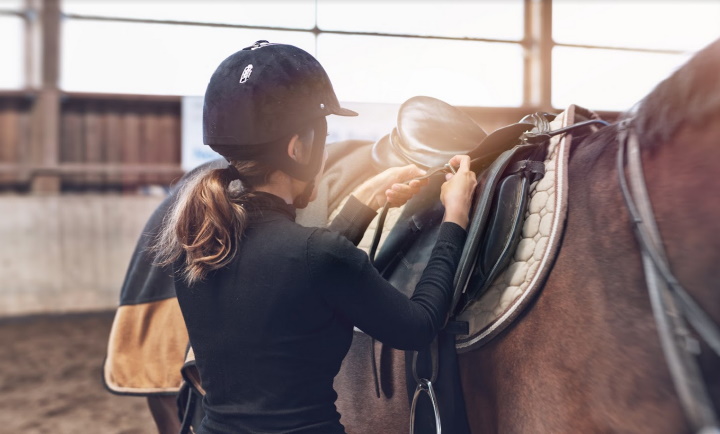 When you join the equestrian industry, it's inevitable that you're going to acquire a lot of gear. Some are meant to keep you safe while riding, and others are there to bring you comfort. Of course, the item you're after can either be costly or affordable depending on factors such as the materials used in its production and even its brand. Adding to the challenge of shopping for equestrian gear is the fact that if horse riding isn't a common sport or hobby in your area, local stores may not have what you're looking for.
One convenient solution is to turn to online sources. Fortunately, almost anything can be bought online these days, equestrian products included. While this is an advantage, there are also downsides to shopping for such items online. So to avoid those pitfalls, you need to be more cautious as you make purchases over the internet.
To help you out, here are several tips for safely buying products from an online equestrian marketplace:
1. Ask For A Photo Of The Saddle While It Is Being Measured
One of the most important and expensive items you're going to buy as an equestrian is your saddle. Buying this from physical stores without your horse is already tricky in itself. So it's even more challenging when you're shopping for it online and you don't get to inspect it properly.
If you're buying a saddle from an online equestrian marketplace, don't just rely on the measurements you see on the photo. Some sellers might measure the saddle in a wrong way. You'll be surprised at how frequently this error is committed.
To ensure the most accurate size according to your specifications, ask for photos and videos of the saddle being measured. This would allow you to ascertain that the measurements you're given are accurate and have been taken using standard methods.
2. Do Your Research
One of the dangers of buying expensive items online is that you might fall into the hands of scammers. So before paying for your purchase and providing your shipping details, it's a must to do your research. Shopping for equestrian gear isn't a process you can finish in five minutes. To be certain you're buying high-quality items from a reliable source, you should gather as much as information as you can.
These are some tips to keep in mind:
* If you're buying a saddle, ask for the serial number and check its validity. You may even be able to call the saddle maker to confirm that it's original.
* Browse the seller's profile or search for their social media accounts to look for any red flags. For instance, their accounts contain posts with plenty of grammatical errors, or they might not display their contact information.
* Reviews are your best friend. If this is your first time shopping from a particular online equestrian marketplace, take the time to go through their feedback section as well.
3. Have Your Tape Measure On Hand
Because you aren't there to try the equestrian gear in person, you must use a tape measure to discern just how big or small an item would be in real life. Never purchase anything without doing this beforehand. Remember that ill-fitting gear isn't just a matter of comfort—it can also affect your ride quality.
Ideally, a good online equestrian store or marketplace will have a size chart for their items. All you have to do is measure yourself and compare the numbers you get to the ones on the chart provided.
4. Request Specific, Detailed Photos
If the online seller is stingy with detailed photos, then you should take that as a red flag. Always ask for specific photos so it's easier for you to check for any issues with the product. Such photos have to include:
* The specific item from both sides or all angles
* The saddle seat taken looking down from above
* The underside of the gear
Look out for problems such as warping and signs of uneven wear. Any fabric or fleece material should also be complete or without any missing sides.
5. Be A Smart And Savvy Shopper
Like any big-ticket item you're buying online, if it sounds too good to be true, then it probably is. As an equestrian, surely you're aware of the average selling price of each item you're looking to buy. Remember that nowadays, it's very easy for scammers to get hold of photos and list them as their own. A reputable seller shouldn't be willing to sell for a ridiculously low price if they know that the value of that particular item is quite high.
6. Make The Most Of Your Connections
The longer you've been riding, the more friends and connections you're going to have in the equestrian industry. Use those connections to your advantage. Whenever you have to shop for products online, give any of those people a call and have them recommend some sellers they trust. Or if you're keen on buying from a particular shop, ask fellow equestrians about the online reputation of that store.
It'd be better for you to collect as many insights as possible. Because you're getting the opinion of others who've been part of the industry for a while, you know that they'll give you nothing but reliable information.
7. Use A Reputable Payment System
If a particular online marketplace is using a payment gateway you're unfamiliar with, it may be advisable to rethink your purchase as it may not be worth the risk. A good online seller will always use a reputable payment system, like PayPal.
Don't be careless about giving your credit or debit card details to anyone over the internet. Take note that scammers today are getting even better at their craft, all thanks to advancements in technology, so you should be extra vigilant during the entire purchasing process.
Conclusion
Shopping online is one of the top conveniences in this day and age. As advantageous as it is, however, this doesn't mean you should jump right into it and purchase items from the first seller you encounter. For products as expensive as equestrian gear, you have to be a lot more careful.
The tips above will help you avoid wasting money on substandard goods. Once you've found a trustworthy equestrian marketplace online, it'll be effortless for you to get all the products that you and your horse need.