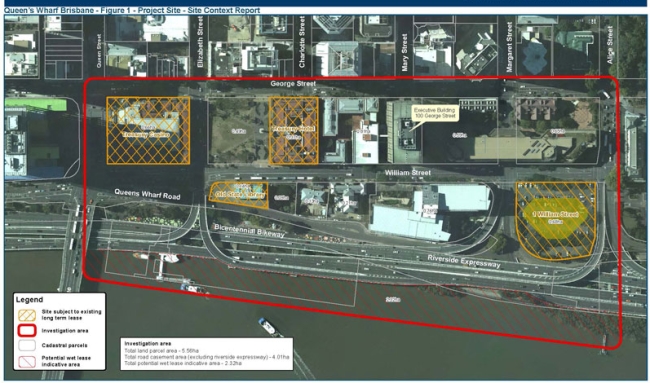 Brisbane 19 December 2013. One of Queensland's most exciting projects starts today with businesses invited to register their interest in developing the nine hectare Queen's Wharf site adjacent to the Brisbane River.
Acting Premier and Minister for State Development, Infrastructure and Planning Jeff Seeney said the Expression of Interest process would be fiercely competitive, given the site's unique mix of historical buildings, 700 metres of river frontage and a casino licence for a major integrated resort development.
"We must continue to embrace change and build on Brisbane's characteristic strengths for it to grow into an iconic new world city and attract international tourists and businesses," Mr Seeney said.
"That is what we envisage for this site, which delivers on our election promise to grow tourism and construction, two of the four pillars of the Queensland economy.
"The redevelopment of this historic site at the William Street end of the city presents a once in a generation opportunity.
"Today, the Newman Government is also delivering on its promise to build regional Queensland by offering two other casino licences for major integrated resort developments.
"This will spread the tourism benefits across Queensland, whilst simultaneously growing construction, creating hundreds of local jobs and boosting the economy."
Mr Seeney said a Probity Code of Practice has been established and former Queensland Auditor General Len Scanlan has been appointed probity adviser to oversee the process.
"It is expected the government will be in a position to announce a short list of proponents for Queen's Wharf by the middle of next year with an announcement of the successful tenderer in early 2015," he said.
Member for Brisbane Central Robert Cavallucci said the Queen's Wharf redevelopment will finally provide an opportunity to unlock the unique potential of the northern bank of the Brisbane River.
"It's a very exciting development from my point of view, and I'm pleased to be part of the CanDo Government that will finally deliver this landmark precinct in a historic part of my electorate," he said.

"The Queen's Wharf redevelopment will improve the precinct's connectivity throughout the entire nine hectare site and most importantly will activate the river frontage.
"Labor's failed North Bank proposal ignored the area's heritage, planning to extend 70 metres over the river, causing development costs to soar and intense community opposition."
Brisbane Lord Mayor Graham Quirk said the Queen's Wharf and William Street precinct was identified in the draft Brisbane City Centre Master Plan as one of six priority projects for the city that could be delivered in the short term.
"This precinct can be a world-class destination in the heart of our CBD," he said.
"Landmark developments, entertainment venues, activated heritage places and a lively waterfront would bring new life to this part of the city that was in many ways the city's birthplace.
"Across the CBD there are already a number of new developments underway and some others about to commence which are contributing to the growth of Brisbane as a new world city and an economic and commercial hub and the development of this precinct will add to that."
Businesses can register their interest in both the Queen's Wharf redevelopment and the two casino licences available for integrated resort developments in other parts of the State at the Queensland Government's eTender website www.etender.qld.gov.au

For further information please visit www.dsdip.qld.gov.au/queenswharfbrisbane or the new Queen's Wharf shopfront located at 63 George Street, Brisbane.