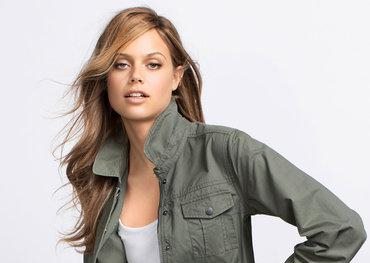 Summer is the time of love, sun, beach, and of course – music festivals. Right now, hundreds of festivals are held all over the world, but events like these can really be a challenge when it comes to makeup. You are basically spending a whole night outside where people are jumping, there is dirt and dust flying around, and you are sweating. Not to mention that there is no way you can bring your makeup bag with you for touch-ups (and you shouldn't either – you came to dance and have fun, not worry about your makeup).
Follow these tips if you want to keep your festival look fresh and on point.
Avoid lipsticks
If there is one thing that needs constant reapplying, it is definitely lipstick, and you don't need that kind of commitment during a festival, do you? Plus, you will probably feel too hot most of the time and also sip more than a few cold drinks, which is likely to result in super messy lips.
If you still want to add some color to your lips, opt for lip balm or lip stain instead. They are meant to enhance the natural tone of your lips and there is no smudging. Top it off with a transparent lip gloss and you're good to go.
SPF
Sunscreen is essential since you will be spending a lot of time outside. Even if the weather forecast calls for rain, you will still need it. Make sure you put it on at least 30 minutes before going outside and also bring a tiny travel-sized package so you can reapply it after. However, if you want to prevent sunburns, reapply it at least every two hours.
Keep it light
You have probably seen bunch of Instagram gurus with their over the top Coachella looks that take hours and tons of makeup to be finished. First of all, those are for social media only, and second of all, forget about it. Heavy makeup is just going to feel heavier and heavier, and it will get super messy and awful as soon as the sun hits you.
Personally, I prefer to just use my eyebrow Jane Iredale pencil I bought in Australia when I go to festivals. However, if you want to do a little bit more, one great advice for oily skin is to put on a clay mask before applying any makeup because it will absorb all the extra oil, and then use a light BB cream and some bronzer.
When it comes to eye makeup, it should also be kept light, but if you want to achieve that over the top festival effect, just add some glitter. Have fun taking it off though.
Blotting paper
During summer, blotting paper is something you shouldn't leave your house without, especially during festivals. Dab them over your face when you get a little sweaty to avoid smudging your makeup and having that sweaty glow on the pictures.
Cleansing wipes and antibacterial gel
Just like blotting paper, cleansing wipes are a must have for festivals. Whether it is super-hot or rainy and muddy, they will help you stay fresh and clean. And don't worry if you don't have any makeup-cleansing wipes –baby wipes are just as good. Make sure you keep them in your bag so you can freshen up whenever you need to.
When it comes to antibacterial gel, we all know that even though festivals are fun, they are not exactly clean. Make sure you have one of these with you as well.
Waterproof it
The last, but certainly not least, the holy grail of festival makeup – waterproof makeup. Whether you are putting on your mascara, eyeliner or eye shadow, make sure the formulas are long-wear and waterproof so the product stays on as long as possible regardless of the weather.
Follow these tips to create a simple but flattering look that won't be a bother in any way. For festival-related outdoor events, simple is always better because your main goal is to have fun, fun and more fun, and not worry about your makeup and your look in general.
Do you have any other beauty tips you would like to share? What are your experiences? Feel free to share them in the comment section below.