Have you always longed to get into the entertainment industry?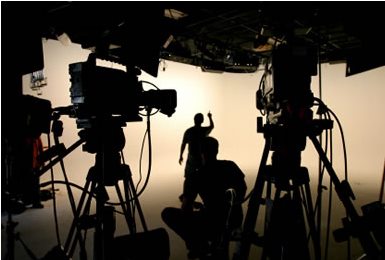 There are many perks and benefits to a job in this glamorous field, but it is also notorious for being very competitive. However, there are a number of ways that you can get into the entertainment industry other than being an actor, singer or TV personality.
Below are 5 ways to get into the entertainment industry.
Personal Stylist
One way of getting up close and personal with the all the right people is to become a personal stylist. You'll get to put together beautiful ensembles for people to attend events in, communicate visual concepts for fashion shoot and editorials or even help to create the right look for characters in film or tv. Many personal stylists work on a freelance basis, so be sure to network wherever possible and make your clients happy. Doing so will help your career progress, as well as gain you more jobs in the long run.
Makeup Artist
If beauty and cosmetics are more your thing, then why not consider a career as a makeup artist? There are many online makeup courses that can be completed online to get you started on your journey. Once you're qualified, you may get the opportunity to work with many individuals within the entertainment industry. Work hard and network well and one day you could be creating makeup looks for celebrities, models and even film stars.
Critic
If you feel like you enjoy sharing your opinions with others and more importantly that people tend to listen to you then a job as a critic could be your way into the entertainment industry. The role of a critic is pretty simple; share your opinion on your chosen subject. There are many different things in which a critic can talk about which include art, music, film, fashion, food or architecture to name but a few.
Social Media
Social media influencers are fast becoming a major part of the entertainment landscape.
If you enjoy sharing your views and opinions on the web then this may be something to seriously consider. The role of a social media influencer is simple, share your opinions via social media. There are many ways to become a social media influencer, and if you are successful you could be making big bucks.
Photographer
If you're a whiz with a camera, then you may be able to use your hobby to get into the entertainment industry. If you possess the basic skills why not look into a photography course in order to fine tune your talent. There are many different roles that a photographer can play within the world of entertainment.
A still photographer, for example, captures images of film sets which are then used to advertise feature films. Successful photographers often have to invest heavily in their equipment in order to stay ahead of the game. They also often have a good knowledge of photo manipulation software, which they regularly use to enhance their work.
Many of the jobs that are mentioned above are relatively simple to get into.
Many online companies offer courses that are quite flexible and can be completed in your own time. Once qualified most people tend to work as an intern in order to get their foot in the door.
Hopefully, the jobs mentioned above have given you some inspiration on how you could get into the entertainment industry. Even if you're not 100% set on any of the jobs that are listed above, we hope that the information has given you some insight on different roles within the industry.