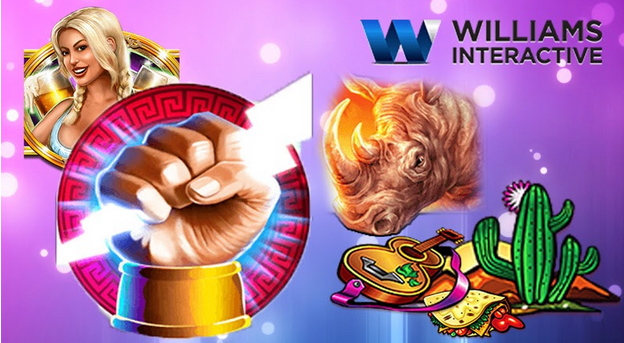 A ghost is lurking in the corridors of the iGaming industry. This ghost hasn't developed any games in recent years but is still one of the most popular providers in online casinos. Players still continue to play the slots developed by it, and almost every website has at least one game from this provider in the list of popular games. Can you guess who this ghost is?
We are talking about WMS Gaming slots. WMS is one of the oldest companies in this industry and has numerous casino games developed to date. However, it hasn't developed a new game since 2013. Despite this, every game it created in its long history continues to be played. Well, what's the secret to this? Why are WMS slots still preferred by players from all around the world? You can find fans of WMS games in UK as well as gamblers from Australia who likes to play free pokies no download. More importantly, what happened to WMS Gaming and why is it no longer developing games? Below, we answer all of these questions.
A Short History of WMS Gaming
To answer these questions, we first need a short history lesson. WMS was founded in 1943 in Nevada, and the company's brand was an abbreviation for Williams Manufacturing Company. Founder Harry E. Williams was not interested in the casino industry at the time. Williams, a young engineer who graduated from Stanford, founded his company to produce pinball tables. At that time, pinball tables were even more popular than slots, and you could see them everywhere. Williams had no interest in casino gaming throughout his life. He designed his last pinball game in 1960 and sold his company to another company called Consolidated Sun Ray.
However, he left behind a very valuable legacy. Williams had bought the licenses of valuable brands for his pinball games, which meant he could adapt those brands to any game he wanted. In the 1980s, game consoles started breaking sales records all over the world, and WMS wanted to seize this opportunity. WMS bought Midway, which was owned by Bally at the time, to adapt its licenses to console games. Midway already had invaluable intellectual properties such as Pac-Man and Space Invaders and began developing games for many consoles, including Atari. Mortal Kombat was another very valuable intellectual property that emerged during this period and managed to be one of the brands that brought the most to WMS.
In 1994, WMS had become a highly successful and profitable company, looking for different industries to invest in. Slot games were very popular at the time, and casino managers always needed new game developers. WMS decided to enter this industry and developed its first slot game called Reel Em In in 1996. The game was so successful that WMS completely ended pinball production in 1999 and decided to sell Midway as well. It would now only produce slot machines because this sector was much more profitable than it had anticipated.
WMS has made a rapid entry into the slot industry with its license rights. Some of the licenses owned by the company at that time were: Monopoly, Men in Black, The Price Is Right, Clint Eastwood, Powerball, The Dukes of Hazzard, Top Gun, The Wizard of Oz, Star Trek, and The Lord of the Rings. Each of these brands was worth millions of dollars, and WMS developed a slot game for almost everyone. Meanwhile, it has achieved many firsts. For example:
It developed a platform called CPU-NXT, making it easier to produce digital slot cabinets without mechanical gears.

BlueBird2 branded cabinets offered a different and immersive gaming experience by using dual screens.

Transmissive Reels technology-enabled even cabinets with mechanical reels to show digital video animations.

WMS created the concept of interconnected slot machines by developing a series called "G+"
WMS Gaming's game collection had more than 100 slots, each belonging to the world's best-known brands. In the early 2000s, WMS gradually began to adapt this collection for online slots. However, before completing this job, development took place. Scientific Games bought WMS in 2013 for 1.5 billion dollars. In 2016, Scientific Games technically ended the existence of the company and incorporated WMS completely. In other words, that's why you haven't seen a WMS branded slot in recent years. There is no company called WMS anymore.


Why WMS Games Were Popular and Why Are They Still Popular?
Of course, this does not mean that WMS is not currently developing games. Slot developers working for WMS in 2013 are now working for Scientific Games (SG). However, these games are now published under the SG brand. This also applies to brands such as Bally and Shuffle Master, which SG has acquired. All these companies are still in production, but everything they produce is now offered to the market under the SG brand. However, if we make a general evaluation, we can say that the games developed by WMS under its own name are still more popular than the new SG games. Well, what's the reason for this? Why do players still like WMS slots?
To answer this question, we need to take a look at some of the WMS slots. You can see a few examples below.
The Wizard of Oz

: We can say that this game, which was developed in 2010, is the most famous slot of WMS. This is a classic video slot game and consists of 5 reels & 30 paylines. There's a fixed jackpot prize, but that's not why it's famous.

The Wizard of Oz

has a bonus feature that is far ahead of its time. You can activate almost a dozen features in the bonus, which you start by playing a pick-me game. Free spins, cash bonuses, multipliers, mini-games, and much more can be triggered according to the character you choose and offer incredible win potential. Even today, we can say that there is no slot with so many bonuses.

Star Trek Explore New Worlds

: WMS has developed multiple slots in the Star Trek series, but the most famous one was the Explore New Worlds, released in 2010. This game with 25 pay lines uses original Star Trek characters and offers a different bonus for each one. By collecting medals, you can activate the bonus, choose a character, and get a different advantage each time. For example, Mr. Spock gives a multiplier of up to 7x.

Yahtzee Slot:

Yes, WMS owns the license of the

Yahtzee game

too and has developed a slot for it. This is a very original game and offers a chance to win up to 40,000 coins. When you activate the bonus round, you can play a real Yahtzee game with multiplier payouts.

Lancelot

: This classic slot was released in 2012 and is one of the last games WMS developed under its own name. Lancelot is a game based on the story of the same name and has a special wild symbol for each of the main characters in this story. It has 40 pay lines and offers a very high winning potential in the bonus round.
You can try these games to understand why WMS slots are still popular. WMS slots were popular because they used familiar brands and had many innovative features that were exciting for their time. In the early 2000s, online slot games were very simple, and it was not possible to say that they had any bonuses other than free spins. WMS was one of the first developers to use features such as mini-games and multiplier pick me rounds and quickly managed to get attention. Since all of its games are based on famous brands, it quickly became very successful. These features were so innovative that they are still appreciated today.
In other words, there is no secret about the popularity of WMS slots. These games are still popular because they are all above a certain level of quality. Nowadays, although the bonus features are much more advanced, it is no longer possible to obtain the license rights that WMS has. What do you think would be the cost of buying Star Trek's slot rights today? When WMS did this, Star Trek wasn't as popular as it is today. Films had not yet been shot when it bought the licensing rights to The Lord of the Rings. In short, WMS invested in the future and won the gamble it played.
Currently, it is very difficult to find a developer with the same courage and budget. The majority of slot games are now developed by independent studios and even the biggest names in the industry simply hire them out. For example, Microgaming has a budget to develop slot games in WMS quality, but it does not prefer to do so. Outsourcing the slot development business to an independent company provides much more financial benefits.
WMS is similar to action movies from the 90s: It had a large budget and was not afraid to take risks. At that time, everything had to be AAA quality, and WMS had a management approach that could do this. This is not how things work anymore, and to tell the truth, players prefer to watch low budget art movies rather than a big-budget action movie too. So both the conditions and players have changed. It is hard to see games similar to WMS slots anymore. However, we can continue to play existing WMS slots and hope for the best. Maybe the glorious era of slot games will return one day, who knows?