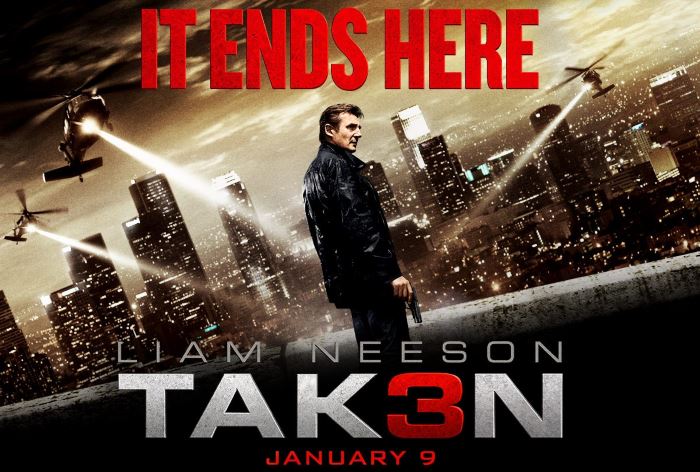 Liam Neeson returns as ex-covert operative Bryan Mills, whose reconciliation with his ex-wife is tragically cut short when she is brutally murdered. Consumed with rage, and framed for the crime, he goes on the run to evade the relentless pursuit of the CIA, FBI and the police. For one last time, Mills must use his "particular set of skills," to track down the real killers, exact his unique brand of justice, and protect the only thing that matters to him now – his daughter.
In Taken, which became a global box-office sensation, distinguished actor and multi-award winner Liam Neeson, became the cinema's newest and perhaps most unexpected action hero. At the same time, the gravity he brings to the role of Bryan Mills provides added depth to the film series, which constantly flirts with the codes of the genre. In a manner that's original for a thriller, Bryan is as much defined by his love for his family as he is for his lethal skillset.
The character's unique qualities helped propel Taken to box-office glory, as it became of the one of the surprise hits of 2008. A few years later, Neeson, producer-screenwriter Luc Besson, and screenwriter Robert Mark Kamen returned for Taken 2, with Olivier Megaton taking the directorial reins. Once again, audiences cheered Neeson as an overprotective father whose skills – forged through years of covert ops – continue to be put to the test long after his retirement from the CIA.

THE STORY
Having enjoyed inhabiting Bryan Mills and the character's world in Taken and Taken 2, Neeson was ready to return for a third film, but wanted to ensure there was something new TAKEN 3 could offer audiences. "I was excited to come back for the third film," he explains, "but I did have some reservations at first, because what else could we do? Bryan Mills couldn't have his daughter taken again. Otherwise, he'd be up for really bad parenting. But our screenwriters, Luc Besson and Robert Mark Kamen, came up with an interesting storyline."
TAKEN 3 sees Bryan facing his biggest challenge ever, as he deals with the aftershocks of his ex-wife's murder, while evading pursuit from several law enforcement agencies, hunting down the real killers, and most of all, protecting his daughter Kim.
"What makes TAKEN 3 a quintessential Taken movie is that, at its heart, it's still about Bryan Mills doing everything in his power to save his family," says Neeson. "That's why these films resonate with a global audience, because at their core, they are about the love and sanctity of family and the lengths we'll go to protect that."
Balancing the emotional and psychological elements with the no-holds-barred action sequences is an enormous challenge, especially in a motion picture franchise. "The more action you have, the more you have to prepare the audience," says director Megaton. "So you have to build your characters in another way. It's tricky because things keep snowballing. And that spiraling pace is even built into the characters' emotional and human development. First, we're in the midst of some emotional turbulence, and then the action bursts in, like a big typhoon. The two elements dovetail; it's a gradual process, like in a recipe. You have to calibrate every moment. When the action barrels in, you don't see it coming because you're submerged in that emotional chaos. Then suddenly you're in this physical chaos. That's the basic structure of this movie."
Neeson elaborates on the films' careful mix of action and drama: "Even though Bryan Mills is a guy with a 'particular set of skills,' he's also a kind of everyman. People identify with his love of family. Parents will do anything for their kids and they see that in Bryan. For all his faults, he still is a very devoted father who'll do anything for his child. But I think audiences also enjoy the fact that he bucks the system and doesn't trust anyone in authority. And if he has to break the law, then he does.
"The underlying stories in the Taken films are solid," Neeson continues. "We've tried to avoid doing anything in excess just to excite an audience. The triggers for that action have always been very strong. And it's, of course, about Bryan Mills defending his family and protecting them, against all odds. You have that bedrock of a very stable relationship that's being tested all the time. So once you have that base in place and audiences believe in that charge of love – especially between Bryan and his daughter Kim – you can take the action anywhere you want."
ACTION!
That being said, Neeson notes that he enjoys the films' non-stop action and the physicality of the role of Bryan Mills. In terms of thrills, TAKEN 3 is the biggest Taken yet. Highlights include lightning-fast fight sequences, an incredible freeway chase – and the film's overall relentless pacing.
"TAKEN 3 is a kind of do-or-die situation for Bryan," says Neeson. "He must rely on every possible skill he has, including hand-to-hand combat, explosives and sharpshooting, being able to think on his feet, and the ability to vanish into thin air. He's kind of part-machine. These skills just come to him after many years of practice. And once Bryan starts, he's really, really hard to stop."
He began learning these skills from the age of 18 or 19, when he first joined the U.S. Army. He was then selected for the Special Forces and was given the training that Navy SEALs and other covert operatives undergo.
"It's great to do all that action and fighting that Bryan has perfected through training and missions," says Neeson. "To bring that to life, we have a terrific stunt team, and I have a wonderful stunt double, Mark Vanselow, who's my buddy, and he's been in my life, professionally, for many years. He does all the hard stuff! Returning to Bryan Mills was a chance to work with Mark again and do all the fight training."
Maggie Grace, who in her role as Bryan's daughter Kim has seen her fair share of the action in the Taken films, continues to be impressed by its many facets. "There's a kind of down-and-dirty fighting style in these movies," she says. "It's not stylized and glossy; it feels really raw and real, like the characters are just doing the best they can, making split-second decisions and reacting.
"The fact that the film revolves around Liam, who has this incredible substance and gravitas, gives it a grounded feeling," Grace continues. "He plays someone who's giving everything he can, as opposed to the cool action hero who's just gliding through life. He's a father. He's afraid for his life sometimes. He has moments of fear, moments where he's not sure how he'll react. You can tell it's all costing him something."
Megaton notes that there are two major action sequences in the movie, one involving a car chase and the other a plane crash. For the chase, the director was able to secure a Los Angeles freeway, which authorities agreed to close to all traffic for three weekends of filming.
After storyboarding the sequence's elaborate stunts, Megaton choreographed a complicated maneuver in which a container flies off the back of a tractor-trailer and then crushes a line of cars. "Technically, we couldn't just drop a heavy container onto the road and have it pulverize everything in sight," Megaton explains. "So we took a real container and put rings on each end. We attached it to a crane with steel cables and pulled it forward, so it would roll over the cars. Then in post-production, we erased the wheels. So, audience will see the container rolling over the cars."
A Porsche vs. plane crash sequence, in the film's explosive third act, was even more challenging. Says Megaton: "There wasn't enough time to do the entire scene in CGI, so we considered building a model of a real plane, but that, too, wasn't possible. Instead, we bought two identical old planes and gutted them. It was too dangerous to actually have the plane moving, so we put a truck behind the plane to push it forward. We did the stunt live, and then erased the truck, with CGI. We used two planes and five Porsches and shot the entire sequence in three and a half days. So it was very practical and organic."
"Making a movie is like solving a puzzle, like a Rubik's cube," adds the director. "At first, you have no idea how to attack these things. You have to figure out every element on almost every shot. If you try to be too clever, it's too complex. So you look for simpler solutions. But in the end, everything clicks."


A RELENTLESS COP
An exciting character new to the Taken universe is Detective Frank Dotzler, portrayed by noted actor and director Forest Whitaker. Dotzler leads the police investigation into the murder of Bryan's ex-wife Lenore, as well as the pursuit of the chief suspect – Bryan Mills.
"The Dotzler character adds a new dimension to the film, elevates the previous story logic, and brings a new energy to the narrative," says Megaton. Moreover, notes Neeson, Dotzler is a formidable figure. "It's quite possible that in Dotzler, Bryan has finally met his match," he notes.
Whitaker was intrigued by the character and his unique suspect. "Dotzler is a police detective in Los Angeles who's assigned to their more difficult cases, but he's never experienced anything like this one," says Whitaker. "The more he learns about the murder and about Bryan, the more he uncovers this other world that's layered underneath. Dotzler recognizes Bryan's methodologies, which indicate that Bryan is an agent from some covert organization. Now, he has to figure out the specifics of Bryan's background to solve the crime.
"Then he asks himself, 'If Bryan is a covert operative, why would he leave a knife with his fingerprints on it on the scene? Why would he be making the mistakes that an amateur would make?' So it appears to him that someone is possibly setting Bryan up. But to figure out who those people might be, he must stop Bryan because he's Dotzler's only clue as to what actually unfolded at the murder scene."
But Bryan's not only fled, he's caused a great deal of collateral damage.
"Dotzler recognizes pretty quickly that something's awry," Whitaker adds. "He goes by his instincts. I think that's a nice thing. When you can combine intellect and instincts, you have an interesting character that maybe can take you somewhere you haven't been before."
THE MILLS FAMILY
While Whitaker is new to the Taken family, the actors portraying the Mills clan make a welcome return. Chief among them, of course, is Liam Neeson, for whom Maggie Grace professes a familial bond. "Liam is incredible," says the actress. "He's been a big part of my life and a big influence, not just as an actor, but also as a person. We've been making these films for such a long time and we've traveled the world together. So he really feels like family to me. He's someone I truly love and the best 'movie dad' anyone could ask for."
Famke Janssen, who returns as Bryan's ex-wife Lenore, echoes Grace's sentiments about their co-star. "What I value most about working on the Taken films is collaborating with Liam and being part of what now has become a family," she says. "I love the idea of reuniting with everybody. And in this case, Lenore, despite her unfortunate demise, does propel the story."
For Janssen, the new film offered the opportunity to further explore the evolving dynamic between the former spouses. "There's a lot of love between Bryan and Lenore," she explains. "For whatever reason, it hasn't worked out. That often happens in relationships you enter when you're young. You go your separate ways in life. Nevertheless, Bryan and Lenore have not grown that far apart. They have their daughter. And it's nice to see that, in this film, there's a romantic spark, which we touched upon at the very end of Taken 2. But then things happen and that is shut down."
Grace appreciated her character's transition to adulthood. "Thank goodness, Kim has grown up a little bit!" she exclaims. "We shot the first film eight years ago, so we've all grown. Kim's had some unexpected developments in her life, and now she's in 'the family way.' So that's a lot for her to deal with, and it makes her quite vulnerable. Kim is trying to process the whirlwind of events without having the time or space to do it."
The family dynamic is complicated by Lenore's troubled relationship with her current husband, Stuart St. John, portrayed by Dougray Scott. Scott sets up the relationship and his confrontation with Bryan: "Stuart and Lenore are having difficulties, so he goes to see Bryan and asks him to give him a little space, so he can work things out with her. Then, Lenore is found murdered and there's a police investigation. Is Stuart a suspect? What's his involvement? He's incredibly upset about the whole incident.
"Stuart is a character you can play completely truthfully," Scott continues. "What I find interesting about him is that he seems like a normal guy. Yet, Stuart is also very manipulative. At times we see a cold streak in him. I think he's caught between a rock and a hard place, and then he makes decisions — not necessarily the right decisions. Yet, he loves his wife. And the trauma of losing her is real."
THE DIRECTOR
Olivier Megaton's return to the director's chair for TAKEN 3 was welcome news to the cast. "Olivier is phenomenally efficient and proficient with the camera. He always had multiple cameras working simultaneously, and that's exciting," says Liam Neeson. "He's been able to not only maintain and expand upon Luc Besson's vision, but bring his own unique touches to the franchise. He marries relentless action with true character and heart."
Adds Maggie Grace: "Olivier runs on pure caffeine and determination. He doesn't seem to eat or sleep during a shoot. His way of thinking is incredibly visual. He has cameras on the tops of buildings, and inside refrigerators!"
Forest Whitaker, a noted director in his own right (Hope Floats), says watching Megaton work was an eye-opening experience. "I try not to cross roles too much but, as a filmmaker, I couldn't help but watch Olivier's style because it's unique, especially the way he operates the camera, and he has such intimacy with his crew and the actors. The techniques he utilizes make it very exciting when the footage is cut together."
Megaton was always on the move, which the cast recognized at the end of the shoot by gifting him with his own director's chair–which he had never used during production. "I'd never even seen it before, and the chair was still in the plastic bag from the factory," he remembers.
Megaton elected to shoot TAKEN 3 on 35mm film with anamorphic lenses, eschewing the digital format preferred by most of today's filmmakers. "Everybody wants to shoot digital today, but I decided to go back to something more organic and to shoot on film," he explains. "Movies today are losing that special quality available only with film."
Unlike the first two stories, TAKEN 3 is set entirely in Los Angeles, giving the new film a very different look from its predecessors. "Everybody knows L.A., but seeing it through French eyes and a French sensibility is totally different. We choose different locations, and we shot the stunts differently," notes Megaton.
TAKEN 3 was filmed in Los Angeles, Alicante, Spain and Paris.
Famke Janssen notes the dichotomy of a French filmmaker helming a story about Americans, set in one of the U.S.'s largest cities. "What's always funny to me is that people think of the Taken films as being American made, but they really are French films. Liam, of course, is Irish, I'm Dutch, and Dougray is Scottish. Yet when you watch TAKEN 3, it feels like the ultimate American film. I think it's really interesting that Luc Besson, who lives in Paris and has a very French lifestyle and sensibility, somehow makes these movies that seem as American as you can possibly imagine."
FINAL THOUGHTS
For Liam Neeson, TAKEN 3 is the culmination of a film series that has both thrilled and moved audiences around the world. "I think moviegoers are in store for a cinematic joyride, many thrills and spills and certainly a lot of heart," he says. "And I'm a big believer in heart in movies."
"This film is an insane trip, from beginning to end," adds Megaton. "We fill every minute of screen time with curiosity and surprise and pacing."
ABOUT THE CAST
LIAM NEESON (Bryan Mills) is an award-winning actor who has been internationally recognized for his work in both major studio blockbusters and acclaimed independent features. He has been honored for his depictions of three very different real-life figures. Neeson received Academy Award®, Golden Globe® and BAFTA Award nominations for his performance as Oskar Schindler in Steven Spielberg's 1993 Oscar®-winning Best Picture Schindler's List. Three years later, he played the title role in Neil Jordan's biopic Michael Collins, earning another Golden Globe nomination and winning an Evening Standard British Film Award and the 1996 Venice Film Festival's Volpi Cup for his impassioned portrayal of the Irish Republican hero. In 2004, Neeson starred as controversial sex researcher Alfred Kinsey in Bill Condon's Kinsey, for which he garnered his third Golden Globe nomination and an Independent Spirit Award nomination, and won a Los Angeles Film Critics Award.
Neeson most recently appeared in Seth MacFarlane's comedy A Million Ways to Die in the West, the hit comedy Anchorman 2: The Legend Continues, Scott Frank's crime thriller A Walk Among the Tombstones, director Jaume Collet-Serra's Non-Stop and in writer/director Paul Haggis' romantic drama Third Person.
Among his upcoming projects in 2015 are Run All Night (directed by Jaume Collet-Serra).
Neeson also lent his voice to Open Road Film's animated film The Nut Job, directed by Peter Lepeniotis – released in January 2014; the hugely successful The Lego Movie, directed by Phil Lord – released in February 2014; The Prophet (May 2014) , based on the classic Kahlil Gibran book; and Millennium Entertainment's animated film Khumba,directed by Anthony Silverston – released in 2013.
In 2012 Neeson reprised his role as unstoppable CIA operative Bryan Mills in Taken 2, the successful follow-up to the 2008 hit thriller Taken. He also starred in Peter Berg's actioner Battleship, was Zeus in Wrath of the Titans, and starred in Joe Carnahan's thriller The Grey, which topped the box office in its opening weekend. His recent film credits also include Jaume Collet-Serra's thriller Unknown; Paul Haggis' thriller The Next Three Days; The A-Team; as well as the indie films Chloe, directed by Atom Egoyan, and After Life. He also appeared in The Dark Knight Rises for director Christopher Nolan.
The year 2009 saw the debut of the BBC film Five Minutes of Heaven, which received rave reviews at the 2009 Sundance Film Festival.
In 2008 Neeson starred in Taken, the runaway box-office hit about an ex-CIA operative trying to track down the Albanian slave masters who have kidnapped his daughter. Additionally that year, Neeson teamed up with Laura Linney in Richard Eyre's The Other Man. In May of 2008 Neeson appeared in Disney's box office success The Chronicles of Narnia: Prince Caspian, where he reprised his role as the voice of the Lion, Aslan, in the sequel to the 2005 hit The Chronicles of Narnia: The Lion, the Witch and the Wardrobe. That same year he returned to the stage at the Lincoln Center Festival in Gate/Beckett: Eh Joe, directed by Atom Egoyan.
In 2006 Neeson graced the screen in the classic revenge drama Seraphim Falls opposite Pierce Brosnan. In 2005, he appeared in Ridley Scott's Crusades epic Kingdom of Heaven. Neeson co-starred that year in Batman Begins, directed by Christopher Nolan.
Neeson's portrayal of Alfred Kinsey in Bill Condon's Kinsey, co-starring Laura Linney, garnered him a Best Actor award from the Los Angeles Film Critics Association. Prior to that, Neeson co-starred with Hugh Grant, Emma Thompson, and Keira Knightly in the Working Title film Love Actually (2003), written and directed by Richard Curtis.
Neeson returned to Broadway in 2002, co-starring with his friend Laura Linney in Arthur Miller's classic The Crucible. Neeson's performance as John Proctor earned both he and Linney a Tony® Award nomination.
In 2001, he starred opposite Harrison Ford in the true story of Russia's nuclear submarine tragedy entitled K-19: The Windowmaker, and starred opposite Sandra Bullock in the black comedy Gun Shy (2000).
Neeson starred in the box-office phenomenon Star Wars: Episode I – The Phantom Menace (1999) in the role of Qui-Gon Jinn, the Master Jedi Knight who bestows his Force-ful wisdom upon Obi-Wan Kenobi and the young Anakin Skywalker. In the same year, he starred opposite Catherine Zeta-Jones in Jan De Bont's The Haunting (1999).
In addition, Neeson starred in the screen adaptation of Victor Hugo's Les Miserables in the role of Jean Valjean, co-starring Geoffrey Rush, Uma Thurman and Claire Danes. Also that year, Neeson played Oscar Wilde in David Hare's new play The Judas Kiss, which opened in London's West End and subsequently on Broadway.
Neeson starred in the title role in Neil Jordan's Michael Collins (1996), for which he received Best Actor honors at the Venice Film Festival, a Golden Globe Best Actor nomination, and London's prestigious Evening Standard Award for Best Actor. The film also received the highest honor in Venice -- The Golden Lion Award.
It was in 1993 when Neeson received worldwide attention for his starring role in the Academy Award winning film Schindler's List. In addition to winning an Academy Award nomination for Best Actor, he was nominated for a Golden Globe and BAFTA Award.
The Irish-born actor had originally sought a career as a teacher after attending Queens University, Belfast and majoring in physics, computer science and math. Neeson set teaching aside and in 1976 joined the prestigious Lyric Players Theatre in Belfast – the best training any actor could have – making his professional acting debut in Joseph Plunkett's The Risen People. After two years with the Lyric Players, he joined the famed National Theatre of Ireland, the Abbey Theatre in Dublin. Neeson appeared in the Abbey Theatre Festival's production of Brian Friel's Translations, and a production of Sean O'Casey's The Plough and the Stars for the Royal Exchange Theatre in Manchester, England where he received a Best Actor Award.
In 1980, John Boorman spotted Neeson playing Lennie in John Steinbeck's Of Mice and Men and cast him in the epic saga of the Arthurian legend, Excalibur. Following this motion picture debut, Neeson has appeared in more than 40 films demonstrating a wide range of characters, including Dino DeLaurentiis' epic remake of The Bounty (1984), directed by Roger Donaldson, co-starring Mel Gibson and Anthony Hopkins; the critically-acclaimed Lamb (1986), for which Neeson received an Evening Standard Drama Award nomination for his haunting portrayal of a priest tormented by doubts about his faith; Andrei Konchalovsky's Duet for One (1986), co-starring Julie Andrews; as a political terrorist in A Prayer for the Dying (1987) with Mickey Rourke and Bob Hoskins; and a Jesuit priest in Roland Joffe's The Mission (1986), co-starring Robert DeNiro and Jeremy Irons.
Neeson received critical acclaim starring opposite Cher as a deaf and mute Vietnam veteran in Peter Yates' courtroom drama Suspect (1987); as the passionate Irish sculptor opposite Diane Keaton in The Good Mother (1988), and as scientist Peyton Westlake, whose disfiguring accident forces him into hiding in Sam Raimi's fantasy-thriller Darkman (1990).
Neeson next starred in David Leland's gritty contemporary drama Crossing the Line based on William McIlvanney's acclaimed novel The Big Man about, an unemployed Scottish miner desperate for money that is thrust into the high-stakes world of bare-knuckle boxing.
In 1992, he starred as a Nazi engineer in David Seltzer's adaptation of Susan Isaac's best-selling novel Shining Through opposite Michael Douglas; and as a disgraced policeman accused of murder in the erotic thriller Under Suspicion.
Neeson continued to star in a succession of film, most notably playing the sensitive art historian vying for the affections of Mia Farrow and Judy Davis in Woody Allen's controversial Husbands and Wives (1992).
His other credits include Ethan Frome (1993) with Joan Allen; Michael Apted's Nell (1994), starring opposite Jodie Foster and Natasha Richardson; Before and After (1996) with Meryl Streep; and the title role in Michael Canton-Jones' Rob Roy (1995), co-starring Jessica Lange.
Neeson made his Broadway debut in 1993 receiving a Tony Award nomination in the Roundabout Theater's revival of Eugene O'Neill's 1921 drama Anna Christie, co-starring Natasha Richardson.
FOREST WHITAKER (Frank Dotzler) is one of Hollywood's most accomplished actors, directors and producers, and has showcased his talents in demanding and diverse roles. In 2007, he received critical acclaim for his performance as Ugandan dictator Idi Amin in The Last King of Scotland, receiving the Academy Award, BAFTA Award, SAG Award™, and Golden Globe for Best Actor.
Whitaker's intensive character work in films such as Lee Daniels' The Butler, The Crying Game, Ghost Dog: The Way of the Samurai, and Bird (for which he was named Best Actor at the 1988 Cannes Film Festival) have made him one of the most versatile performers of all time.
Whitaker just wrapped principal photography on Southpaw, starring opposite Jake Gyllenhaal and Rachel McAdams.
Whitaker is the President of Significant Productions, a company, which supports young talents, as he did recently when he produced Fruitvale Station, an award-winning movie directed by Ryan Coogler, which was sold at The Sundance Film Festival to The Weinstein Company and took home the 2013 Grand Jury Prize, along with other awards.
Whitaker made his directorial debut with Strapped in 1993, for which he won the International Critics Award at the Toronto Film Festival. Since then, he has directed and executive produced Waiting to Exhale, Hope Floats, and First Daughter. Whitaker has produced numerous other award-winning films and documentaries and has executive produced several made-for-television movies and miniseries.
In 2012, Whitaker co-founded JuntoBox.com, a web-based production company that merges traditional, in-house film development with an online community to create low-budget feature length films. The platform provides all filmmakers, regardless of experience, an equal shot at having their films made, as each movie is generated from and approved by the community.
Whitaker has also ventured into music, having a record label at Sony and executive producing two albums that received 14 Grammy® nominations.
Whitaker was the Game Developer Producer for DEWmocracy.com, a website that lets people decide the next flavor of Mountain Dew in a People's Dew poll. He also directed the short film that opened the video game. This campaign turned into the most successful launch of a soft drink in Mountain Dew's history.
In addition to his passion for the arts, Whitaker is an avid humanitarian. He is the founder and CEO of The Whitaker Peace and Development Initiative, co-founder and chair of the International Institute for Peace and UNESCO Special Envoy for Peace and Reconciliation.
FAMKE JANSSEN (Lenore St. John), a true leading lady, refuses to fill a stereotype. By taking on a wide range of roles in both studio and independent features and working with some of Hollywood's best directors, she has proven herself to be not only one of the most beautiful actresses in the business, but also one of the most talented and diverse.
Janssen is currently shooting the third season of the Netflix series Hemlock Grove, created by Eli Roth. She stars as Olivia Godfrey, the beautiful and controlling grand dame of the town of Hemlock Grove. Janssen recently completed production on the independent feature, Jack of the Red Hearts, directed by Janet Grillo and starring opposite AnnaSophia Robb. She also recently starred in Hansel & Gretel: Witch Hunters, opposite Jeremy Renner and Gemma Arterton.
Her film directorial debut, Bringing Up Bobby, starring Milla Jovovich, Bill Pullman, and Marcia Cross, which Janssen also wrote and produced, premiered at the 2011 Deauville American Film Festival, and which had a screening at the 2011 Cannes Film Festival. It premiered in the U.S. in October 2012.
Janssen is well known for her role of Jean Grey in the original X-Men trilogy for Twentieth Century Fox. The blockbusters' all-star cast includes Ian McKellen, Hugh Jackman, Halle Berry, Patrick Stewart, James Marsden and Anna Paquin. Janssen received a Saturn Award for best supporting actress for X-Men: The Last Stand, which Brett Ratner directed. Janssen recently reprised her role of Jean Grey in The Wolverine and X-Men: Days of Future Past.
Janssen is also known for her work on the FX original drama series Nip/Tuck, where she played life coach Ava Moore. Janssen received a Movieline Breakthrough Award for her star turn on the show, and the provocative drama received outstanding critical acclaim, as well as an AFI Award and Golden Globe nomination for season one.
Janssen was awarded with a Special Jury Best Actress Prize at Hamptons Film Festival for her work in Turn the River. In 2006, Janssen was awarded with the Golden Starfish Award for Career Achievement in Acting at the Hamptons Film Festival, as well as the Susan B. Anthony "Failure is Impossible" Awards at the High Falls Film Festival. Janssen earned critical acclaim for her star-making performance opposite Jon Favreau in Valerie Breiman's Love and Sex, which premiered at the Sundance Film Festival in 2000.
Other credits include The Wackness, opposite Ben Kingsley, Hide and Seek opposite Robert DeNiro and Dakota Fanning, John Dahl's Rounders, opposite Edward Norton and Matt Damon for Miramax, Jon Favreau's Made opposite Favreau and Vince Vaughn, Woody Allen's Celebrity, opposite Kenneth Branagh and Leonardo DiCaprio, The Gingerbread Man directed by the late Robert Altman and the James Bond blockbuster Goldeneye, where she starred as the lasciviously lethal assassin Xenia Onatopp.
Born in Holland, Janssen moved to the United States, where she now resides. She majored in writing and literature at Columbia and studied stagecraft with Harold Guskin.
MAGGIE GRACE (Kim Mills) is currently in production on Lionsgate's The Choice, an adaptation of the Nicholas Sparks book of the same name.
This past year, Maggie starred opposite Max Greenfield, Jason Ritter and Aubrey Plaza in the indie film About Alex. In 2012 she reprised her role as Irina in Summit Entertainment's The Twilight Saga: Breaking Dawn - Part 2, following part one of the film series the previous year. Also in 2012, Maggie starred in Lockout, an action-thriller opposite Guy Pearce.
In addition to the CBS Films/ Sony Pictures action crime drama Faster with Dwayne Johnson and Billy Bob Thornton, and the 20th Century Fox action romance Knight and Day with Tom Cruise and Cameron Diaz, Maggie is no stranger to independent projects, with notable roles in The Experiment with Adrian Brody and Forest Whitaker, The Jane Austen Book Club with Maria Bello, Emily Blunt and Kathy Baker, and Flying Lessons with Cary Elwes and Hal Holbrook.
Beloved by television audiences for her role as Shannon Rutherford on J.J. Abrams' groundbreaking ABC television series Lost, Maggie recently had the recurring role of Faith on the popular Showtime series Californication with David Duchovny. Other television credits include The Following, CSI: Miami, Cold Case and Law & Order: Special Victims Unit. On stage, she made her Broadway debut in 2013 in William Inge's Pulitzer Prize-winning play Picnic, opposite Mare Winningham, Ellen Burstyn and Sebastian Stan.
Maggie divides her time between Los Angeles and New York.
DOUGRAY SCOTT (Stuart St. John) was born in Scotland. His career began in Scottish national theatre and television, when he appeared in the series Soldier Soldier, as well as on the stage in the Tim Fleming directed production of Wallace. Early television credits to follow included Becket, Taggart: Nest of Vipers, Lovejoy, and Soldier Soldier. Scott appeared in the films Black Beauty and Twin Town, the latter of which became a cult hit thrusting Scott into the spotlight.
Shortly thereafter, Scott was seen opposite Drew Barrymore in the hit film Ever After; opposite Robert Duvall, Tea Leoni, and Vanessa Redgrave in the film Deep Impact; and Mission: Impossible 2. Scott also appeared opposite Kate Winslet in Michael Apted's Enigma as well as the 2002 film Ripley's Game, opposite John Malkovich. He then starred opposite Jennifer Connelly in the 2005 film Dark Water and in the 2007 film Hitman, Scott appeared in U.S. television for the first time in the ABC miniseries The Ten Commandments, as well as in the Hallmark TV movie Arabian Nights.
U.S. television audiences next saw Scott in the NBC series Heist, as well as in the hit ABC series Desperate Housewives. He followed these impressive turns with the BBC miniseries adaptation of the cult classic novel The Day of the Triffids and a critically acclaimed performance in the television miniseries Father and Son, directed by Brian Kirk.
Scott's impressive theatre resume includes the 2000 Donmar premiere of To The Green Fields Beyond, directed by Sam Mendes; Becket, written by Jean Anouilh and directed by John Caird; and The Power and the Glory, directed by Tim Luscombe.
His recent credits include Simon Curtis' critically lauded My Week With Marilyn, the film The Last Passenger, and the Netflix original series Hemlock Grove. Scott can next be seen in the Lionsgate release The Vatican Tapes, slated to open in February of 2015.
SAM SPRUELL (Oleg Malankov) was brought up in London. Spruell studied at Hull University, and after appearing in a number a plays with The National Youth Theatre, he began acting professionally.
Spruell debuted at the National Theatre in productions of The Life of Galileo and The Alchemist and was then cast in the critically acclaimed and prize winning film London to Brighton as Stuart Allen.
In 2008 Spruell took a role in Kathryn Bigelow's Oscar winning The Hurt Locker, followed by Ed Zwick's Defiance, in which Spruell's character Arkady Lubchansky fought to wrest power from Daniel Craig's resistance leader. Television roles followed in The Runaway, Ashes to Ashes, The Fixer and Luther.
Spruell was praised for his performances in Simon Stephen's play Pornography at the Traverse and in the Young Vic's production of Barry Keefe's SUS. He also played Mick in the West End production of Harold Pinter's The Caretaker opposite Jonathan Pryce.
At the Royal Court, Spruell played Jim in the Pulitzer Prize and Olivier winning Cybourne Park by Bruce Norris. In 2011 he was cast in the film Snow White and the Huntsman, in which Spruell plays Finn, brother to Charlize Theron's evil queen Ravenna. Last year, Spruell starred in Mayday for the BBC opposite Sophie Okonedo, Aiden Gillen and Lesley Manville, as well as in Company of Heroes opposite Tom Sizemore. He was also seen in The Counselor directed by Ridley Scott and in the Michael Bay produced TNT series The Last Ship. Spruell recently filmed Legend and Child 44. He can next be seen in Enemy of Man, directed by Vincent Regan.
LELAND ORSER (Sam) came to prominence in David Fincher's Se7en with Morgan Freeman and Brad Pitt. He has gone on to give memorable performances in one great film after another: Jean Pierre Jeunet's Alien Resurrection with Sigourney Weaver; Steven Spielberg's Saving Private Ryan with Tom Hanks; Philip Noyce's The Bone Collector, alongside Denzel Washington and Angelina Jolie; Peter Berg's Very Bad Things, with Jon Favreau, Jeremy Piven and Cameron Diaz; Philip Kauffman's Twisted, with Ashley Judd and Samuel L. Jackson; Steven Soderbergh's The Good German with George Clooney and Cate Blanchett; and the Taken series with Liam Neeson.
Currently, Orser is appearing in director Rupert Waytt's The Gambler for Paramount opposite Mark Wahlberg. He also recently co-starred in the psychological thriller The Guest, which premiered at Sundance, and in Riley Stearns' dark comedy, Faults, which premiered at the SXSW film festival.
Other film credits include Runaway Jury, Pearl Harbor, Escape from L.A., Excess Baggage, Daredevil and Confidence.
On television, Orser recently appeared in Magic City, Revolution, Touch, and Scandal. He co-starred in the final five seasons of NBCs E.R. as Dr. Lucien Dubenko and regularly on Fox's 24.
Orser wrote and directed the feature film Morning, released by Anchor Bay in theaters last fall. He stars in the film alongside Jeanne Tripplehorn, Laura Linney, Kyle Chandler and Elliott Gould. Morning is now available on iTunes.
ABOUT THE FILMMAKERS
OLIVIER MEGATON (Director) takes his name from his birthday, August 6, 1965, which marked the twentieth anniversary of the Hiroshima bombing, and gave the French helmer an oddly prophetic nom de plume – though he had never intended to dedicate himself to action cinema. Megaton was a pioneering graffiti artist, and began working in film after a meeting with fashion photographer and music video director Jean-Baptiste Mondino.
Megaton directed award-winning short films before helming episodic television. including One Dance, One Song, Histoires d'objets and Les redoubtable, all in his native France.
His feature directorial debut came in 2002 with The Red Siren, starring Jean-Marc Barr and Asia Argento. It attracted the attention of EuropaCorp's Luc Besson, who brought Megaton into the studio's stable as a second unit director on the action thriller Hitman.
Megaton's breakthrough as a director came with Transporter 3, also for EuropaCorp, which starred Jason Statham and became the highest-grossing Transporter film, with over $100 million in global box office.
He followed Transporter 3 with Columbiana, from a script by Taken 2 scribes Luc Besson & Robert Mark Kamen. The film starred Zoë Saldana.
LUC BESSON (Written and Produced by) began his career in cinema in 1977, working a number of assistant director positions in France and the United States, and thereby gradually positioning himself as one of the few French directors and producers with an international scope.
In 1983, Besson made his directorial debut with The Last Battle, which earned him recognition at the Avoriaz Fantastic Film Festival.
Two years later, he directed Subway, which starred Isabelle Adjani and Christopher Lambert. The film received three César Awards. Besson's visual style was clearly established.
Building on his success, Besson wrote and directed The Big Blue. Though poorly received at the Cannes Film Festival, the film went on to become a veritable social phenomenon.
Despite an unfavorable critical climate, La Femme Nikita (1990) and Léon: The Professional (1994) were both publicly acclaimed, solidly establishing his popularity in France and earning him an international reputation.
Between these films, Besson directed Atlantis (1991), a documentary aimed at raising awareness about the beauty of nature and the need to protect the environment.
In 1995, he launched into directing a bold science-fiction film: The Fifth Element. The blockbuster became one of the biggest box-office hits of any French film in the United States. In 1998, Besson took home a César Award for Best Director.
In 1999, he directed his version of Joan of Arc, The Messenger: The Story of Joan of Arc, which earned him another nomination for Best Director at the César Awards.
In 2000, he was named President of the Jury for the 53rd Annual Cannes Film Festival, becoming the youngest jury president in the history of the festival.
Also in 2000, Besson co-created EuropaCorp and devoted a majority of the next five years to production, making EuropaCorp one of the major studios of the European film industry.
In 2005, he returned to directing with Angel-A. In 2006, he directed and co-wrote his first animated picture, Arthur and the Invisibles, which was adapted from the book he wrote. Arthur and the Invisibles spawned two sequels: Arthur 2: The Revenge of Maltazard (2009) and Arthur 3: The War of the Two Worlds (2010).
In 2010, Besson adapted Jacques Tardi's series of graphic novels "The Extraordinary Adventures of Adèle Blanc-Sec," for the screen, which starred Louis Bourgoin in the title role.
In 2011, he directed Michelle Yeoh in The Lady, about Nobel Peace Prize winner Aung San Suu Kyi.
In 2013, Besson brought Tonino Benacquista's acclaimed novel "Malavita" to the screen in The Family, which starred Robert De Niro, Tommy Lee Jones and Michelle Pfeiffer. Earlier this year, he directed the global box-office smash Lucy.
Throughout his directing career, Besson has directed music videos for a number of artists, including Serge Gainsbourg and Mylène Farmer, as well as commercials for internationally renowned brands.
In addition to the films he has directed, Besson has written more than 20 screenplays for features, including the Taxi series and Taken 2, which currently lays claim to being the biggest box-office hit of any French film in the United States.
ROBERT MARK KAMEN (Writer) received his Ph.D. in American Studies from the prestigious University of Pennsylvania before setting his sights on Hollywood.
Kamen sold his first screenplay, Crossings, to Warner Bros. in 1978. His first produced feature film was the critically acclaimed Taps.
Kamen then wrote the hugely successful The Karate Kid, which became a three-film franchise, all of which he wrote. Kamen wrote or co-wrote the films Gladiator, The Power of One, A Walk in the Clouds, and Lethal Weapon 3.
By the mid '90s, he had established himself as one of the most sought after writers in Hollywood, with credits such as The Devil's Own and The Fifth Element. His screenplay collaborations with Luc Besson include Leon: The Professional, The Transporter, Kiss of the Dragon, Transporter 2, Bandidas, Taken, Transporter 3, Columbiana and Taken 2.
ERIC KRESS (Director of Photography) has worked extensively in films and television. His many notable theatrical film credits include The Girl with the Dragon Tattoo, The Absent One, The Keeper of Lost Causes, Waltz for Monica, Arn – The Knight Templar, Heartless, The Killing, The fakir, Nobels Last Will, Shadow of the Past, and Stealing Rembrandt. The Danish cinematographer's television credits include the critically hailed politically-themed drama Borgen.
SEBASTIEN INIZAN (Production Designer) was production designer on Europacorp's Taken 2 and 3 Days to Kill. His other film credits include Hasta mañana, Les Mythos, The Village of Shadows, and Adam +Ève. Inizan is the production designer on the television series Taxi Brooklyn.
NATHANIEL MECHALY (Composer) attended the CNR (National Music School) of Marseille, then Paris and Boulogne-sur-Mer, where he studied cello, chamber music and electroacoustic composition. He worked as a sound programmer in film before composing his first feature film scores for the French drama Avanim and the Israeli film Ushpizin, directed by Giddi Dar. Mechaly composed the score for Guy Ritchie's Revolver, before collaborating with EuropaCorp for the first time on The Black Box from director Richard Berry. His work with EuropaCorp continued with The Secret, Taken, and Olivier Megaton's Columbiana and Taken 2.
Mechaly's additional credits include the films Dorothy Mills, Eyes Wide Open, Le mac, Final Balance, Les papas du dimanche and The City.
OLIVIER BERIOT (Costume Designer) has served as the costume designer on more than 50 films. Beriot is a repeat collaborator with filmmaker Luc Besson, working with him on several films, including The Lady, The Family, The Extraordinary Adventures of Adèle Blanc-Sec and Arthur and the Invisibles.
Beriot most recently helmed the costume department for the global box-office hit Lucy, and McG's 3 Days to Kill.
2014 Twentieth Century Fox Film Corporation. All rights reserved. Property of Fox.